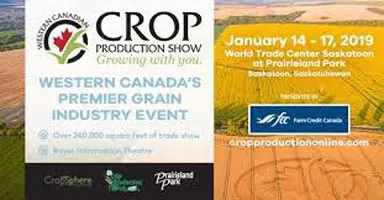 This is the week that many grain producers make the trip to attend the Western Canadian Crop Production Show and CropSphere.
Attendance usually approaches 20,000 for the four day trade show at Prairieland Park. The facilities are filled to capacity with 344 companies.
All aspects of production are covered including seed, equipment and grain storage.
"It seems to be a trend over the last few years that the exhibitors are bringing new types of grain handling and storage equipment," says Lori Cates, agriculture manager at Prairieland Park.
The Western Canadian Crop Production Show runs from noon-6pm on Monday and 9am-5pm on Tuesday, Wednesday and Thursday.
More information is at www.cropproductiononline.com
Several farm organizations (SaskCanola, SaskWheat, SaskBarley, SaskOats and Sask Pulse Growers) are hosting CropSphere at TCU Place in downtown Saskatoon. www.cropsphere.com
Experts will provide production and market information. There will also be a presentation on the right-to-repair machinery, a special forum on seed royalty proposals and a keynote address by former Saskatchewan Premier Brad Wall.
Additional events are also being held at the Saskatoon Inn. www.cropweek.com