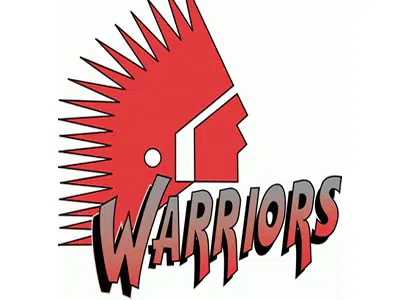 Donald S. Cherry says a two-goal lead is the worst lead in hockey!
Or, did "Grapes" say it's a three-goal lead?
No matter what Don Cherry says, a two-goal lead has been a problem of late for the Saskatoon Blades, the latest example being Friday night's 3-2 loss to the visiting Moose Jaw Warriors. In their first game back at SaskTel Centre since November 21, and a 3-1-1 swing through the B.C. Division, the Bridge City Bunch jumped out to a 2-0 lead before the game was 10 minutes old on goals from Eric Florchuk and Josh Paterson.
However, 3,236 fans saw what happened three times on the B.C. swing…a two-goal lead evaporated, turning into a 5-3 loss in Vancouver and a 3-2 overtime setback in Kamloops before the Blue and Gold recovered for a 5-4 triumph in O.T. in Kelowna.
Luke Ormsby scored his second goal in as many games for the Warriors since being acquired earlier this week from Everett to cut the Moose Jaw deficit to 2-1. After that, special teams took over. The Warriors received power play goals from Tristin Langan and Brayden Tracey. Langan assisted on the other two Moose Jaw goals with rookie Tracey's tally proving to be the winner at 9:37 of the third period. The Blades, meanwhile, went 0-for-5 on the power play…including coming up empty on a 1:48, 5-on-3 man advantage late in the second period. Take away the power plays and Saskatoon carried most of the play while at even-strength.
However, Friday's result means the 16-6-5 Warriors have caught the 19-10-3 Blades for second place in the W-H-L's East Division, with the Tribe holding three games in hand. The same teams meet Saturday night in Moose Jaw. The broadcast on 98-COOL starts at 6 o'clock with the Sardinia Family Restaurant pre-game show and the play-by-play at 7 from Mosaic Place. Following is the official game summary from the W-H-L…
Moose Jaw Warriors 3 at Saskatoon Blades 2 – Status: Final
Friday, December 7, 2018 – SaskTel Centre – Saskatoon, SK
Moose Jaw 1 1 1 – 3
Saskatoon 2 0 0 – 2
1st Period-1, Saskatoon, Florchuk 9 (Dach), 4:31. 2, Saskatoon, Paterson 8 (Haden, Kneen), 9:29. 3, Moose Jaw, Ormsby 5 (Woo, Langan), 12:28. Penalties-Woo Mj (roughing), 16:20.
2nd Period-4, Moose Jaw, Langan 20 (Woo, Almeida), 15:41 (PP). Penalties-Buyalski Mj (boarding), 8:06; Gerlach Sas (tripping), 15:04; Kwiatkowski Mj (tripping), 18:08; Langan Mj (high sticking), 18:20.
3rd Period-5, Moose Jaw, Tracey 10 (Langan, Brook), 9:37 (PP). Penalties-Dach Sas (tripping), 8:32; McKay Sas (inter. on goaltender), 10:22; Woo Mj (tripping), 10:45.
Shots on Goal-Moose Jaw 12-8-5-25. Saskatoon 8-13-14-35.
Power Play Opportunities-Moose Jaw 2 / 3; Saskatoon 0 / 5.
Goalies-Moose Jaw, Salmond 9-2-2-1 (35 shots-33 saves). Saskatoon, Maier 14-8-2-0 (25 shots-22 saves).
A-3,236
Referees-Brett Iverson (24), Bryce Sebastian (64).
Linesmen-Levi Schutz (110), Devan Thiessen (94).