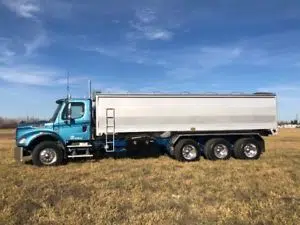 Saskatchewan will introduce mandatory training for new commercial semi drivers, beginning on March 15, 2019.
A minimum of 121.5 hours of training will be required on basic driving techniques, professional driving habits, vehicle inspections and air brakes.
There will be an exception for the agricultural sector in the form of an "F" endorsement.
"Most of the farm plates are from field to bin, but some do go a little further," says Joe Hargrave, minister responsible for Saskatchewan Government Insurance (SGI). "A lot of farmers hire commercial drivers, which would be a Class 1A license driver, to move a lot of their grain if they go any distance."
Hargrave says adding restrictions to farm operations driving short distances could make finding employees more difficult.
The "F" endorsement will be restricted to operating within Saskatchewan borders. The driver must be at least 18 years old and not a novice driver. The driver must also submit a medical and pass all written and roads tests and trip inspection. An "F" endorsement is not required if the person already has a Class 1 license.
Todd Lewis, president of the Agricultural Producers Association of Saskatchewan (APAS), says the "F" endorsement recognizes a lot of farm trucks don't see the highway.
"I think it is something that we will continue to consult on and see how this works out," says Lewis.
SGI Minister Hargrave says the "F" endorsement is being treated as a trial run with "a panel of people continuing to look at the farm aspect."
The Government of Saskatchewan news release can be found at https://www.saskatchewan.ca/government/news-and-media/2018/december/03/semi-truck-driver-training