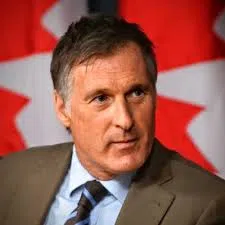 The leader and founder of the People's Party of Canada says they already have a strong presence in Saskatchewan.
Maxime Bernier is spreading their message and trying to drum up support while traveling through the province.
Bernier says the party has 3-thousand members in Saskatchewan and have constituency associations set up in 12 of the province's 14 riding's.
The former Conservative party cabinet minister and defeated leadership candidate promises smaller government and an end to what he calls corporate welfare.
He says their economic policy includes lowering taxes by cutting off subsidies to major corporations like Bombardier and GM.
The Member of Parliament from Quebec also says they are working on a First Nations policy that includes property rights on reserves feeling that is the key to building economic development on First Nations land.
The party's platform includes the annual immigration quota returning to 250-thousand and states successful applicants should have job skills to offer the Canadian economy.
Bernier left the Conservatives and formed the People's Party of Canada three months after losing to Regina Qu'Appelle's Andrew Scheer at the leadership convention last May.
He says their goal is to run candidates in all riding's during the 2019 Federal election.