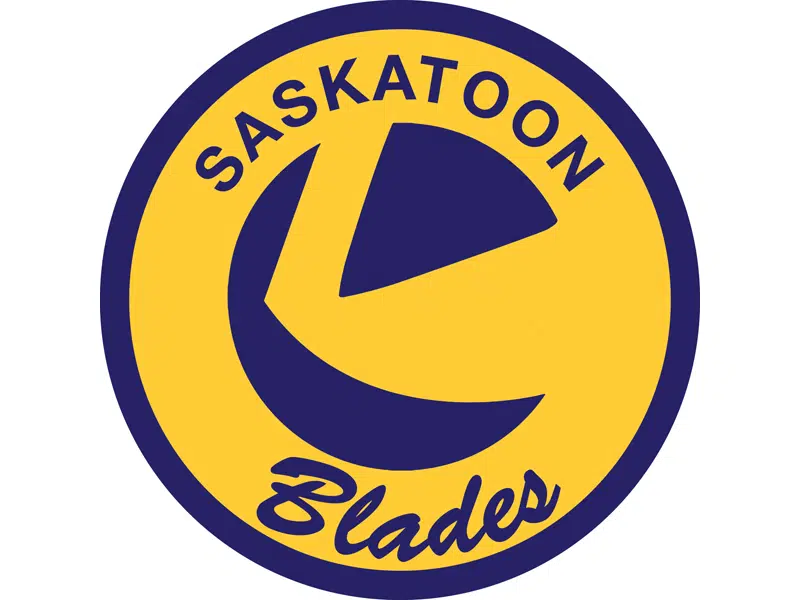 It was nearly 26 years between victories in Victoria for the Saskatoon Blades.
Dorrin Luding (pictured) back-stopped the Bridge City Bunch to a 2-1 triumph over the Royals Wednesday, the Blades' first win in the B-C Capital since February 18, 1993 when the Blue and Gold slipped past the Victoria Cougars by a, you guessed it, 2-1 score.
"That's the most important thing…bouncing back from (Wednesday) night (a 5-3 loss to the Vancouver Giants)," said Saskatoon associate coach Ryan Marsh. "I thought our guys played really hard (Wednesday) night, it was a short turnaround for us, coming in (Wednesday) on the ferry and everything else we had to go through, I'm really happy with the effort."
Luding out-dueled Royals' 20-year-old star Griffen Outhouse in a goaltenders' dual that didn't have a goal scored until Kristian Roykas-Marthinsen deflected a Seth Bafaro shot just past the mid-point of the second period. Then, after Victoria defenceman Scott Walford roofed a back-hand shot 60 seconds into the third period for the only blemish on Luding's 30-save effort, Zach Huber finished Kyle Crnkovic's cross-crease pass for the Grandora product's first goal and point in 11 games with the Bridge City Bunch.
Not only was the win the first one for the Blades in Victoria in 25 years, but it ended a six-game losing streak…head-to-head…against the Royals and was the first victory for the Blue and Gold in the Save-on-Foods Memorial Centre. Back in 1993, the Victoria Cougars played home games in the departed Memorial Arena. Saskatoon out-shot the Royals 32-31, improving their record to 2-1-0 on the five-game B-C Division road trip and to 16-9-2 overall. Their next game on the swing is Friday in Kamloops. Following is the official summary from the W-H-L…
Saskatoon Blades 2 at Victoria Royals 1 – Status: Final
Wednesday, November 28, 2018 – Save-On-Foods Memorial Arena – Victoria, BC
Saskatoon 0 1 1 – 2
Victoria 0 0 1 – 1
1st Period- No Scoring.Penalties-Schultz Vic (tripping), 4:00; Martynov Vic (hooking), 11:24; De La Gorgendiere Sas (slashing), 17:17.
2nd Period-1, Saskatoon, Roykas Marthinsen 8 (McKay, Bafaro), 12:39. Penalties-served by Gerlach Sas (unsportsmanlike cnd.), 3:17; Wouters Sas (roughing), 17:45; Oliver Vic (major – checking to the head, game misconduct), 17:45; Kneen Sas (tripping), 19:49.
3rd Period-2, Victoria, Walford 2 (Hannoun, Martynov), 1:00. 3, Saskatoon, Huber 5 (Crnkovic), 3:45. Penalties-Hannoun Vic (tripping), 12:02; Bafaro Sas (tripping), 17:55.
Shots on Goal-Saskatoon 13-11-8-32. Victoria 12-12-7-31.
Power Play Opportunities-Saskatoon 0 / 4; Victoria 0 / 3.
Goalies-Saskatoon, Luding 3-2-1-0 (31 shots-30 saves). Victoria, Outhouse 11-7-0-0 (32 shots-30 saves).
A-4,722
Referees-Ryan Benbow (62), Sean Raphael (28).
Linesmen-Cole Cooke (130), Chris Van Deventer (145).