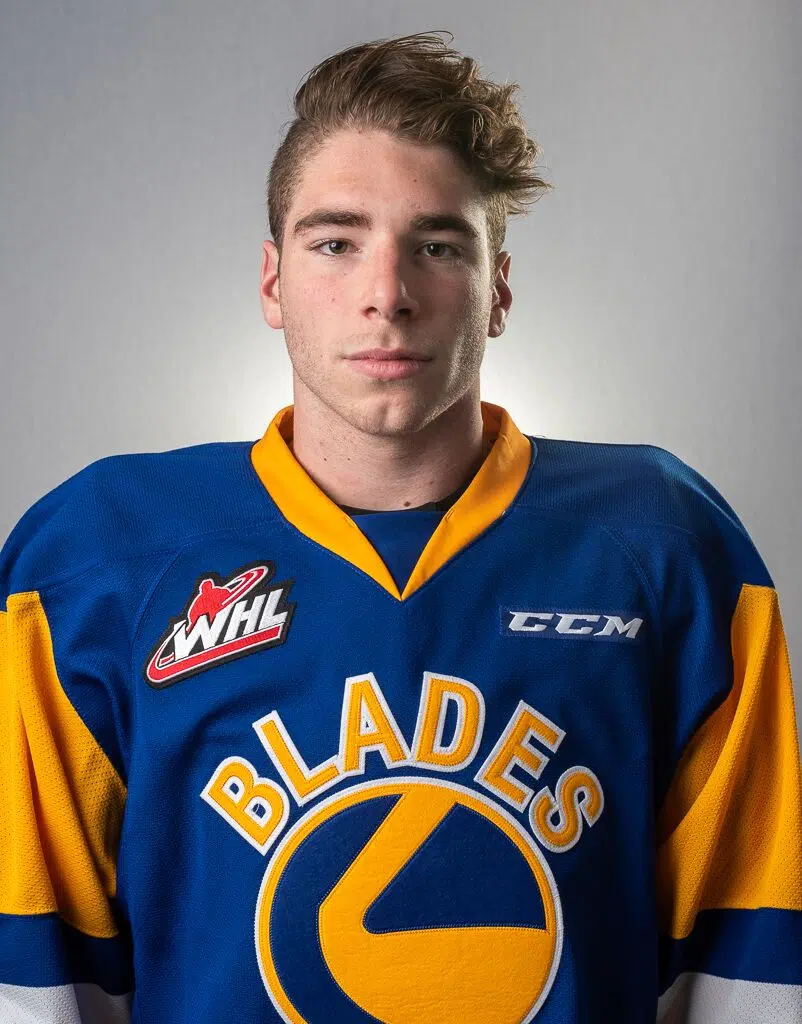 The Saskatoon Blades overcame a grinding, defence-minded game plan by the home team to open their five-game B-C road trip with a 4-1 victory over the Prince George Cougars Saturday. Despite surrendering the opening goal and having Kirby Dach held off the scoresheet for a second straight game, and only the seventh time in 25 games, the 15-8-2 Bridge City Bunch prevailed.
"I think a little time off and the trip out here was a little taxing for the boys. But, once we got our legs underneath us and absorbed some of the body checks that they were giving, we were able to get more competitive and, as a result of it, we started to carry the play," stated Blue and Gold assistant coach Jerome Engele. "Defensively, I thought we had a real strong game. Offensively, we had some more scoring opportunities that we should've capitalized on. I thought their goaltender (Taylor Gauthier) played an outstanding game. On the road, it's nice to win."
Mike MacLean opened the scoring for the 10-11-3 Cats, just 2:04 into the contest…a goal that required video review before determining that the puck crossed the goal-line. However, just 1:41 later, Max Gerlach re-directed Gary Haden's power play pass past Gauthier to knot the score. Defenceman Seth Bafaro (pictured), with his third goal of the season, scored what turned out to be the game-winner…his second of the year. Eric Florchuk and Kristian Roykas-Marthinsen added third period tallies as the Blades out-shot Prince George 28-22. It was only the second time that Saskatoon won in the seven times that Dach has been held point-less in a game.
The Bridge City Bunch moved on to Langley where they'll battle the B.C. Division-leading Vancouver Giants Tuesday. That starts a stretch of four games-in-five nights, ending the swing Saturday, December 1, in Kelowna. Following is the official summary from the W-H-L…
Saskatoon Blades 4 at Prince George Cougars 1 – Status: Final
Saturday, November 24, 2018 – CN Centre – Prince George, BC
Saskatoon 2 0 2 – 4
Prince George 1 0 0 – 1
1st Period-1, Prince George, MacLean 3 (Upper, Lakusta), 2:04. 2, Saskatoon, Gerlach 15 (Haden, Davidson), 3:45 (PP). 3, Saskatoon, Bafaro 3 (Wouters, Haden), 19:37. Penalties-Crossley Pg (hooking), 2:57; Bafaro Sas (high sticking), 7:23.
2nd Period- No Scoring.Penalties-Crossley Pg (roughing), 8:16; MacLean Pg (interference), 9:15; Florchuk Sas (tripping), 13:05; Dach Sas (delay of game), 19:20.
3rd Period-4, Saskatoon, Florchuk 8 (Malysjev, Gerlach), 10:29. 5, Saskatoon, Roykas Marthinsen 7 18:51. Penalties-Crossley Pg (slashing), 6:52; Maser Pg (high sticking), 12:33; Leppard Pg (slashing), 16:06.
Shots on Goal-Saskatoon 8-8-12-28. Prince George 7-10-5-22.
Power Play Opportunities-Saskatoon 1 / 6; Prince George 0 / 3.
Goalies-Saskatoon, Maier 13-6-1-0 (22 shots-21 saves). Prince George, Gauthier 6-8-1-1 (28 shots-24 saves).
A-3,125
Referees-Tyler Adair (58), Trevor Nolan.
Linesmen-Tyler Garden (149), Michael McGowan (41).