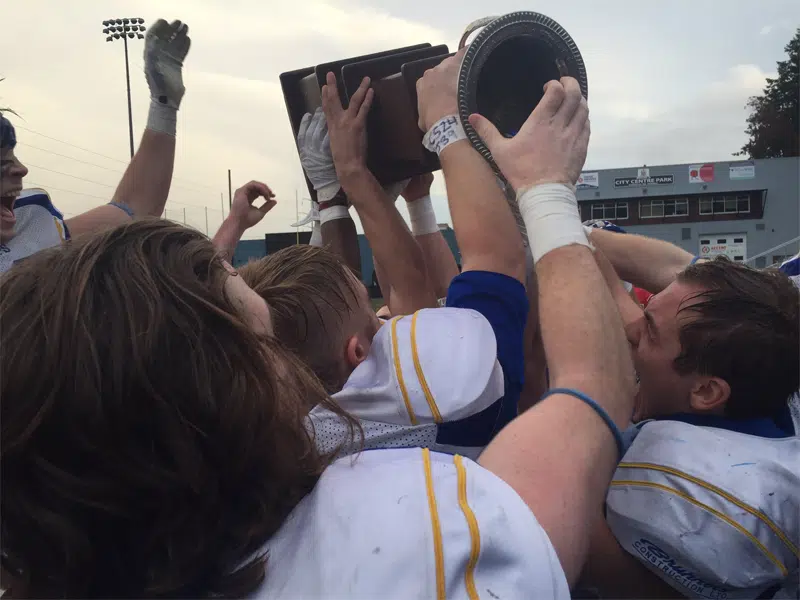 The Saskatoon Hilltops erupted for 42 points in the second and third quarters on their way to a 58-21 win over the Langley Rams to capture a record fifth straight Canadian Bowl championship in front of a big home-town crowd at SMF Field.
The Langley defense denied the Hilltops on a third and goal play from the one-yard line early in the first quarter but weren't able to stop Josh Ewanchyna later in the first quarter when the all-Canadian running back powered into the end zone from a yard out. Ewanchyna who totaled 245 yards on 28 carried also scored on runs of five and 45 yards.
Jordan Walls wrapped his Hilltops career completing 16-of-21 passes for 247 yards and two touchdowns. The fifth-year quarterback from Tommy Douglas also caught a pass from Rylan Kleiter on a double-reverse-pass play in the second quarter. The 21-yard gain set up Ewanchyna's five-yard touchdown run which gave the Hilltops a 31-7 half-time lead.
The other pivotal play was a 48-yard interception return for a touchdown by Logan Bitz which put Saskatoon in front 17-0 earlier in the quarter.
John Brown caught four passes including a 41-yard touchdown pass from Walls in the third quarter. Keegan Dicks also had four receptions and a touchdown.  Garth Knittig had a one-yard touchdown plunge, while David Solie kicked field goals from  32 and 38 yards.
Jevon Cottoy got two Langley touchdowns, one on a four-yard run and the other a 42-yard catch and run play.  Anthony Blackwell got the other Rams touchdown on a kick-off return in the second quarter.
The big difference was the ground game with the Hilltops racking up 286 yards and the Rams just 40.
The win gives the Hilltops an 11-0 record in 2018, their first unbeaten season since 2003.