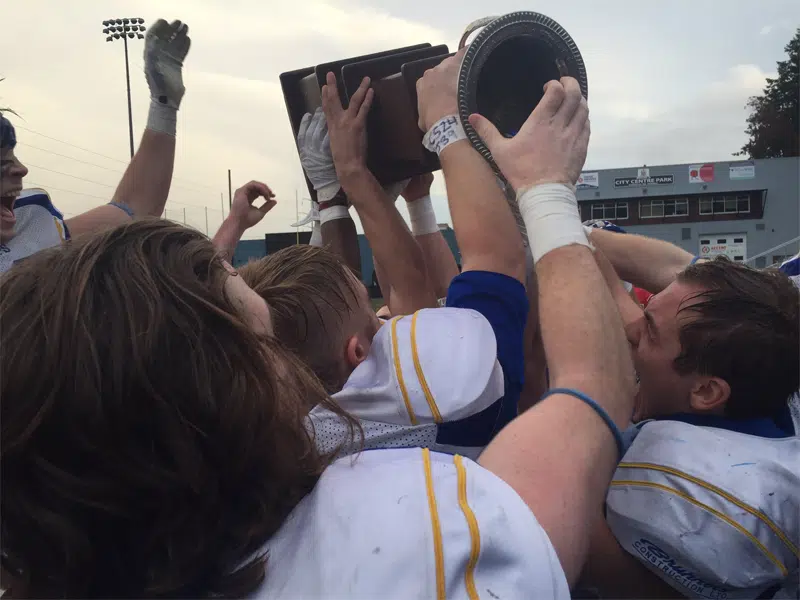 The Saskatoon Hilltops go for a historic fifth straight Canadian Bowl title when they host Langley Saturday at SMF Field.
It will be three weeks between games for the Hilltops by the time the game kicks off at 1pm but Toppers head coach Tom Sergeant sees that as an advantage. He says being able to scout the CJFL semi-final in person enhanced their preparations.
"We got a real good sense and feel for what's in front of us so that will help with the fil study we've been provided to ultimately we believe put our players in great situations for them to be successful because you know what at the end of the day the team that makes the most plays is the team that's the team that's going to have the most success."
Sergeant maintained the players have remained focused.
He said it's expected from the beginning of training camp until the end of the final game.
"When you're with us you better be with us and if you're not we'll figure it out and hey, we've got a healthy roster if we're not happy with someone we'll quickly make changes and they know that, I don't care if it's a first year player or a fifth year player, we're going to get things right and lead the right way or get off the bus."
Hilltops Linebacker Adam Benkic is among those going for a fifth straight Canadian Bowl championship ring.
"We've had the fortunate circumstances that our fifth-year's every year have put us in the right spot and they've showed us throughout, they've showed us how to handles ourselves during these tough games because you have to handle adversity when you're playing in these big games."
Benkic said although the goal is the same, there are differences every year.
"We try to make sure every year is a new year we have different guys so you've got to think you're winning it for yourself every single year, you've got to prove yourself as a different team going into each new year so it's exciting in that manner."
The Langley Rams are riding a nine-game win streak heading into the game.
Head coach Howie Zaron said the players have been laser focused throughout the playoffs and their sights are now set on the unbeaten Saskatoon Hilltops.
Zaron said the first step toward an upset would be matching the Toppers discipline.
"Everything they do is instilled in them by their coaching staff and you know what, they do a great job coaching these kid up and their discipline in all three phases of the game, to beat the Hilltops, we've got a few things up our sleeve, but you know, at the end of the day you've got to play a good solid disciplined football game."
Saturday's forecast calls for sunny and cold conditions with a windchill approaching -15.
Zaron said cold conditions are not a concern.
"Out here (Langley) where we played the last game it was raining and windy, it felt like it was minus-6 so, you know we've had guys at practice not wearing long sleeves, not wearing the long leggings, coming out in short sleeves and we've had no problem with it."
The game also features two of the country's top quarterbacks.  Saskatoon's Jordan Walls completed 122-of 197 passes during an eight game regular season for 2,010 yards, 18 touchdowns and four interceptions.
Langley's Duncan Little completed 185-of-308 passes over a ten game regular schedule for 2.611 yards, 18 touchdowns and 13 interceptions.
It will be the third time in seven years the Hilltops and Langley have met in the Canadian Bowl with the Hilltops winning both previous games in Langley.
Opening kick-off is set for 1 p.m. with the pregame show on 92.9 THE BULL signing on at 12:30.