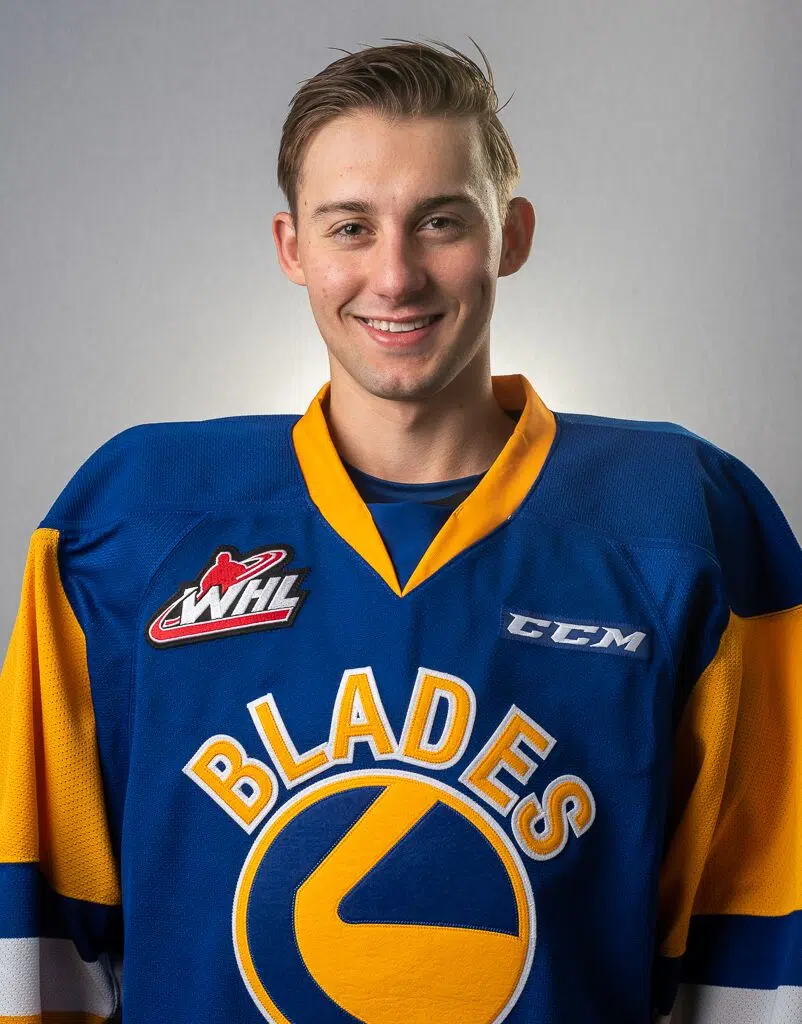 It's still early in the 2018-19 season, but if there was any question that the W-H-L's East Division is undergoing a shift in power, it came Friday night in Moose Jaw.
The Saskatoon Blades beat the Warriors 5-2, putting an end to a pair of five-game, head-to-head winless streaks. Max Gerlach (pictured) scored the winning and insurance goals for the Bridge City Bunch as they defeated Moose Jaw for the first time since November 15, 2017 by a 5-4 score at SaskTel Centre. The win also ended a similar 0-4-1 skid against the Warriors at Mosaic Place, dating back to November 6, 2016 when the Blue and Gold out-lasted the Tribe 4-3 in a shootout.
The result, along with Prince Albert and Brandon winning, while Regina lost means the Raiders, Saskatoon and Wheat Kings occupy the first three places in the East Division…followed, in order, by Moose Jaw, Regina and Swift Current. Already, there is a six-point gap between the third place Wheaties and fourth place Moose Jaw. Last season, the Warriors won the Scotty Munro Memorial Trophy for best regular-season record in the W-H-L. Swift Current was next…and ended up winning the league championship…while the Pats were third and got all the way to the Memorial Cup final as the host team.
Defenceman Jackson Caller, Kirby Dach and Josh Paterson also tallied for the 10-6-2 Blades as they out-shot Moose Jaw 36-26 and never trailed in the game.
"I think we basically played 50-55 minutes, not like (Thursday) night (a 4-2 home loss to Kootenay) where we played about 35," explained Saskatoon assistant coach Jerome Engele. "That's a big difference in a hockey game. You come and play a full hockey game, you're going to win."
The Blades finish up their second consecutive three games-in-three nights stretch Saturday when they visit the 4-12-0 Regina Pats. Game time is 7 p.m. with the broadcast on 98-COOL starting at 6 with the Sardinia Family Restaurant pre-game show. Following is the official game summary from the W-H-L…
Saskatoon Blades 5 at Moose Jaw Warriors 2 – Status: Final
Friday, November 2, 2018 – Mosaic Place – Moose Jaw, SK
Saskatoon 1 2 2 – 5
Moose Jaw 1 0 1 – 2
1st Period-1, Saskatoon, Caller 2 (Ashton), 13:50. 2, Moose Jaw, Taphorn 3 (Hamaliuk, Woo), 17:29. Penalties-Peckford Mj (interference), 3:05; Roykas Marthinsen Sas (cross checking), 11:12.
2nd Period-3, Saskatoon, Dach 11 12:57. 4, Saskatoon, Gerlach 9 (Malysjev, Wouters), 15:16 (PP). Penalties-Wouters Sas (interference), 1:27; Brook Mj (holding opp. stick), 8:14; Stepanov Mj (interference), 14:05.
3rd Period-5, Moose Jaw, Langan 11 (Almeida), 4:40 (SH). 6, Saskatoon, Gerlach 10 (Dach, Florchuk), 17:01. 7, Saskatoon, Paterson 5 18:29 (EN). Penalties-Brook Mj (tripping), 3:24; McKay Sas (major-fighting), 6:59; Sanders Mj (major-fighting), 6:59.
Shots on Goal-Saskatoon 12-14-10-36. Moose Jaw 14-7-5-26.
Power Play Opportunities-Saskatoon 1 / 4; Moose Jaw 0 / 2.
Goalies-Saskatoon, Luding 2-1-1-0 (26 shots-24 saves). Moose Jaw, Salmond 4-2-2-0 (35 shots-31 saves).
A-3,125
Referees-Mike Campbell (89), Karlin Krieger (27).
Linesmen- , Ryan Lundquist (106).