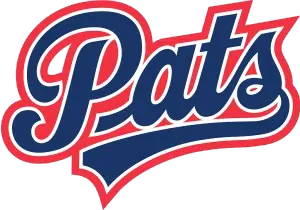 If two out of three ain't bad, then one out of three can't be good!
That would be a simple review for the Saskatoon Blades' three games-in-three nights weekend that ended with a 6-5 setback Saturday in Regina to the Pats. In all three games, the Bridge City Bunch took a lead into the third period, but could only win once. On Saturday, the Blue and Gold led 5-4…only to let Regina rally for the victory in a game in which all four goaltenders played that were in uniform. There were three lead changes and 11 goals were scored on just 57 shots on goal. Thirty-two of those shots were by the Blades, meaning Saskatoon goaltenders stopped less than 80 per cent of the Pats' shots on net.
"It was a very interesting game," mused Blades' assistant coach Jerome Engele afterwards. "It was just a matter, in the end, Regina out-worked us. Penalties hurt us. We have to be more disciplined…especially after they gave the elbowing penalty to Regina, you knew that it was going to be something coming back to even it up."
Nick Henry scored on the third penalty the Bridge City Bunch took all game, with just 4:12 remaining in the third period. That capped a see-saw affair in which the Blue and Gold opened the scoring, only to have the Pats come back to lead 2-1 after the first period, chase Nolan Maier from the net in favour of Dorrin Luding just 31 seconds into the second frame at 3-1. The teams then exchanged goals to give Regina a 4-2 lead before Saskatoon rallied to go up 5-4 after 40 minutes. The Pats pulled starting netminder Max Paddock, putting Dean McNabb in…leading to the Regina victory with two unanswered third period tallies.
Henry and captain Jake Leschyshyn paced the 5-12-o Pats with two goals and an assist each, defenceman Aaron Hyman had three helpers while Austin Pratt had a goal and an assist and Duncan Pierce notched the other marker. On the Bridge City Bunch side, Max Gerlach two of the three Blue and Gold power play goals. Captain Chase Wouters sniped the other one with Tristen Robins and Seth Bafaro connecting for the Blades. Kirby Dach added three assists while Dawson Davidson and Eric Florchuk each chipped in a pair of helpers for 10-7-2 Saskatoon.
The Blue and Gold are off until Friday when they are forced out of SaskTel Centre by the Four Nations Cup, visiting Medicine Hat. Following is the official game summary from the W-H-L…
Saskatoon Blades 5 at Regina Pats 6 – Status: Final
Saturday, November 3, 2018 – Brandt Centre – Regina, SK
Saskatoon 1 4 0 – 5
Regina 2 2 2 – 6
1st Period-1, Saskatoon, Gerlach 11 (Davidson, Dach), 3:12 (PP). 2, Regina, Henry 7 (Pratt, Creta), 9:48. 3, Regina, Pierce 4 (Krane), 17:42. Penalties-Sedov Reg (high sticking), 1:14; Creta Reg (holding), 12:36.
2nd Period-4, Regina, Pratt 8 (Hyman, Leschyshyn), 0:31. 5, Saskatoon, Robins 2 6:27. 6, Regina, Leschyshyn 8 (Alkhimov, Hyman), 11:02 (PP). 7, Saskatoon, Bafaro 1 (Paterson, Florchuk), 12:49. 8, Saskatoon, Gerlach 12 (Florchuk, Dach), 14:43 (PP). 9, Saskatoon, Wouters 2 (Dach, Davidson), 16:03 (PP). Penalties-McKay Sas (high sticking), 9:59; Nijhoff Reg (tripping), 13:46; Gavlas Reg (delay of game), 15:01; Gerlach Sas (hooking), 15:23; Nijhoff Reg (face off violation), 15:27.
3rd Period-10, Regina, Leschyshyn 9 (Henry, Hyman), 9:03. 11, Regina, Henry 8 (Sedov, Dubinsky), 15:48 (PP). Penalties-Pouteau Reg (elbowing), 11:34; McKay Sas (hooking), 14:20.
Shots on Goal-Saskatoon 14-12-6-32. Regina 6-11-8-25.
Power Play Opportunities-Saskatoon 3 / 6; Regina 2 / 2.
Goalies-Saskatoon, Maier 8-5-1-0 (8 shots-5 saves); Luding 2-2-1-0 (17 shots-14 saves). Regina, Paddock 3-10-0-0 (26 shots-21 saves); McNabb 2-2-0-0 (6 shots-6 saves).
A-5,600
Referees-Adam Byblow (23), Austin Weisgerber (131).
Linesmen-Tanner McGregor (55), Devan Thiessen (94).