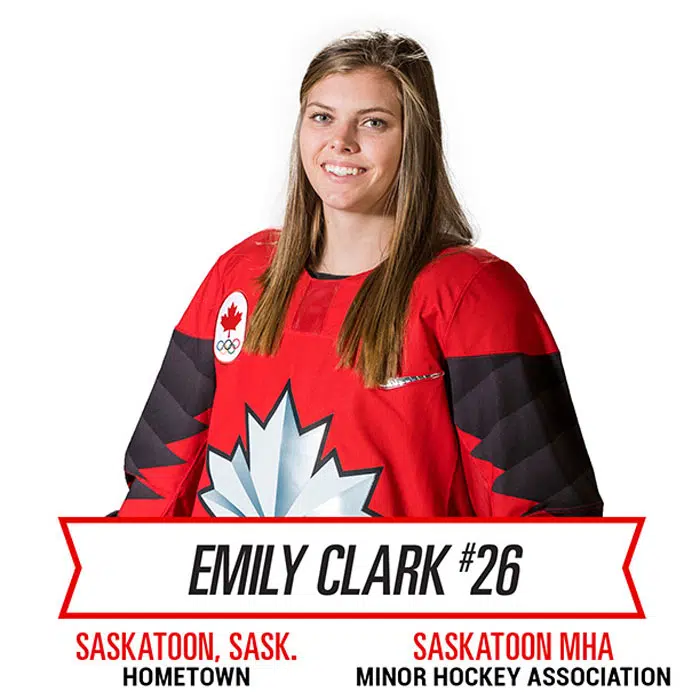 The Saskatoon content on Team Canada won't be available for next week's Four Nations Cup women's hockey tournament at SaskTel Centre.
Forward Emily Clark will be sidelined by a Lower Body injury. In fact, Clark was sporting a walking boot on her left leg while participating in "Girls Rock Night" and pre-game festivities before Thursday night's Saskatoon Blades-Kootenay ICE Western Hockey League game. Clark has a sprained ankle that will keep her out of the tournament…which features Canada, the U-S-A, Sweden and Finland. It starts Tuesday and runs through November 10. Following is the news release from Hockey Canada…
November 1, 2018
CANADA MAKES 4 NATIONS CUP ROSTER CHANGES
Two players added to roster for tournament in Saskatoon, Sask.
SASKATOON, Sask. – Hockey Canada announced Thursday that forwards Emily Clark (Saskatoon, Sask./University of Wisconsin, WCHA) and Sarah Potomak (Aldergrove, B.C./University of Minnesota, WCHA) will be unable to participate in the 2018 4 Nations Cup due to injury.
Joining Canada's National Women's Team for the tournament are Kristin O'Neill (Oakville, Ont./Cornell University, ECAC) and Jamie Lee Rattray (Kanata, Ont./Markham, CWHL).
O'Neill and Rattray were among 59 players invited to attend Canada's National Women's Team Fall Festival in Dawson Creek, B.C., in September. The camp was the first step in the evaluation and development of players for the 4 Nations Cup and other short-term international competitions this season.
Canada is set to play its lone pre-tournament game on Nov. 4 against Finland in Prince Albert, Sask., before preliminary-round play against Sweden (Nov. 6), the United States (Nov. 7), and Finland (Nov. 9) at the SaskTel Centre in Saskatoon.
The bronze- and gold-medal games will be played Saturday, Nov. 10; the full schedule can be found at HockeyCanada.ca. Full-event ticket packages, as well as day passes beginning at $30, can be purchased at HockeyCanada.ca/Tickets.
Since the debut of the 4 Nations Cup in 1996, Canada's National Women's Team has won gold on 14 occasions (1996, 1998, 1999, 2000, 2001, 2002, 2004, 2005, 2006, 2007, 2009, 2010, 2013, 2014) and brought home a silver medal eight times (1997, 2003, 2008, 2011, 2012, 2015, 2016, 2017).