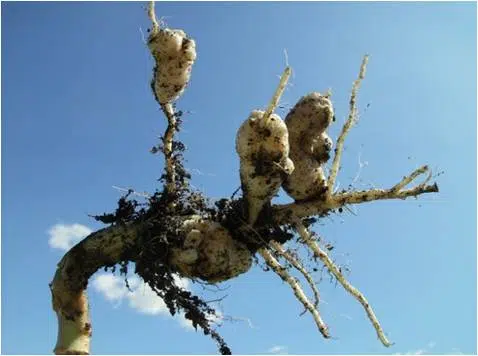 The number of clubroot cases in Saskatchewan is rising and the area they're being reported in is growing.
A handful of fields were reported in the northern growing areas (Crop Districts 9A and 9B) last fall. This year's fields were identified by growers, agrologists, or in an extensive survey by the Saskatchewan Ministry of Agriculture in August and September.
Some of the new clubroot cases are in Crop Districts 5B, 6B and 7B. Exact locations are not being made public, but landowners have been or will be contacted. They will be advised to follow the protocol in the Saskatchewan Clubroot Management Plan. https://www.saskcanola.com/quadrant/media/files/resource/pdfs/Clubroot-Management-Plan.pdf
"We were looking for the swollen root tissue which is characteristic, so those are the clubroot galls," says Barb Ziesman, plant disease specialist with the Saskatchewan Ministry of Agriculture. "Under severe conditions, those galls can be quite large. However, in some of the fields we did identify very small galls."
There could be additional cases once soil samples from the provincial survey are analyzed for clubroot pathogen. A clubroot distribution map will be released late this year or in early 2019.
There have been nearly 3,000 confirmed cases of clubroot in Alberta since it was first reported in 2003.
Saskatchewan has seen record canola area because it is a profitable crop for growers. That has led to some tighter rotations, which increases the potential for clubroot. The recommended rotation is growing canola on the same piece of land every three or four years.
"We've been beating that drum for awhile and now we have a little more evidence," says Doyle Wiebe, chair of SaskCanola and a Langham area farmer. "I'm sure some were starting to think that we were crying wolf a little bit. So, this helps affirms our suspicions that this problem was going to surface in our province as well. We're just hopeful that it doesn't need to get any more prevalent before growers will realize what they can do themselves to mitigate the damage."
Ziesman says there are a number of clubroot prevention measures, including minimizing soil movement from other areas, extending crop rotations and the use of clubroot resistant varieties.
"Knowing that clubroot is present is valuable information as it will enable producers to make informed clubroot management plans," says Ziesman. "If clubroot is found early, it can be managed much more effectively with minimum impact on yield."
More information on clubroot management and prevention can be found at www.clubroot.ca or by contacting the regional Canola Council of Canada Agronomy Specialist.