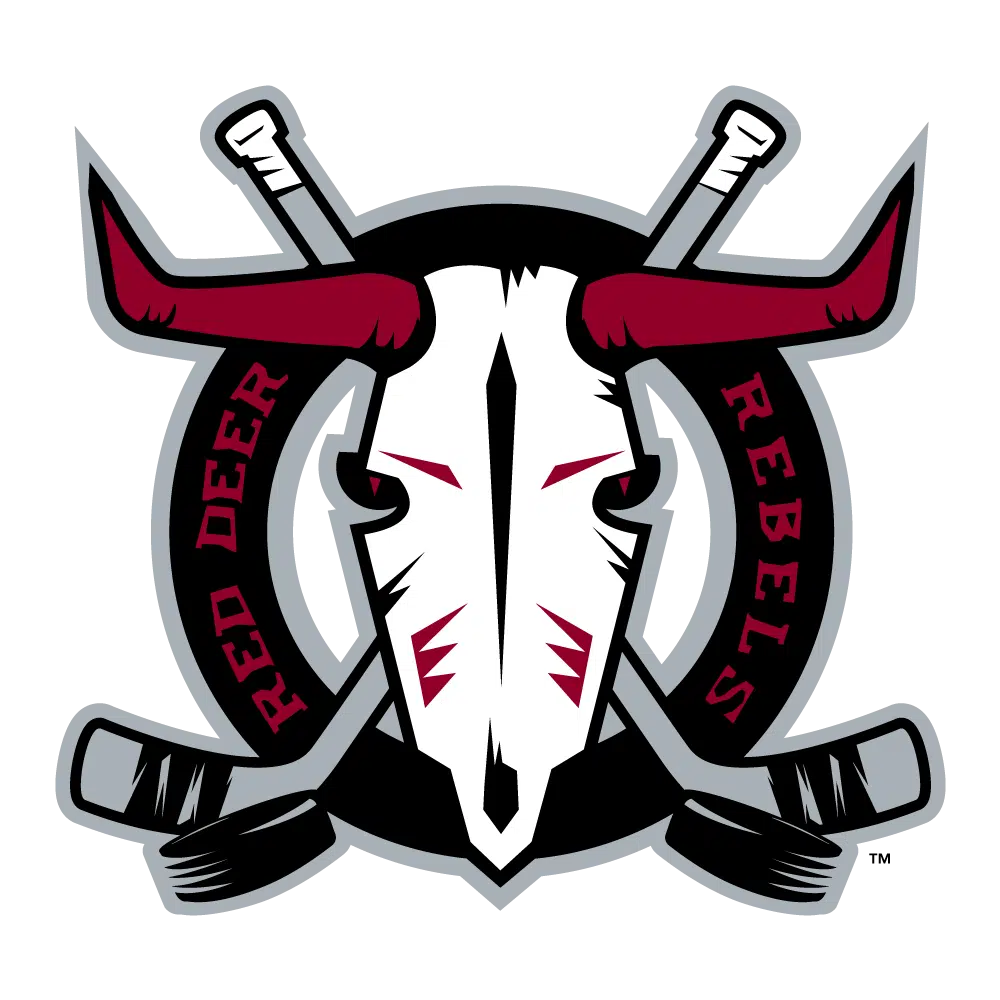 Call it "the Nolan Maier point!"
The Saskatoon Blades' goaltender stopped 44 shots…43 of them in regulation time. But, Saskatoon product Alex Morozoff beat Maier with a shot through the legs off a 2-on-1 rush with 1:21 gone in overtime, giving the Red Deer Rebels a 4-3 victory…their seventh straight on home ice.
"Anytime you play on the road, if you can get a point (in the standings), it's always good," said Blades' assistant coach Jerome Engele. "We've got to remember Kirby Dach put quite a show on in the last four minutes of play. So, between him and Maier, they really did everything that they possibly could to help us win."
While Maier held the 9-4-1 Rebels at bay, the Bridge City Bunch rallied from a 3-1 deficit after two periods to force extra time on goals from former Red Deer defenceman Brandon Schuldhaus and Kirby Dach. Dach's goal came with 2:05 remaining in regulation time to knot the score at 3-3. Max Gerlach opened the scoring for the 8-4-2 Blue and Gold. In between, Brandon Hagel tallied twice for the Rebels and Jeff DeWit scored his eighth goal of the season…four of them coming against the Blades.
Red Deer held a 48-26 advantage on the shot clock over Saskatoon, who have just one win over their last five outings. The Bridge City Bunch play the middle game of three-in-three nights in Alberta Saturday when they visit the Edmonton Oil Kings. Game time is 7 p.m. with the broadcast on 98-COOL beginning at 6 with the Sardinia Family Restaurant pre-game show. Following is the official game summary from the W-H-L…
Saskatoon Blades 3 at Red Deer Rebels 4 (OT) – Status: Final OT
Friday, October 26, 2018 – Enmax Centrium – Red Deer, AB
Saskatoon 1 0 2 0 – 3
Red Deer 1 2 0 1 – 4
1st Period-1, Saskatoon, Gerlach 8 (Schuldhaus, Kaddoura), 3:55. 2, Red Deer, Hagel 11 (Johnson, de Wit), 10:09. Penalties-No Penalties
2nd Period-3, Red Deer, Hagel 12 (Alexeyev, Herauf), 3:53. 4, Red Deer, de Wit 8 (Johnson), 11:01. Penalties-Kaddoura Sas (holding), 16:35; Dach Sas (interference), 19:46.
3rd Period-5, Saskatoon, Schuldhaus 2 (Dach), 12:00. 6, Saskatoon, Dach 8 (Davidson, Schuldhaus), 17:55. Penalties-Hagel Rd (roughing), 3:00; Schuldhaus Sas (tripping), 8:31; Morozoff Rd (checking from behind), 12:10; Fahey Rd (hooking), 14:50.
OT Period-7, Red Deer, Morozoff 2 (Alexeyev, Douglas), 1:21. Penalties-No Penalties
Shots on Goal-Saskatoon 10-9-7-0-26. Red Deer 15-18-13-2-48.
Power Play Opportunities-Saskatoon 0 / 3; Red Deer 0 / 3.
Goalies-Saskatoon, Maier 7-4-1-0 (48 shots-44 saves). Red Deer, Anders 8-3-1-0 (26 shots-23 saves).
A-4,073
Referees-Chris Crich (20), Austin Weisgerber (39).
Linesmen-Chad Huseby (59), Cody Huseby (88).