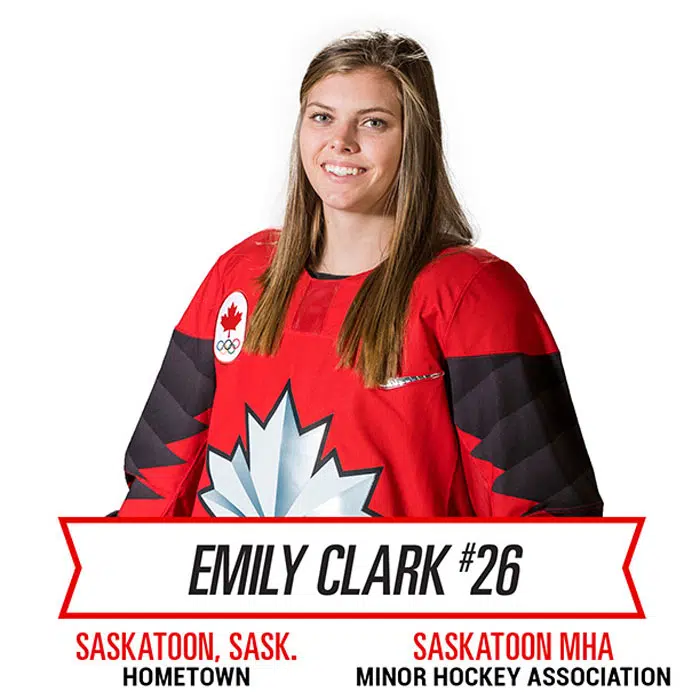 It's official…not that there was any doubt about it…but Emily Clark of Saskatoon is one of 23 players named to Canada's team that will take part in the upcoming Four Nations Cup.
The tournament…which also features the United States, Sweden and Finland…runs November 6th through 10th at SaskTel Centre. Clark is a veteran of the Canadian women's hockey team…having won silver medals at the 2018 Winter Olympics and the 2017 Four-Nations Cup. The 22-year-old forward was a member of the 2014 Canadian gold-medal winning team in the Four Nations Cup as well. Meanwhile, the local organizing committee announced this morning that single-game tickets went on sale Monday morning through TicketMaster. Following is the news release from Hockey Canada…
FOR IMMEDIATE RELEASE
Monday, October 22, 2018
COUNTDOWN TO 4 NATIONS CUP
As women's hockey national team showdown approaches, single game tickets are now on-sale.
Team Canada Roster Announced.
SASKATOON, SK – With just over two weeks until four of the best teams in women's hockey arrive in Saskatoon to compete in the 2018 4 Nations Cup at SaskTel Centre on November 6-10. For fans wishing to witness Canada, USA, Finland and Sweden's national teams, starting at 11:00 a.m. Monday, October 22, the local Organizing Committee has released single game tickets for sale to public at ticketmaster.ca.
Tickets for all games, including the Canada vs. USA Olympic gold medal rematch on Wednesday, November 7 at 7:00 p.m. and the Bronze and Gold Medal games on Saturday, November 10 will be available. Prices start at $10.50 (plus fees) for non-Canada games, $23.50 for Canada-games, and medal round games starting at $14.00 (plus fees).   
"It's a special experience to be able to play on home soil" Said Gina Kingsbury, Hockey Canada's director of national women's teams, and two time Olympic gold medallist for Canada. "The fan support brings another level of play to your game, and it's a feeling that as a player you just can't describe. Saskatoon is a hockey city, and we're looking forward to seeing the crowds in November."
Also released, a four-game Canada Pack, fans can experience all of Team Canada's games including one medal round game for only $94 (plus fees).
"These ticket offerings are the best opportunity for fans who want to pick and choose which games to see. With two game-times over four days and our single game pricing, this is a very family-friend event to see the best in international hockey talent," said local committee chair E.J. Babey, "we can't wait to see SaskTel Centre packed to the rafters for our Team Canada and medal round games."
TEAM CANADA NAMED FOR 4 NATIONS CUP
Hockey Canada unveiled the 23 players (three goaltenders, seven defencemen and 13 forwards) who will be who are aiming to capture Canada's first 4 Nations Cup gold medal in four years. The roster includes Saskatoon's own Emily Clark.
Canada's roster for the 2018 4 Nations Cup includes:
Fourteen players who won a silver medal with Canada's National Women's Team at the 2018 Olympic Winter Games in PyeongChang, South Korea (Clark, Daoust, Fast, Fortino, Jenner, Johnston, Larocque, Nurse, Poulin, Saulnier, Spooner, Stacey, Szabados, Turnbull);
Seventeen players who won a silver medal at the 2017 4 Nations Cup in Tampa, Fla. (Clark, Daoust, Fast, Fortino, Jenner, Johnston, Krzyzaniak, Larocque, Nurse, Potomak, Poulin, Saulnier, Spooner, Stacey, Szabados, Turnbull, Zandee-Hart);
Nine players who won a gold medal at the 2014 4 Nations Cup in Kamloops, B.C. (Clark, Fortino, Jenner, Johnston, Krzyzaniak, Larocque, Saulnier, Spooner, Turnbull); and
Five players who will compete in their first 4 Nations Cup (Bourbonnais, Fillier, Gabel, Gosling, Tiley).
COMPLETE GAME SCHEDULE
Tuesday, November 6 – 12:00 p.m.                           USA vs. Finland                                                 Hockey Hooky Game
Tuesday, November 6 – 7:00 p.m.                             Canada vs. Sweden
Wednesday, November 7 – 3:00 p.m.                      Finland vs. Sweden
Wednesday, November 7 – 7:00 p.m.                      Canada vs. USA
Thursday, November 8                                                No Games
Friday, November 9 – 3:00 p.m.                                  USA vs. Sweden
Friday, November 9 – 7:30 p.m.                                  Canada vs. Finland
Saturday, November 10 – 3:00 p.m.                          Bronze Medal Game
Saturday, November 10 – 8:00 p.m.                          Gold Medal Game