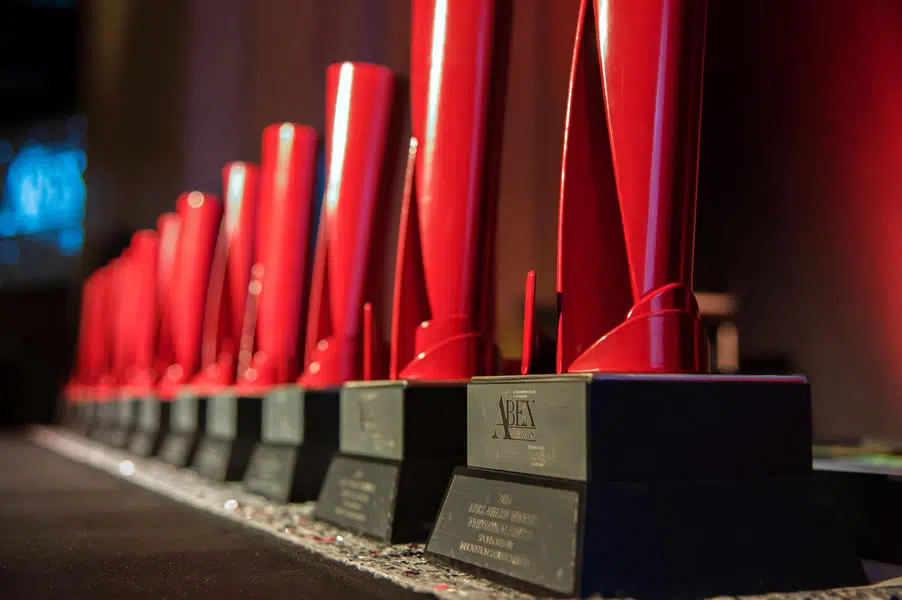 The winners of the 2018 ABEX Awards have been announced.  Industrial Machine and Mfg. Incorporated is the recipient of the Business of the Year award for its quality products that continue to be exported successfully worldwide. Meridian Surveys has been inducted into the Saskatchewan Business Hall of Fame for its excellence in the surveying industry.
The Award for Innovation, sponsored by Saskatchewan Polytechnic
InfraReady Products (1990) Ltd. – Saskatoon
InfraReady Products (1998) Ltd. is an innovative, industrial food ingredient manufacturer that was founded in 1994 in an attempt to add value to cereal grains before they were exported out of Saskatchewan. Today, InfraReady Products adds value to food products with the use of infra-red technology. The infra-red technology creates safer food that has an increased shelf-life, cooks quicker and has a softer texture. With over 250 custom designed products made from a wide range of cereals, grains, oilseeds and pulses, InfraReady Products supplies food manufacturers around the globe with wholesome, healthy and ready-to-use ingredients.
The Award for Service, sponsored by World Trade Center Saskatoon
Historic Reesor Ranch, Maple Creek
For 113 years and six generations, the Reesor family at the Historic Reesor Ranch has been preserving the legacy of ranching in Saskatchewan. In 2017, the Historic Reesor Ranch became Saskatchewan's first working ranch to be designated as a Provincial Heritage Property. The business strikes a successful balance between managing growth and maintaining the integrity of the land, while consistently delivering an authentic, memorable visitor experience. In addition to their Canadian Signature horseback riding adventures, the Historic Reesor Ranch offers guests the Ranch Hall Grill, guided ATV tours, enticing winter getaway packages and Wine in the West tours.
The Award for Export, sponsored by Saskatchewan Trade and Export Partnership (STEP)
Industrial Machine & Mfg. Inc., Saskatoon
Industrial Machine & Mfg. Inc. has been serving the global markets of mining, oil & gas, power generation, industrial and original equipment manufacturers for over 60 years. IMM is actively engaged in delivering innovative solutions, custom manufactured components, and services. The company devotes a great deal of time to working on business development, strategic planning and tactical opportunities within the heavy resource industry. IMM's various partnerships assist in understanding and targeting specific companies in export regions that have a need for the products and services that IMM provides. As a result, approximately 45% of all sales are export-based and growing, with IMM having exported to nearly every continent across all its industry segments.
The Award for Community Involvement, sponsored by Cogent Chartered Professional Accountants LLP
Affinity Credit Union, Saskatoon
Affinity Credit Union strives to build a better world for everyone, every day. It is a leader in supporting community initiatives with four major areas of focus – building community assets, economic self-reliance, environmental sustainability, and local economic development. In 2017, Affinity donated $2.1 million towards sponsorships, donations and scholarships to 601 organizations and initiatives across Saskatchewan. Affinity believes that community involvement is more than just financial aid. Employees are provided time to volunteer, can direct $200 towards any charity, and are encouraged to facilitate financial literacy workshops through the Each One Teach One program.
The Award for Priority Focus, sponsored by the Saskatchewan Indian Gaming Authority (SIGA)
Orano Canada Inc., Saskatoon
Orano Canada Inc. believes that the safety and mental health of its employees is a cornerstone of its success. This commitment is reflected in a campaign that was launched to understand the state of mental wellness of its workforce and identify and address concerns. The campaign was followed by the implementation of a comprehensive program to educate employees on mental health and wellness, remove related stigma and provide everyone with tools and knowledge for self-help. Orano's proactive and ongoing efforts with regards to mental health demonstrates its leadership and care for its employees.
The Award for Young Entrepreneur of the Year, sponsored by Cameco
Haylie Lashta, Warman Physiotherapy & Wellness, Warman
In November of 2014, Haylie Lashta opened Warman Physiotherapy & Wellness, just three years after graduating. By expanding the number of exceptional therapists and support staff available, the Warman community now has even more access to the comprehensive care that Warman Physiotherapy and Wellness offers to its clients in a family-friendly environment. Haylie's dream of providing a premier multi-disciplinary clinic is now a thriving business that is continually evolving and includes women's health, perinatal, infant development, and pediatric pelvic floor therapy options. Haylie's drive, focus and business vision has ensured that Warman Physio continues to be a premier facility.
The Award for Growth & Expansion, sponsored by PFM Capital Inc.
Canadian Organic Herb & Spice Co. Inc., Watson
Canadian Organic Spice & Herb Co. manufactures, markets, and distributes the Splendor Garden brand of organic food products from its facility in Watson. By creating efficiencies in every part of the business, Canadian Organic Spice & Herb Co. began showing operating profits after just three months in business and now ships to over 700 stores across Canada. It is also seeing a significant growth in its international customer base. With a high-quality product, a unique sales approach, and innovative packaging, Canadian Organic Spice & Herb Co. has seen an impressive growth in product range, sales, employees and is undertaking a 4,500 square foot warehouse expansion.
The Award for Marketing, sponsored by Handy Special Events
Luxury Granite, Regina
Luxury Granite is a countertop fabricator and installer that opened its doors in 2008. Luxury Granite has pushed the boundary of small business marketing by investing numerous resources into strategic campaigns and purposeful branding. With its "Real Life" campaign, Luxury Granite has been able to connect with the customer by focusing on real life situations and family life. The campaign focuses on countertops as a personal style choice and part of what makes a house a home. With radio advertising, a website revamp and a family-centric blog about day-to-day life, Luxury Granite has attracted new clients and increased revenue.
The Award for New Venture, sponsored by the Saskatchewan Ministry of Trade & Export Development
Ironside Energy Services Ltd., Estevan
Ironside Energy Services Ltd. prepares drill sites and delivers oilfield construction and maintenance services. Ironside Energy Services is a successful start-up that has experienced significant growth of its client base and its capital equipment inventory since its inception. Ironside Energy has managed to achieve its growth by adhering to strict quality control guidelines and providing a cost-effective service, that has been especially valuable in a difficult oil market. Ironside Energy has proven itself as a successful new venture by its ability to compete with large corporations in projects across the