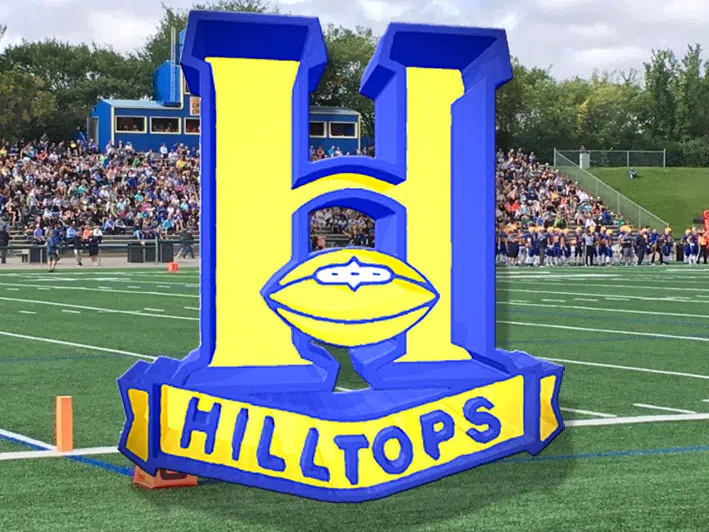 The Saskatoon Hilltops put a perfect 8-0 record on the line Sunday when they host the Winnipeg Rifles in the PFC semi finals.
The Toppers won both regular season clashes by a combined score of 86-15 including last weekend's 48-7 win in the final game of the regular season.
However, injuries forced the Rifles to start their fifth string quarterback Gabriel Grenier.  He completed 12-of-27 passes and ran for a 91-yard touchdown in the fourth quarter
Hilltops quarterback Jordan Walls surpassed the 2-thousand yard mark in passing this season despite the fact he didn't play a full regular season game.
Running back Josh Ewanchyna heads into the game after rushing for 1007 yards this season in just seven games as he was injured for the season opener in Regina. He ran for 177 yards and four touchdowns last week and was named PFC offensive player of the week for a fourth straight time.
Jason Price of the Hilltops was the top receiver in the conference with 31 catches and averaged close to 23 yards a catch,
In addition to outscoring opponents 402-70 the Hilltops was the least penalized team in the PFC. The four-time defending Canadian Bowl champions were also plus-20 in giveaways and takeaways.
However, the Rifles gave the Hilltops their toughest test of the 2017 playoffs as Saskatoon beat Winnipeg 28-21 in last year's PFC semifinals.
Opening kick-off at SMF Field is set for 1 p.m. with the broadcast on 92.9 THE BULL beginning at 12;30.