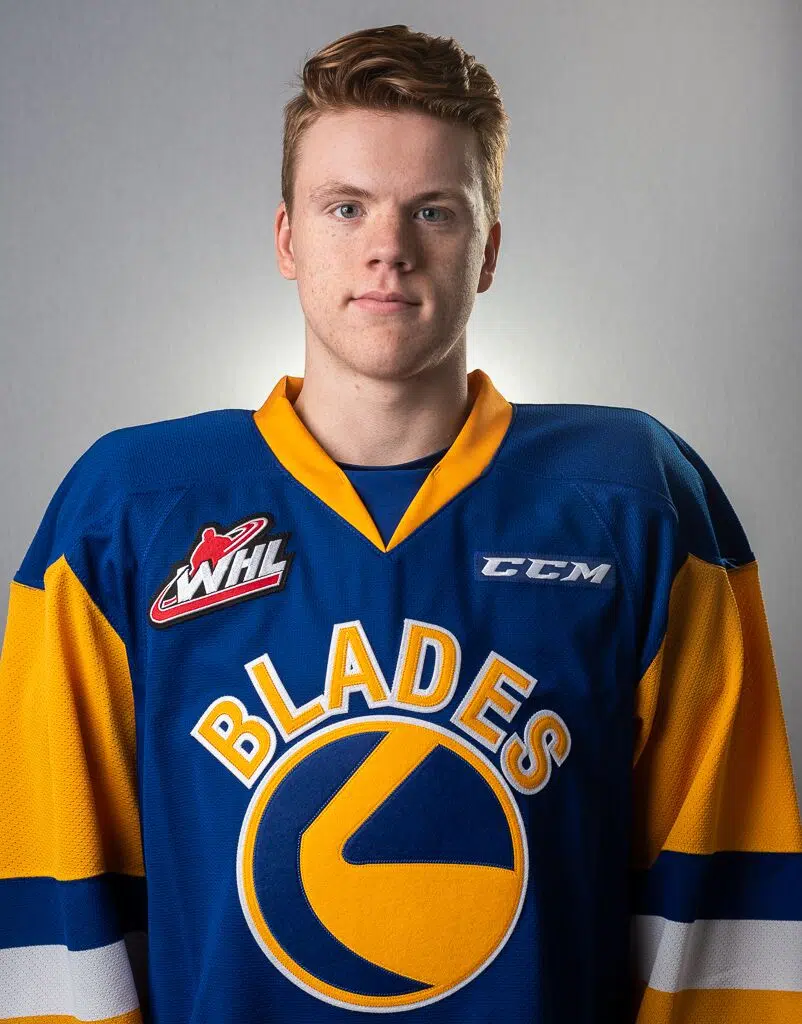 The Saskatoon Blades' contribution to Canada's gold medal-winning Gretzky-Hlinka Cup squad came up big for the Bridge City Bunch Friday night.
In front of 3,306 fans at SaskTel Centre, Kirby Dach scored the winning goal just 37 seconds into overtime and Nolan Maier (pictured) made 41 saves as the Blue and Gold out-lasted the Spokane Chiefs 3-2.
The victory was the first for the Blades over the 6-2-3 Chiefs since January 5, 2010 in Spokane…eight consecutive losses later…while Saskatoon snapped a four-game home-ice losing skid against the Chiefs, dating back to November 15,2008.
Dach's O-T winner was his second goal of the game. He also assisted on Eric Florchuk's first period power play goal as the Bridge City Bunch snapped a mini two-game winless streak…improving their record to 8-3-1. It was the fifth time in 12 games that the Blue and Gold went beyond 60 minutes before a result was decided. The Blades have won two of three games decided in the five-minute overtime period. Add in two shootout victories and Saskatoon is 4-1 in games going beyond regulation time. The Bridge City Bunch are also 5-1-1 in games decided by one goal.
The Blue and Gold are off until Wednesday when they host the Everett Silvertips…the team that Blades' head coach Mitch Love played for in the first two seasons of their existence between 2003 and 2005 and was also an assistant coach for over the last eight seasons. Following is the official game summary from the W-H-L…
Spokane Chiefs 2 at Saskatoon Blades 3 (OT) – Status: Final OT
Friday, October 19, 2018 – SaskTel Centre – Saskatoon, SK
Spokane 1 1 0 0 – 2
Saskatoon 1 1 0 1 – 3
1st Period-1, Saskatoon, Florchuk 4 (Gerlach, Dach), 14:34 (PP). 2, Spokane, Toporowski 2 (Smith), 18:51 (PP). Penalties-Smith Spo (cross checking), 10:19; McIndoe Spo (charging), 12:53; Reid Spo (holding), 14:21; Wouters Sas (interference), 18:43.
2nd Period-3, Spokane, Smith 2 (McGrew, Zummack), 7:19 (PP). 4, Saskatoon, Dach 6 (Gerlach), 19:59. Penalties-Davidson Sas (tripping), 1:57; Kaddoura Sas (high sticking), 5:33; Wouters Sas (delay of game), 7:11; McIndoe Spo (inter. on goaltender), 15:17.
3rd Period- No Scoring.Penalties-Schuldhaus Sas (tripping), 1:25; Gabruch Spo (hooking), 7:28; Toporowski Spo (roughing), 12:10.
OT Period-5, Saskatoon, Dach 7 (Florchuk, Davidson), 0:37. Penalties-No Penalties
Shots on Goal-Spokane 8-20-14-1-43. Saskatoon 15-10-6-2-33.
Power Play Opportunities-Spokane 2 / 5; Saskatoon 1 / 6.
Goalies-Spokane, Brkin 5-0-1-1 (33 shots-30 saves). Saskatoon, Maier 7-3-0-0 (43 shots-41 saves).
A-3,306
Referees-Bryce Sebastian (64), Colin Watt (72).
Linesmen-Tanner McGregor (55), Levi Schutz (110).