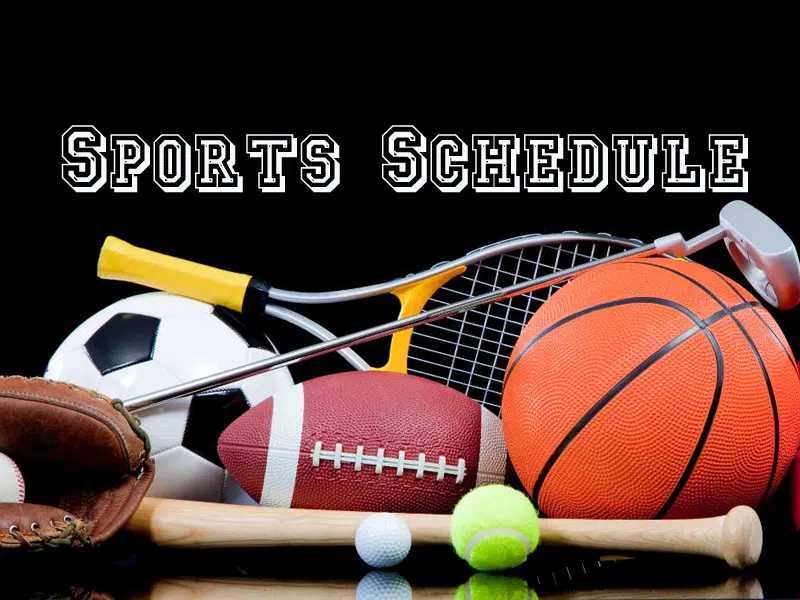 AL Championship Series
Boston at Houston, 6;09 p.m.
(Red Sox lead series 3-1)
—
NHL
Colorado at New Jersey, 5 p.m.
Philadelphia at Columbus, 5 p.m.
Pittsburgh at Toronto, 5 p.m.
Detroit at Tampa Bay, 5;30 p.m.
Vancouver at Winnipeg, 6 p.m.
Arizona at Chicago, 6;30 p.m.
Boston at Edmonton, 7 p.m.
Buffalo at San Jose, 8;30 p.m.
N.Y. Islanders at Los Angeles, 8;30 p.m.
—
NFL
Denver at Arizona, 6;20 p.m.
—
NBA
Chicago at Philadelphia, 6 p.m.
Miami at Washington, 6 p.m.
L.A. Lakers at Portland, 8;30 p.m.
—
The Saskatoon Blades continue a home stand Friday night against the Spokane Chiefs. The Blades have a 7-3-1 record for 15 points and are second in the Eastern Division. The Chiefs have a 6-2-0-2 record for 14 points and lead the U-S Division. It's a 7;05 start from SaskTel Centre with the broadcast on 98-COOL on the air at 6 p.m.
—
The Humboldt Broncos continue their SJHL season Friday night in Melville to open a home-and-home series against the Millionaires. The Broncos are second in the Global Ag Risk Solutions Division with a record of 8-5-1 for 17 points. The Millionaires are last in the Viterra Division with a record of 2-8-1-2 for 7 points. The return match is Saturday night at the Elgar Petersen Arena in Humboldt. Opening face-off both nights is at 7;30.
—
PJHL
P-A Titans at Saskatoon Royals, 7;30 p.m. Rod Hamm Arena
—
Midget Boys AAA Hockey
Saskatoon Contact at P-A Mintos 7, p.m. Art Hauser Centre
Saskatoon Blazers at Moose Jaw
Tisdale at Beardys 8 p.m.
—
Midget Girls AAA Hockey
Swift Current at Notre Dame
—
Saskatoon High School Sr. Football
Walter Murray vs Bethlehem, 3 p.m. SMF Field
Holy Cross vs St. Joseph, 5;15 p.m. SMF FIled
Centennial vs Aden Bowman, 7;30 p.m. SMF Field
Tommy Douglas vs P-A St. Mary, 6 p.m. Max Clunie Field in P-A
—
The University of Saskatchewan Huskies football team hosts Manitoba Saturday. The Huskies have a record of three wins and three losses for six points and are tied with Manitoba and U-B-C for second place in the Canada West standings. Saturday' s start time from Griffiths Stadium is 2 p.m. with the countdown to kick-off pregame show on CJWW starting at 1 o clock.
—
The Saskatoon Hilltops host the Winnipeg Rifles Sunday in the Prairie Football Conference semi finals. It s a rematch of last Sunday s final game of the regular season won 48-7 by the Hilltops. The four-time defending Canadian Bowl champions finished the regular season with an 8-0 record while the Rifles had three wins and five losses including two against the Hilltops. Opening kick-off at SMF Field is at 1 p.m. with the broadcast on 92.9 THE BULL signing on at 12:30. The other semi final has the Edmonton Huskies hosting the Regina Thunder with the two winners meeting in the PFC final on Sunday October 28th.
—