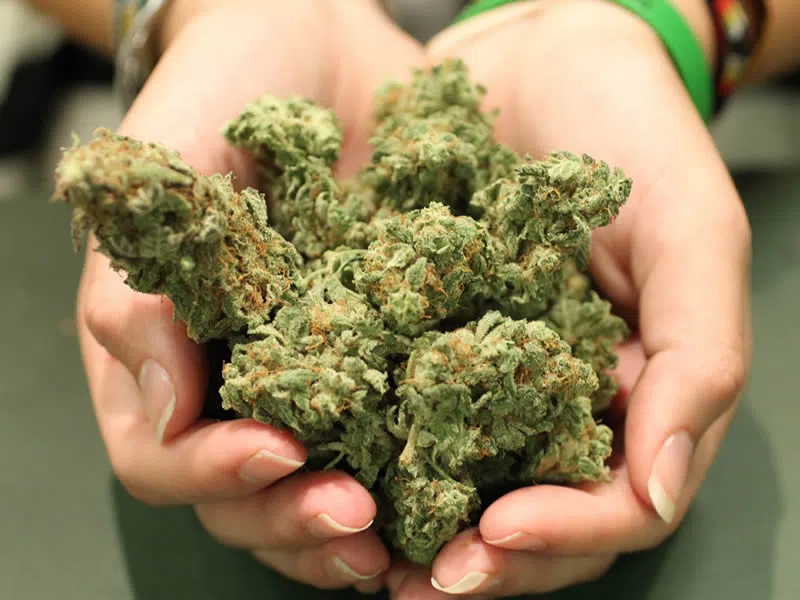 CJWW News had a lengthy conversation with Saskatoon Police Staff Sergeant Patrick Barbar on some of what you can expect when it comes to recreational marijuana.
Drug impaired driving isn't a new phenomenon. So what is going to happen if you get pulled over? Some of the more specific tools available come from the province which has a zero tolerance approach to drug impaired driving.
Driving and Recreational Marijuana
Staff Sergeant Barbar stresses an officer would not pull you over or conduct a roadside test, in the case of a check stop, unless there was something which raised their suspicions.
If you were pulled over there are two things an officer can do and the first is the Field Sobriety Test which is the finger-to-the-nose and walk-the-line kind of test.
Or there is the second test which is use of a drug approved screening device – a mouth swab which is a saliva test that will be analyzed for the presence of either THC (marijuana), cocaine or methamphetamines. This does not provide quantity simply a positive or negative.
An approved screening device will not be used to prove criminal charges because that's not what it is for.
Failing either test will result in an immediate roadside suspension as well as vehicle impoundment. Those suspensions vary depending on whether you are a new driver, an experienced driver or whether you have had previous occurrences.
In this situation you would not be going to the police station to check for actual quantity of a drug in the blood and it is not an penalty that is considered a criminal investigation.
If you don't agree with the roadside suspension, right on the back of your ticket you will see information on how to challenge your roadside suspension. It is not a challenge to the courts but rather to the highway traffic board because it is not an actual charge.
If the officer deems further testing is needed then you would have to go to the police station. There are couple of options including the Drug Recognition Expert Evaluation which is a 12 step test that an expert officer, will conduct – it takes about 45 minutes – to determine a) whether or not the person is impaired and b) what type of drugs are on board. Specifically what of seven categories that person has used.
That test is always followed up with a urine sample to confirm the officer's findings. The second option officers have under the right circumstances is to obtain a blood test. That blood test is what will be quantitative and that test will give officers, in the case of cannabis, a nanogram reading.
Just like breath tests the police are required to read a demand, which means they will be reading something off of a card, and it would be an offense to refuse to take whatever the test is.
There is no magic number in terms of how long from when you imbibed recreational marijuana until you would not be considered impaired. Staff Sergeant Barbar says there are too many variables including people's consumption habits which will effect how long THC stays in your system; whether you're a chronic user, daily users or occasional users. The dosage is also impactful as in how much they're taking every day, or even one single dose and the potency, is going to vary from person to person. And then each individual's characteristics impact THC  including age, gender, body size, and fat content because THC is known to adhere to fatty substances in the body.
No smoking marijuana by anyone in a vehicle.
15 officers in Saskatoon are considered to be, and have taken training to become, Drug Recognition Experts while 20 have taken training on standardized field sobriety testing.
Penalties and Impaired Driving by Drug
Impaired Driving by Drug is not a new offence but Staff Sergeant Barbar says it is the "per se" sections that have been added to the Act for instance 2 nanograms on the low end is a summary offence with a maximum fine of $1,000.
Those with 5 nanograms or more would be punished with a mandatory fine of $1,000 for a first offence, 30 days imprisonment for a second offence and 120 days for a third offence.
There is another offence that has been created that is a combination of drug and alcohol so if you have a lower alcohol reading in the range of 50 to 80 milligrams where normally you wouldn't have a criminal charge but you combine that with a drug reading of at least 2 nanograms, that is now a new offence and is considered impaired driving.
Buying and Growing Marijuana
If you want to buy more than 30 grams of legal marijuana in one day,  you're going to have to make more than one trip to the marijuana dispensary.
Cannabis is to be purchased on line or through a licensed dispensary regulated by the Saskatchewan Liquor and Gaming Commission.
You are allowed to grow 4 marijuana plants in your own home for personal consumption.
Using Marijuana
The minimum age for non-medicinal cannabis consumption is 19.
The sale of edible cannabis products remains illegal, pending additional federal legislation; however, homemade edibles produced from legally purchased or grown cannabis will be allowed for personal consumption.
You can use marijuana in a private, detached domicile.
Using or growing cannabis in a condo you rent or own or in an apartment is entirely the domain of the landlord or condominium board.
In terms of where the cannabis can be consumed, public places are off limits that includes streets, sidewalks, parks, schools, parking lots, any building open to the public like a mall, store, theatres or anything of that nature.
A tent, trailer or camper, and the campsite it is located on, is considered a private place under the act but individual parks can place a ban on smoking cannabis.
And then community bylaws come into play. In Saskatoon for instance, patios or anywhere you can't smoke or use alcohol, you won't be able to legally use marijuana.
Transporting Marijuana
You may transport marijuana from a place where it can be legally purchased to a place where it may be legally stored or consumed or between two places where it may be legally stored or consumed. It is the same wording that is used for liquor.
There are no stipulations regarding packaging when you are transporting marijuana although it must be sold in packaging approved by the province. So you can conceivably take the marijuana home after purchase, consume some of it there and then take the same marijuana to a friend's house and legally consume it there as long as it is a direct A to B route.
The limit a person can have in a public place of recreational marijuana, in their possession, is 30 grams.
Outside Canada
It will remain illegal to take cannabis across the border after October 17, even if you are coming from or going to a jurisdiction with legalized marijuana. For example going from British Columbia to Washington state. It is illegal to take marijuana into the U.S. regardless of what state at which you are entering.
Medical Marijuana
Having a prescription won't negate your being considered impaired if you recently smoked cannabis and decided to drive.
Keep your store receipts and medical marijuana license on you.
For people who hold a legitimate medicinal marijuana license they can consume in a public place, although city bylaws like not smoking on a patio still apply. They can also transport in their vehicle when it is not from point A to point B because it is considered medicine.
CBD oil is different in that there is THC in cannabis and CBD is a non-intoxicating substance so there is medication available in tablet form for CBD. Staff Sergeant Barbar says it does have some medicinal qualities where you would not feel the intoxicating affects of marijuana and therefore the rules that apply to marijuana do not apply to CBD oil.