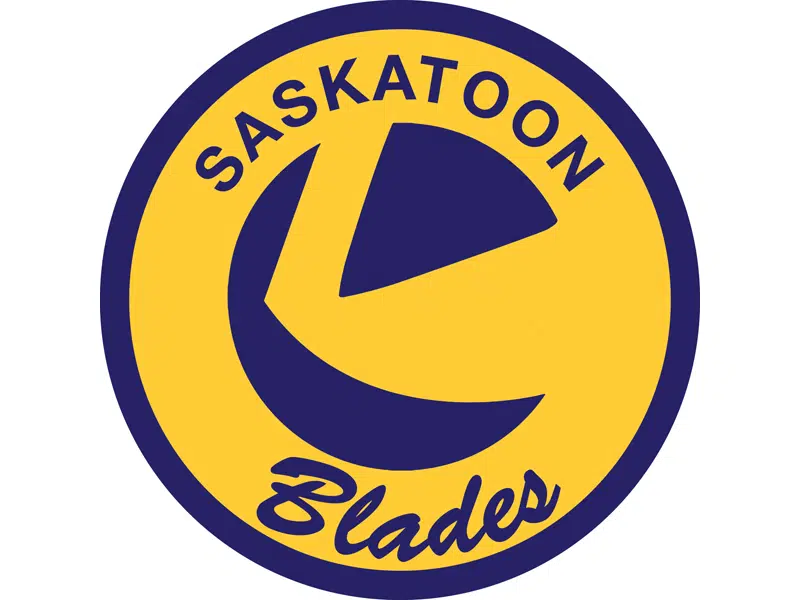 Josh Prokop's second goal of the night 2:31 into overtime gave the Calgary Hitmen a wild 5-4 win over the Saskatoon Blades in a game that saw wild momentum swings in front of 2805 SaskTel Centre fans.
After a slow start Blades forward Kristian Roykas Marthinsen opened the scoring after a turnover in front of the Hitmen net just past the three-minute mark and it looked like the Blades would blowout the struggling Calgarians when Dawson Davidson's mid-point blast on a Saskatoon power-play made it 2-0 less than two minutes later.
The Hitmen replied in the last minute of the opening frame spoiling a sensational 17-save first-period performance by Dorrin Luding as Saskatoon product Kaden Elder jammed home a shot from in close and the Hitmen carried that momentum into the second period.
After Carson Focht tied the game from a sharp angle less than five minutes into the middle frame, rookie Riley Fiddler-Schultz gave Calgary the lead 43-seconds later converting his own rebound finishing a fine solo effort.
The Hitmen extended that lead to 4-2 less than a minute into the third-period when Prokop poked home his own rebound after a turnover deep in Saskatoon territory.
However, the Blades pulled to within one as they started a power-play right after the mid-period time-out scoring just seven seconds into the manpower advantage. Josh Patterson redirected  Davidson's wrist shot from the point with about nine minutes remaining in regulation.
With Luding out past the hash marks waiting to be called to the bench for a sixth attacker overage defenseman Brandon Schuldhaus blasted a shot from the left point through the legs of Calgary goalie Carl Stankowski with 1:33 left in the final frame.
However, after chances at both ends, Prokop went forehand-backhand-five-hole on Luding after breaking in alone to give the Hitmen just their second win of the season.
Davidson extended his consecutive game points streak to eight games, while Kirby Dach added two assists making is seven games in a row with at least a point.  Elder now has points in four straight games for the Hitmen who are now 2-6-2 on the season.
Calgary outshot Saskatoon 41-10. The Blades were 2-for-5 on the power play and killed off all three Hitmen advantages.
The Blades head into the fourth game of this five-game homestand with a record of 7-3-1.  Opening face-off will be at 7:05 p.m. with the broadcast on 98-COOL kicking on at 6 o'clock.
The game summary is below.
Calgary Hitmen 5 (OT) at Saskatoon Blades 4 – Status: Final OT
Wednesday, October 17, 2018 – SaskTel Centre – Saskatoon, SK
Calgary 1 2 1 1 – 5
Saskatoon 2 0 2 0 – 4
1st Period-1, Saskatoon, Roykas Marthinsen 4 (Davidson, Gerlach), 3:24. 2, Saskatoon, Davidson 4 (Dach), 5:12 (PP). 3, Calgary, Elder 4 (Kastelic, Toder), 19:16. Penalties-Prokop Cgy (tripping), 4:30; Kastelic Cgy (tripping), 5:53; Gerlach Sas (slashing), 9:58; Klassen Cgy (unsportsmanlike cnd., major-fighting), 13:37; Nicholas Sas (major-kneeing, major-fighting, game misconduct), 13:37.
2nd Period-4, Calgary, Focht 2 (Prokop, Klassen), 4:53. 5, Calgary, Fiddler-Schultz 2   5:36. Penalties-McKay Sas (roughing), 6:55; Kryski Cgy (holding), 13:28.
3rd Period-6, Calgary, Prokop 2 (Focht, Coleman), 0:57. 7, Saskatoon, Paterson 3 (Davidson, Roykas Marthinsen), 10:57 (PP). 8, Saskatoon, Schuldhaus 1 (Florchuk, Dach), 18:27. Penalties-Huber Cgy (major-fighting), 1:07; McKay Sas (major-fighting), 1:07; Coleman Cgy (high sticking), 1:45; Focht Cgy (inter. on goaltender), 10:48.
OT Period-9, Calgary, Prokop 3 (Elder), 2:31. Penalties-No Penalties
Shots on Goal-Calgary 18-9-12-2-41. Saskatoon 10-13-16-1-40.
Power Play Opportunities-Calgary 0 / 3; Saskatoon 2 / 5.
Goalies-Calgary, Stankowski 1-4-2-0 (40 shots-36 saves). Saskatoon, Luding 1-0-1-0 (41 shots-36 saves).
A-2,805
Referees-Adam Bloski (16), Aydon Brown.
Linesmen-Joel Beresh (122), Aidan Penner.