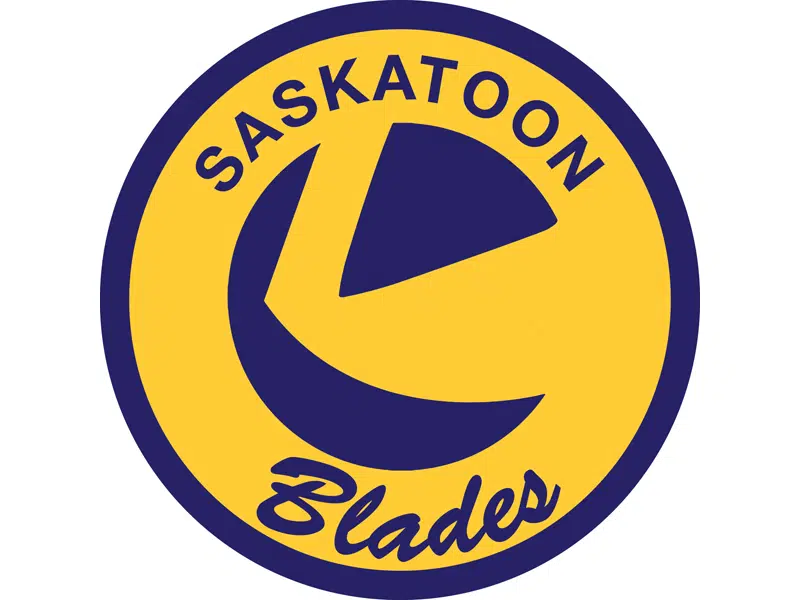 The Saskatoon Blades saw their four game winning streak come to an end Sunday with a 6-2 home ice loss to the Prince Albert Raiders.
The game was close until the third period when the Raiders who are ranked second in the CHL pulled away with three unanswered goals.
Blades forward Kristian Roykas-Marthinsen opened the scoring with his third goal of the season just 2:36 into the game on the power-play, but the Raiders replied with first period tallies from Spencer Moe and Parker Kelly.
The Blades tied the game on a second period power play goal as Max Gerlach set up Dawson Davidson who then let one go from up top which found its way passed Raiders veteran goalie Ian Scott. That was Davidson's third goal of the season.
Brett Leason's goal with less than three minutes left in the second period staked the visitors to a one goal lead heading into the third period.
Brayden Pachal added the insurance marker at the 9:50 mark of the third period.
Five minutes later, the Raiders extended the lead when overage forward Sean Montgomery snapped a shot past Blades goalie Nolan Maier.
Leason added an empty-net, shorthanded goal to round out the scoring and now has nine goals on the season for the Raiders who have raised their record to 10-1.
The Raiders also ended their SaskTel Centre drought as it was thier first regular season victory in that venue in 15 games dating back to September 2014.
The Blades who are now 7-3 are getting ready to host the Calgary Hitmen Wednesday night. Opening face-off at SaskTel Centre is at 7:05. The COOL-98 broadcast gets underway at 6 p.m.
The game summary is below.
Prince Albert Raiders 6 at Saskatoon Blades 2 – Status: Final
Sunday, October 14, 2018 – SaskTel Centre – Saskatoon, SK
Prince Albert 2 1 3 – 6
Saskatoon 1 1 0 – 2
1st Period-1, Saskatoon, Roykas Marthinsen 3 (Florchuk, Dach), 2:36 (PP). 2, Prince Albert, Moe 2 (Pachal, Fonstad), 5:20. 3, Prince Albert, Kelly 6 (Sapego, Martin), 9:46. Penalties-Hayes Pa (elbowing), 1:21; Leason Pa (tripping), 18:20; Roykas Marthinsen Sas (slashing, embellishment), 18:20.
2nd Period-4, Saskatoon, Davidson 3 (Gerlach, Florchuk), 14:01 (PP). 5, Prince Albert, Leason 8 (Montgomery, Pachal), 17:12. Penalties-Martin Pa (high sticking), 1:07; Martin Pa (roughing, roughing), 9:28; Nicholas Sas (roughing), 9:28; Dach Sas (inter. on goaltender), 10:23; Montgomery Pa (slashing), 13:47.
3rd Period-6, Prince Albert, Pachal 1 (Gregor, Kelly), 9:50. 7, Prince Albert, Montgomery 3 (Leason, Protas), 14:31. 8, Prince Albert, Leason 9 (Protas), 19:42 (SH). Penalties-Moe Pa (high sticking), 2:37; Hayes Pa (unsportsmanlike cnd.), 19:26; Masella Pa (roughing), 19:26; Nachbaur Pa (unsportsmanlike cnd.), 19:26; Roykas Marthinsen Sas (unsportsmanlike cnd.), 19:26; Wouters Sas (unsportsmanlike cnd.), 19:26.
Shots on Goal-Prince Albert 11-15-5-31. Saskatoon 9-12-7-28.
Power Play Opportunities-Prince Albert 0 / 2; Saskatoon 2 / 6.
Goalies-Prince Albert, Scott 9-1-0-0 (28 shots-26 saves). Saskatoon, Maier 6-3-0-0 (31 shots-25 saves).
A-3,533
Referees-Adam Byblow (23), Mike Langin (67).
Linesmen-Tanner McGregor (55), Levi Schutz (110).