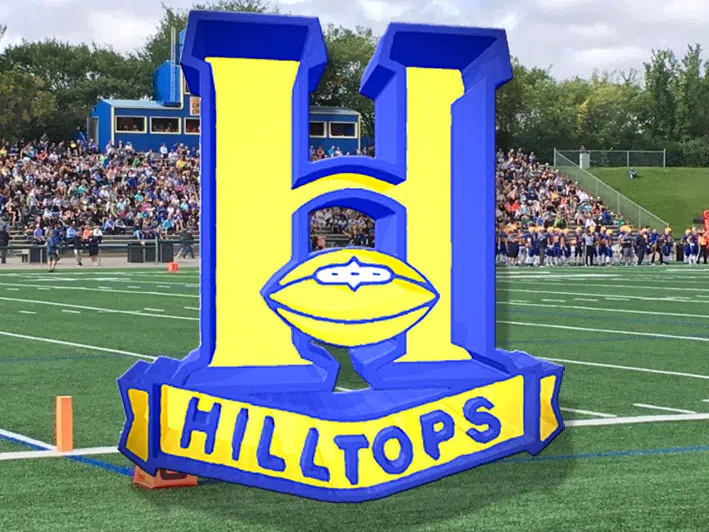 The Saskatoon Hilltops topped off an unbeaten 8-0 regular season with a 48-7 win over the Winnipeg Rifles at SFM field while adding a pair of milestones.
Josh Ewanchyna who went into the game with three straight PFC offensive player of the week awards likely staked a claim on a fourth in a row rushing for 177 yards on 27 carries and scored four touchdowns. The third-year speedster from Holy Cross also surpassed the 1,000-yard rushing mark on the season.  His final carry of the game gave Ewanchyna a total of 1,007. However, there was a tense moment before he made the milestone carry when he landed on top of the football and was winded.  Ewanchyna recorded touchdown runs of one, three, 13 and 24 yards.
Quarterback Jordan Walls also had an outstanding day completing 15-of-20 passes for 277 yards and three touchdowns. The fifth-year pivot also surpassed the 2,000- yard mark in passing. The achievement is more significant considering Walls didn't play a complete game all season.
David Solie, John Brown and Rylan Kleiter made the touchdown catches, the longest of which was Kleiter's 50-yard pass and run play down the sideline in the second quarter. Derek Price was Walls' prime target with five catches for 123 yards. Solie also converted six of the seven touchdowns, missing his first of the season in 47 attempts.
The Rifles were in tough before they even arrived in Saskatoon. Injuries meant they had to start their fifth-string quarterback. However, Gabriel Grenier showed a great deal of poise completing 12-of-27 passes for 145 yards and ran for a 91-yard touchdown when forced out of the pocket in the fourth quarter.
The Rifles suffered another significant injury when their top receiver and kick returner Brendan Naujoks had to be helped off the field in the second quarter with an apparent leg injury.
The Hilltops who got all 65 players into the game and used three quarterbacks rolled up 485 yards of offense to 296 for the Rifles.
The same two teams will meet in the PFC semi-finals next weekend with opening kick-off at smf field slated for 1 p.m. and the broadcast on 92.9 THE BULL beginning at 12;30.