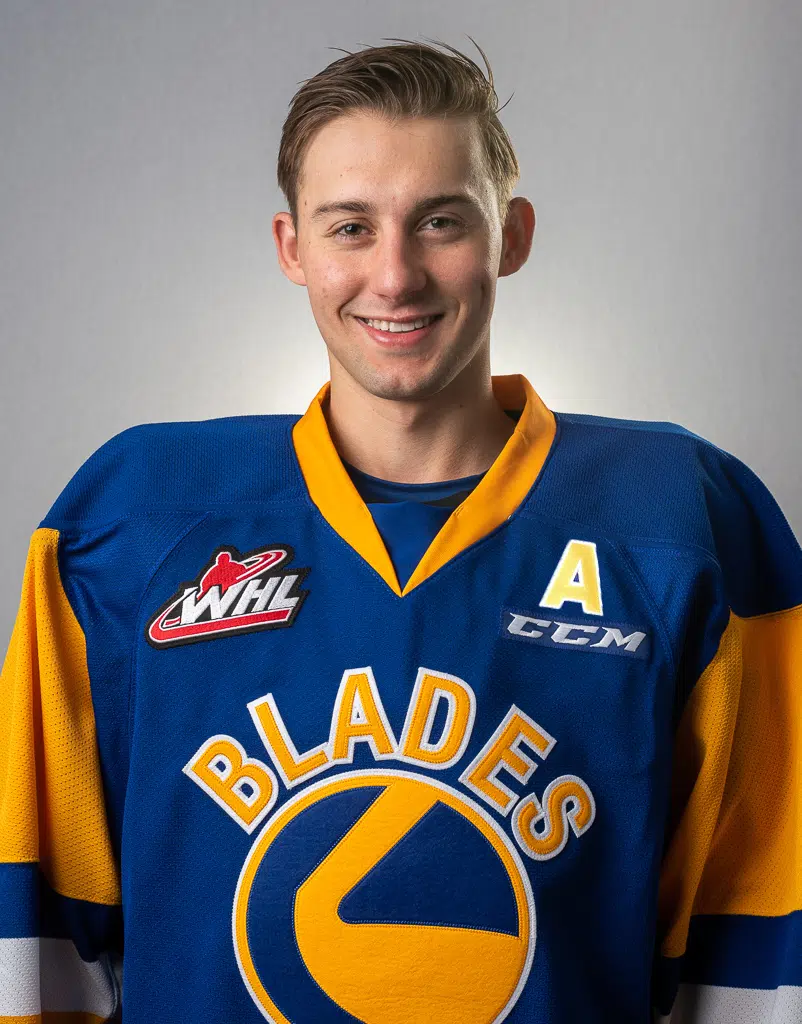 Max Gerlach's third goal of the night 3:44 into overtime gave the Saskatoon Blades a heart-stopping 3-2 win over the Red Deer Rebels to open a five-game homestand.
Gerlach also provided high dramatics with the tying goal with 15-seconds left in regulation and with goalie Nolan Maier on the bench for a sixth attacker,  Gerlach converted a cross-seam feed with a one-time snapshot from the left-wing circle and won it with a rising wrist shot from between the hash marks.
It looked as if Jeff De Witt's deflection of a power-play point shot just past the midway point of the second period would stand up as the winner until Gerlach's snipe in the dying seconds.
Maier set the table for the comeback stopping Saskatoon product Alex Morozoff on a penalty shot late in the third period with the Rebels leading 2-1.
Gerlach also tied the game  1-1 in the second period with a play similar to the tying goal during a 5-on-3 power-play.
Oleg Zaytsev opened the scoring for the Rebels just 51-seconds into the game.
Rebels goalie Ethan Anders was outstanding turning aside 34 shots, Maier stopped 23 to pick up the victory.
Saskatoon was 1-for-6 on the power play and the Rebels 1-for-5
Blades defenseman Dawson Davidson extended his consecutive game points streak to six with assists on the tying and winning goals.  Kirby Dach also had a pair of assists and now has nine points in his last six games.
The 7-2 Blades now get ready to host the 8-1 Prince Albert Raiders on Sunday afternoon at 2 p.m.  The broadcast on 98-COOL begins at 1 o'clock.  The Raiders and Rebels square off Saturday night in P-A.
The game summary is below
Red Deer Rebels 2 at Saskatoon Blades 3 (OT) – Status: Final OT
Friday, October 12, 2018 – SaskTel Centre – Saskatoon, SK
Red Deer 1 1 0 0 – 2
Saskatoon 0 1 1 1 – 3
1st Period-1, Red Deer, Zaytsev 4 (de Wit), 0:51. Penalties-Kustra Sas (tripping), 12:12; Melin Rd (hooking), 16:41; served by Morozoff Rd (too many men), 18:38; Paterson Sas (holding), 18:45; Caller Sas (tripping), 19:47.
2nd Period-2, Saskatoon, Gerlach 5 (Dach, Florchuk), 7:10 (PP). 3, Red Deer, de Wit 6 (Alexeyev, Barteaux), 10:50 (PP). Penalties-Donohoe Rd (major-fighting), 5:36; Morozoff Rd (elbowing), 5:36; McKay Sas (major-fighting), 5:36; Zaytsev Rd (roughing), 5:54; Dach Sas (slashing), 9:56.
3rd Period-4, Saskatoon, Gerlach 6 (Dach, Davidson), 19:44. Penalties-Barteaux Rd (hooking), 4:44; Dach Sas (tripping), 5:40; Zaytsev Rd (slashing), 11:44.
OT Period-5, Saskatoon, Gerlach 7 (Paterson, Davidson), 3:44. Penalties-No Penalties
Shots on Goal-Red Deer 5-12-7-1-25. Saskatoon 10-11-13-3-37.
Power Play Opportunities-Red Deer 1 / 5; Saskatoon 1 / 6.
Goalies-Red Deer, Anders 4-2-1-0 (37 shots-34 saves). Saskatoon, Maier 6-2-0-0 (25 shots-23 saves).
A-3,239
Referees-Ben Croker, Trevor Peluk (79).
Linesmen-Devan Thiessen (94), Andrew Sawatsky (123).