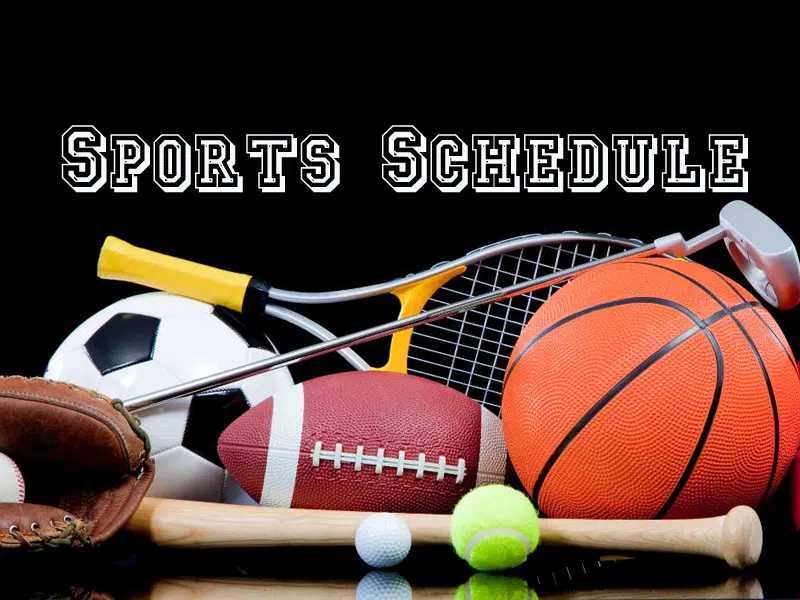 MLB Post-season
AL Division Series
Boston (Porcello 17-7) at N.Y. Yankees (Sabathia 9-7), 6;07 p.m.
(Red Sox lead best of five series 2-1)
—
NHL
Vancouver at Carolina, 5 p.m.
San Jose at Philadelphia, 5 p.m.
Colorado at Columbus, 5 p.m.
Calgary at Nashville, 6 p.m.
Los Angeles at Winnipeg, 6 p.m.
Toronto at Dallas, 6;30 p.m.
—
AHL
Milwaukee at San Antonio, 6 p.m.
—
NBA Pre-season
Milwaukee at Oklahoma City, 6 p.m.
Shanghai Sharks at Houston, 6 p.m.
Denver at L.A. Clippers, 8:30 p.m.
—
WHL
Edmonton at Tri City
(The Saskatoon Blades are off until Friday when they host the Red Deer Rebels. The Bridge City bunch are off to a 6-2 start for 12 points, second in the Eastern Division. The Rebels are 5-2 for 10 points and sit second in the Central Division. Opening face-off at SaskTel Centre is at 7:05 p.m. with the broadcast on 98-COOL signing on at 6 p.m.)
—
PJHL
Traveland RV Storm at Regina Capitals
—
Midget Boys AAA Hockey
Tisdale at Saskatoon Contacts, 8 p.m. Merlis Belsher Place
—
High School Sports
Girls Soccer
Aden Bowman vs Evan Hardy, 6 p.m. Kinsmen
Boys Volleyball
Bedford Road at Holy Cross, 6:15 p.m.
Girls Volleyball
Bishop Mahoney at Holy Cross, 7:15 p.m.
Saskatoon Christian at Holy Cross, 8:15 p.m.
—
Week 18 in the CFL starts Friday with the Hamilton Ticats in Toronto. The Saskatchewan Roughriders are back in action Saturday in Winnipeg. The Riders are second in the Western Division with 10 wins and 5 losses for 20 points. The Blue Bombers are third with a record of 8 wins and 7 losses for 16 points. Opening kickoff is at 12 p.m. The Riders next home game is Oct. 27 against the B-C Lions. Opening kickoff at Mosaic Stadium is at 5 p.m.
—
The final day of the Prairie Football Conference Regular season is Sunday with all six teams in action. The unbeaten Saskatoon Hilltops will host the Winnipeg Rifles. The Toppers are 7-0 for 14 points and have already clinched first place in the final regular season standings. The Rifles are 3-4 and will finish fourth so this is also a preview of their PFC semi final match-up. Opening kickoff Sunday from Saskatoon Minor Football Field is 1 p.m. The Broadcast on 92.9 THE BULL begins at 12:30 p.m.
—
The Canada West University Football Conference is off until Friday when Week 6 starts and ends with all six teams in action, including the Saskatchewan Huskies visiting the U-B-C Thunderbirds in Vancouver. CJWW's broadcast begins at 6 p.m. with play-by-play at 7 p.m. The Dogs have 3 wins, 2 losses for 6 points tied for 2nd place. U-B-C has 1 win, 4 losses for 2 points tied for 5th place. The Huskies next home game is Saturday, October 20th against the Manitoba Bisons. Kick-off time is 2 p.m. at Griffiths Stadium.
—