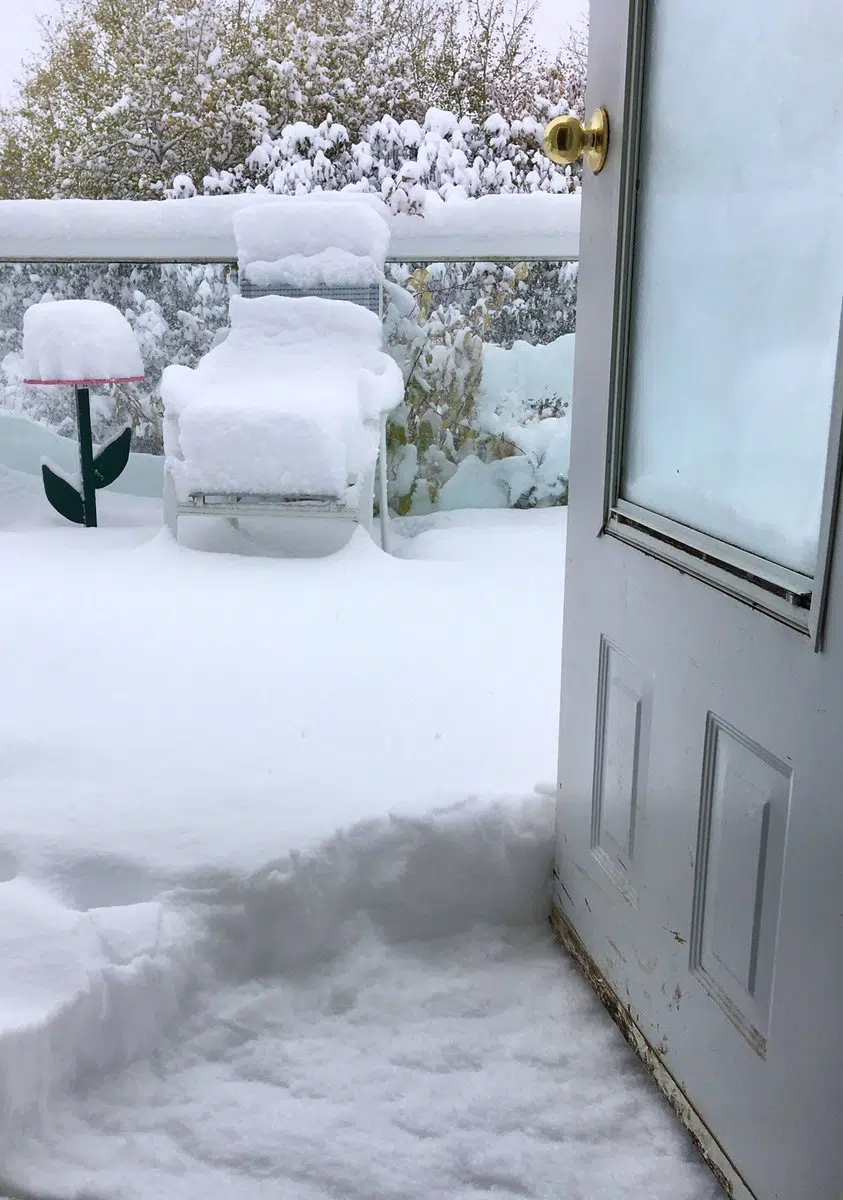 Thanksgiving was not a pleasant one for farmers in the Lloydminster region.
Another snow covered swathed crops and lodged standing crops.
Tracy Herbert is the communications director with the Beef Research Council. She spent the long weekend on the family farm between Neilburg and Maidstone, about half an hour southeast of Lloydminster.
She posted a picture on Twitter showing nine inches of snow, when the forecast was only predicting a couple of centimetres.
Herbert says it is especially disappointing since it was shaping up to be a really good crop. The last real good day of weather was nearly a month ago.
"When the first frost and rain came, any canola that was planted late froze, but hadn't ripened yet. The barley is under the snow. Anything that hasn't been swathed is going to be really hard to pick up."
A lengthy period of warm, dry weather will be needed.
Meantime, grain drying is going on over much of central and northern Saskatchewan.
A lot of propane is being ordered and that is impacting delivery times in some areas.
"There is an abundant supply, it's just the matter of the infrastructure to get it from the terminals into the customers' tanks, " says Keith Morin, Federated Co-operatives Limited (FCL) Director of Propane. "That is where the industry's resources are really taxed right now."
Ideally, it should only take a day or two to get a propane order delivered.
"In most of our branch locations we are able to keep up right with that delivery time, but there are a few places where we are not able too," says Morin.
The Melfort area is the most affected with a seven to ten day delivery time. In the Yorkton area, it is about three to five days from time of order.
Morin says propane sales in Melfort were two-and-a-half times higher in September than any of the past 10 years for the same month. October is shaping up to be an even busier month.
The Saskatoon and Meadow Lake branches are also facing high demands for propane.
Morin says delivery trucks have been brought in from other branches. Additional drivers are being hired, including some that have recently retired.
"We have been so busy it has been impossible to keep up, but our drivers are working as many hours as regulations allow to help the situation."
(Above picture: Tracy Herbert/Twitter)