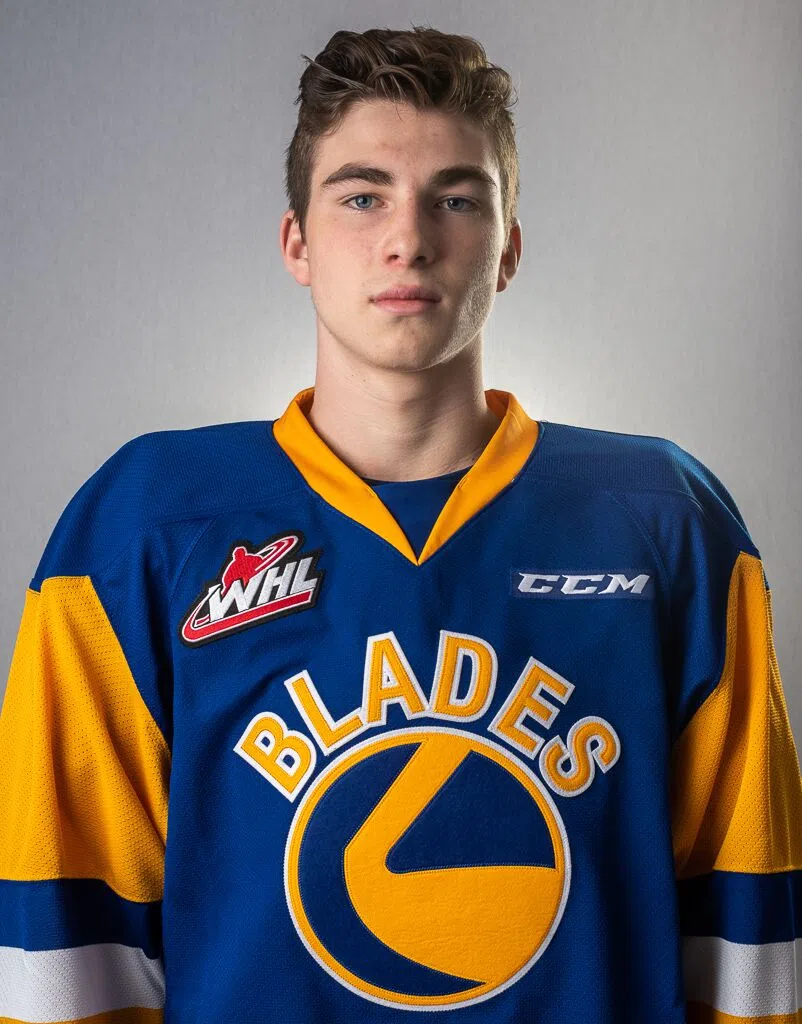 For a second straight Saturday, the Saskatoon Blades found a way to win without leading a game until the very end!
Kirby Dach (pictured) scored the lone goal in a three-round shootout and the Bridge City Bunch out-lasted the Lethbridge Hurricanes 3-2. It was the Blue and Gold's third straight victory to close out a four-game Central Division road trip while, also, finishing a stretch of six games in eight days with a 4-2-0 record. The previous Saturday, the Blades didn't lead until a 10-round shootout ended with Saskatoon out-scoring Medicine Hat 4-3 at SaskTel Centre.
"I think we had real good energy," said Blades' assistant coach Jerome Engele when asked about the staying power the team showed. "The guys worked extremely hard and they really earned these two points."
Josh Paterson's power play goal answered a man advantage score by Lethbridge's Keltie Jeri-Leon in the first period. And, Riley McKay's third goal of the season, with just 3.1 seconds remaining in the second period, equaled Logan Barlage's tally from earlier in the frame. After that, Saskatoon had the better of the play and missed some good chances to pull ahead…only to be denied by Hurricanes' goaltender Reece Klassen…the game's first star with 34 saves.
In the shootout, after Dach scored on the first attempt, Bridge City Bunch netminder Nolan Maier turned aside Jordy Bellerive, Dylan Cozens and Taylor Ross as the Blue and Gold improved to 6-2-0 for the season. The Canes fell to 2-3-1 and have yet to win in three games at home.
Dach and defenceman Dawson Davidson extended personal consecutive game points streaks. Davidson had two assists, giving him a goal and eight helpers for nine points in five games. The 20-year-old Moosomin, Sk., product tops all W-H-L defencemen with 12 points. Dach, meanwhile, has two goals and five assists for seven points in four games thanks to setting up Paterson's power play tally. The man advantage tally ended a string of 14 straight Blades' power plays without scoring.
Saskatoon returns home for five straight games…the first of which is Friday against the Red Deer Rebels. Following is the official game summary from the W-H-L…
Saskatoon Blades 3 (SO) at Lethbridge Hurricanes 2 – Status: Final SO
Saturday, October 6, 2018 – Enmax Centre – Lethbridge, AB
Saskatoon 1 1 0 0 – 3
Lethbridge 1 1 0 0 – 2
1st Period-1, Lethbridge, Jeri-Leon 2 (Prefontaine, Elmer), 3:18 (PP). 2, Saskatoon, Paterson 2 (Dach, Davidson), 14:30 (PP). Penalties-Kustra Sas (checking to the head), 1:22; Bellerive Let (slashing), 11:52; Prefontaine Let (cross checking), 13:40; Palivko Let (high sticking), 14:41.
2nd Period-3, Lethbridge, Barlage 2 (Palivko, Cozens), 11:34. 4, Saskatoon, McKay 3 (Farren, Davidson), 19:57. Penalties-Kolle Let (slashing), 1:02; Davidson Sas (tripping), 14:26.
3rd Period- No Scoring.Penalties-No Penalties
OT Period- No Scoring.Penalties-No Penalties
Shootout – Saskatoon 1 (Dach G, Gerlach NG, Davidson NG), Lethbridge 0 (Bellerive NG, Cozens NG, Ross NG).
Shots on Goal-Saskatoon 12-12-10-2-1-37. Lethbridge 7-9-7-3-0-26.
Power Play Opportunities-Saskatoon 1 / 4; Lethbridge 1 / 2.
Goalies-Saskatoon, Maier 5-2-0-0 (26 shots-24 saves). Lethbridge, Klassen 2-2-0-1 (36 shots-34 saves).
A-3,355
Referees-Adam Bloski (16), Tyler Jensen (49).
Linesmen-Devin Kohlhauser (92), Chance Sundquist (101).