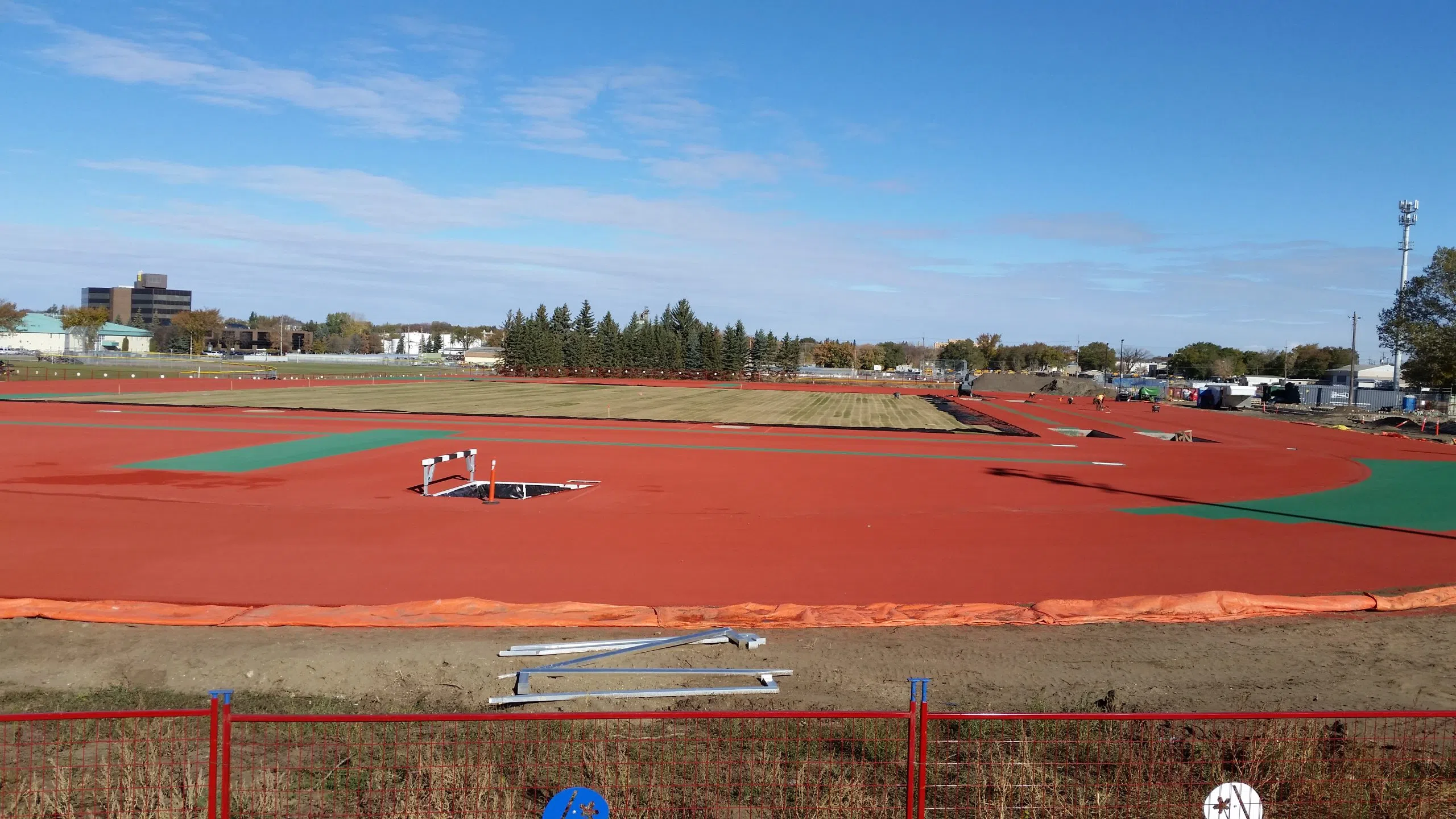 Workers are making steady progress toward getting several new facilities ready at the Gordie Howe Sports complex.
Johnny Mariniuk who is overseeing the project for the Friends of the Bowl Foundation said crews have been putting in 12-to-14 hour days on the running track to make sure the speed skating oval is ready by mid-November. The track doubles as the speed skating oval.
Marciniuk is excited about the progress of the entire project despite recent weather challenges.
"We had one of the best summers, we only lost one day to rain up until September, said Marciniuk. "After that I think we lost four or five, but the cold temperatures haven't allowed us to move as fast as we could on the track."
About 40 members of the Hilltops, in addition to many players for the Valkyries as well as speed skating volunteers will gather October 13th to work on the oval.
The 45-million dollar master plan includes an internationally approved track and field facility and Marciniuk said it will be ready this spring.
"Our first booking is May 10th I believe which is a high school mini-meet," said Marciniuk who expressed confidence is meeting that deadline.
" We will have the whole month of April and into May just to finish up our hobart coats and paint some lines and get the track ready for competition."
The facility which will be able to seat 35-hundred spectators will get International Association of Athletics Federation certification this coming spring.
Marciniuk said construction on another football field and two baseball-softball infields was put on hold pending the arrival of 12-million dollars in government funding that should arrive soon.
The multi-sport indoor training facility is also a beehive of construction activity. It will include state-of-the-art baseball and softball pitching and batting equipment, serve as a winter training centre for the Hilltops and have physiotherapy services on site.
The vision of the foundation to make the complex into one of the world's best sports venues started in 2011 and when you add in the improvements already made at Saskatoon Minor Football Field, the total investment will be 62-million dollars.
Marciniuk said they have reached this point because of the commitment of the foundation and a countless number of volunteers and feels they are the reason this project will reach a successful conclusion making Saskatoon the envy of sporting communities around the country and around the world.
"We've been in this since 2011 and it's worked great , people have been great. When it comes time to shine, they shine," said Marciniuk.