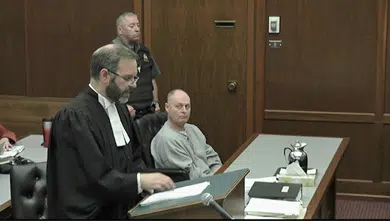 (photos and details of appeal proceedings courtesy of CBC Saskatchewan pool video)
Submissions wrapped up early this afternoon (Tues) in the appeal hearing of the First Degree Murder conviction of David Woods of Saskatoon who was charged with killing his wife, Dorothy Woods.
She was reported missing in November of 2011 and her body was found wrapped in plastic in a culvert near Blackstrap Lake after a GPS tracking device was placed on David Woods' truck.
The grounds for the appeal included that Woods believed his legal counsel was ineffective and the judge erred in the instructions to the jury prior to the verdict.
Woods' former lawyer, Michael Dean Nolin, was asked why he didn't present an expert on knot-tying to which he replied that the advice would be useless and 'smacked of desperation'.
His defence strategy was if it couldn't be determined where Dorothy died, they couldn't say who killed her because of circumstantial evidence.
The new lawyer for David Woods, James Streeton, says the trial judge didn't give proper instruction to the jury about text messages from Dorothy Woods' phone that were sent to men she was having relationships with.
They were sent a few days after she disappeared and were threatening.
Streeton says the texts were prejudicial and were hearsay.
The Crown argued that nothing Nolin did constitutes a new trial and there was no miscarriage of justice.
The three judges will deliberate and will then release a written decision.
The appeal hearing was broadcast through live stream video after a media consortium including Saskatoon Media Group (CJWW, 92.9 The Bull, 98 Cool) submitted an application to the courts. The effort was led by CBC Saskatchewan.