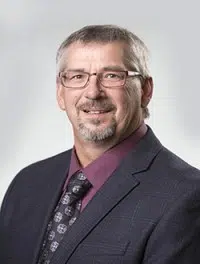 Saskatchewan Pulse Growers (SPG) will not be holding a director election after all.
Current director Jean Harrington from Glenside has announced that due to time constraints, she will resign her seat in January. That leaves three vacancies on the SPG Board, which matches the number of nominations received by the mid-September deadline.
Trent Richards of Assiniboia (pictured) will return for a second term, while two newcomers are elected by acclamation. They are Chad Doerksen from Dalmeny and Shaun Dyrland of Kyle.  Additional details can be viewed at https://saskpulse.com/news-events/news/voting-for-director-elections-opens-october-19
Meantime, the Saskatchewan Flax Development Commission has also filled  three director positions by acclamation.
Jordan Hillier from Southey returns for a second term. SaskFlax will have two new directors, Scott Sefton from Broadview and Patricia Lung from Humboldt. Biographies of Sefton and Lung can be viewed at www.saskflax.com