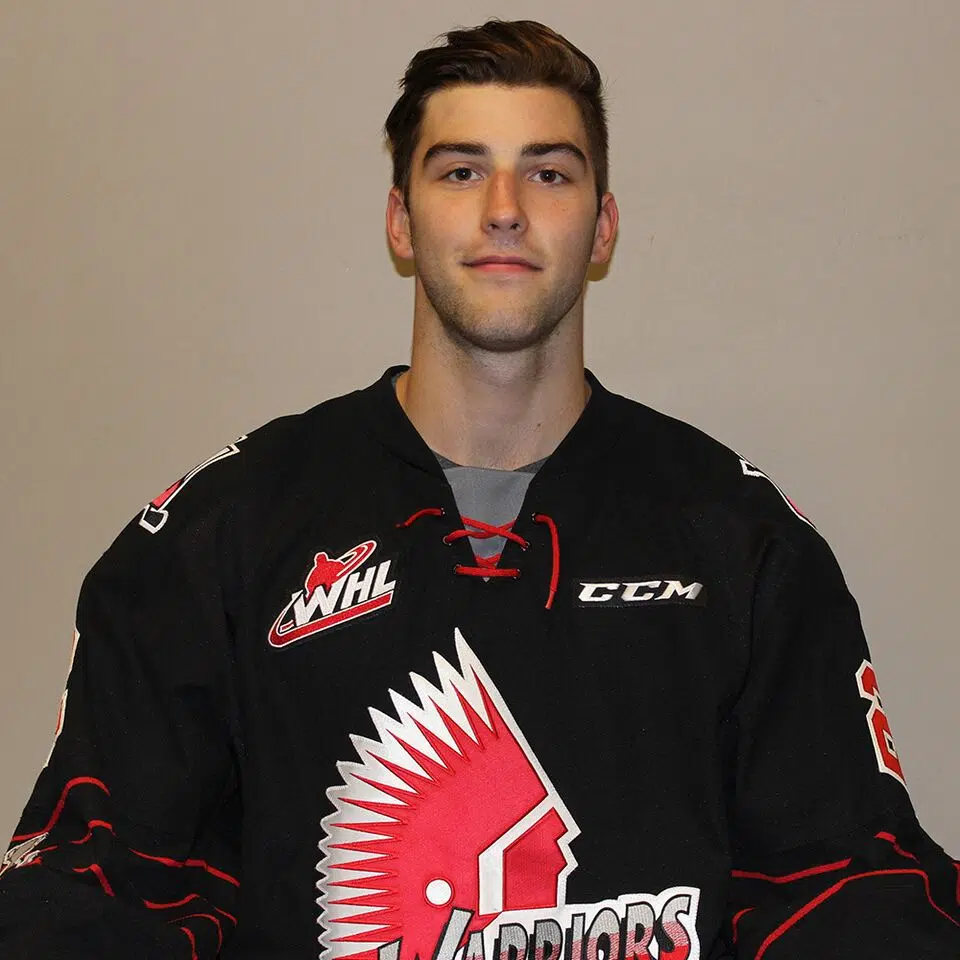 The Saskatoon Blades added blue-line help to their roster…and filled out their 20-year-old quota Tuesday morning.
Overage defenceman Brandon Schuldhaus will join the Bridge City Bunch in Edmonton Wednesday after being acquired from Moose Jaw. The Blue and Gold sent a second round pick in the 2020 Bantam Draft to the Warriors along with a fifth rounder in 2019. Saskatoon lost blue-liners Jackson Caller and Seth Bafaro to "Upper Body" injuries on Sunday in Prince Albert. With forward Brad Goethals leaving the Blades Sunday, acquiring Goethals fills Saskatoon's quota of three 20-year-old players. The 6'4″, 205-pound Calgary product joins defenceman Dawson Davidson and right winger Max Gerlach as the Bridge City Bunch's overage contingent.
Moving Schuldhaus allows Moose Jaw to get down to three 20-year-olds. He played just one game with the Warriors, forced to sit out their first three games after being suspended by the W-H-L for incurring a match penalty in a playoff game against Swift Current back on April 16. Schuldhaus has played 189 career W-H-L games, now into his fourth season, posting 12 goals amongst 47 points and 135 penalty minutes with Moose Jaw, Seattle and Red Deer…Tuesday night's opponent for the Blue and Gold.
Both clubs won three times in September…the Blades in four games while Red Deer needed five. Saskatoon and the Rebels hit the ice at 7 Tuesday night with the Sardinia Restaurant pre-game show signing on at 6 on 98-COOL. Following is the news release from the Blades.
FOR IMMEDIATE RELEASE
Red Deer, Alta. — The Saskatoon Blades have acquired '98 born defenseman Brandon Schuldhaus from the Moose Jaw Warriors today in exchange for a 2020 2nd round pick and a 2019 5th round pick.
"Brandon is a high character, physical shut-down defensemen with 39 games of WHL playoff experience, and we feel he will bring size and skill to our back end," stated Blades General Manager Colin Priestner. "We are very excited to add him to our group. We felt it was important to add a player like Brandon now instead of closer to the deadline to get integrated with our group and help us through the busy schedule we have in October."
Schuldhaus, who turned 20 years old on February 23rd, stands at 6'4″ and 205lbs. The left-hand shooting defensemen brings a wealth of experience to the Blades blue line with 189 career regular season games in the Western Hockey League split between Seattle, Red Deer and Moose Jaw. Through those 189 games, Schuldhaus has compiled 12 goals and 47 points to go along with 135 penalty minutes.
A dual citizen of Canada and the United States, Schuldhaus also brings plenty of playoff experience with 39 career games a 6 post-season points. Born in Houston, Texas, but raised in Calgary, Schuldhaus has hockey in his DNA as his grandfather once played for the Edmonton Oil Kings and at the University of Denver.
The 2020 2nd round pick going to Moose Jaw is Saskatoon's own as they hold two other picks in the that round from Regina and Swift Current. The Blades also hold Regina's 3rd round pick in 2020. The 2019 5th round pick is also Saskatoon's own.
The Blades now have the league maximum of three 20-year-old players, the other two being Max Gerlach and Dawson Davidson.
Brandon Schuldhaus will travel to Edmonton today to join the Blades for their game against the Oil Kings on Wednesday at Rogers Place.
Meanwhile two members of the Blades appear on the NHL Central Scouting watch list for the 2019 draft. Kirby Dach is listed as an A-prospect meaning he is projected to be a first round selection.  Goalie Nolan Maier is a C-prospect which makes him a fourth-to-sixth round candidate.