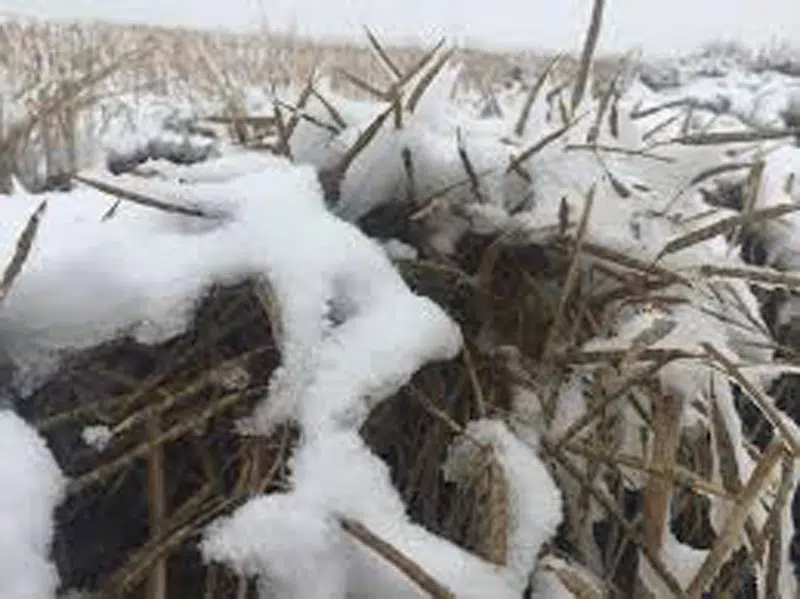 An October 1st snow is keeping farmers off the field again. In some cases, it is the third snowfall over the past couple of weeks.
Some combining had resumed last Thursday and had become more common on the weekend as growers pushed to beat the latest round of precipitation.
"Quite a few were going yesterday (Sunday) on swathed canola," says Gaylord Dennis, a location manager with The Rack in Perdue, about 60 kilometres west of Saskatoon. "I heard a little bit of wheat going off at 18 (percent moisture), but most guys were focussing on canola as it was the driest."
Dennis spent eight hours on the combine yesterday. (Sunday)
"It was actually going through pretty nice. It got tough real quick after dark. It was pretty much the end of it at 9pm."
It is difficult to predict how long this latest delay will last. Warmer temperatures and some wind would help. Daytime highs are only forecast to hit 7 or 8 degrees later in the week.
"Days are short and daytime temperatures are low, but it is only the first of October. Hopefully, things will rebound and we can get the crop in the bin," says Dennis, who estimates about half of the crop has been combined in his area
The 2016 harvest went through many delays in September and October, but an extended warm period in November allowed most farmers to finish combining.