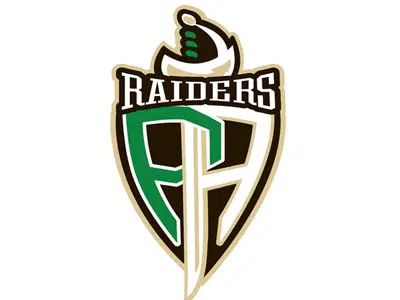 If you didn't want to believe the Prince Albert Raiders were going to be a force to be reckoned with in the 2018-19 W-H-L season, just ask the Saskatoon Blades how tough P.A. is going to be!
The Raiders scored three times in a franchise-record 16 seconds, turning a scoreless game in the second period solidly in their favour, on the way to a 4-1 victory Sunday night over the Bridge City Bunch. Justin Nachbaur opened the scoring at 7:30, followed by Ozzy Weisblatt at 7:39 with Parker Kelly chipping in at 7:46. The W-H-L record for fastest three goals is 12 seconds set by the 1996 Kelowna Rockets. Besides being a Raiders' record, the three goals in 16 seconds ties the 1989 Swift Current Broncos for the second fastest three goals scored.
"That was a tough stretch for sure," said Blades' Associate Coach Ryan Marsh. "But, as a whole tonight, I don't think we were quite at our best. Credit to (Prince Albert). They were the much more willing and competitive team tonight. And, it just kind of caught up with us a little bit, especially during that stretch in the second."
The result capped three wins in as many nights for the Raiders, now 5-0-0 to start the regular campaign, while the Blue and Gold fell to 3-1-0.
Overage forward Kody McDonald also scored for P.A. in the second period, on a power play, giving the Raiders a 4-0 lead after 40 minutes and leading to Saskatoon head coach Mitch Love replacing starting goaltender Nolan Maier with Dorrin Luding to start the third frame.
Rookie Tristen Robins' first W-H-L goal thwarted Ian Scott's shutout bid at 6:36 of the third period. The Raiders out-shot the Bridge City Bunch 39-29 and were 1-for-7 on the power play. The Blue and Gold were 0-for-4 with the man advantage…all the chances coming in the first 22 minutes of the game.
The Blades hit the road for four games in five nights in the Central Division, starting Tuesday in Red Deer. Following is the official game summary from the W-H-L…
Saskatoon Blades 1 at Prince Albert Raiders 4 – Status: Final
Sunday, September 30, 2018 – Art Hauser Centre – Prince Albert, SK
Saskatoon 0 0 1 – 1
Prince Albert 0 4 0 – 4
1st Period- No Scoring.Penalties-Kelly Pa (charging), 0:37; Kustra Sas (hooking), 3:34; Miller Pa (hooking), 7:02; Farren Sas (cross checking), 16:10; Sapego Pa (tripping), 16:17; Pachal Pa (boarding), 19:58.
2nd Period-1, Prince Albert, Nachbaur 3 (Sapego, Martin), 7:30. 2, Prince Albert, Wiesblatt 2 (Kelly, Pearce), 7:39. 3, Prince Albert, Kelly 3 (Pachal, Leason), 7:46. 4, Prince Albert, McDonald 1 (Leason, Fonstad), 14:00 (PP). Penalties-Caller Sas (interference), 12:26; Roykas Marthinsen Sas (roughing), 19:03.
3rd Period-5, Saskatoon, Robins 1 (Davidson), 6:36. Penalties-Roykas Marthinsen Sas (high sticking), 12:19; McKay Sas (tripping), 15:08; Kustra Sas (cross checking), 15:32; Caller Sas (roughing), 16:22; Kelly Pa (slashing), 16:22; Christensen Sas (slashing), 19:14.
Shots on Goal-Saskatoon 9-9-11-29. Prince Albert 12-11-16-39.
Power Play Opportunities-Saskatoon 0 / 4; Prince Albert 1 / 7.
Goalies-Saskatoon, Maier 3-1-0-0 (23 shots-19 saves); Luding 0-0-0-0 (16 shots-16 saves). Prince Albert, Scott 4-0-0-0 (29 shots-28 saves).
A-2,117
Referees-Karlin Krieger (27), Troy Murray (34).
Linesmen-Jordan Carriere (108), Troy Semenchuk (65).