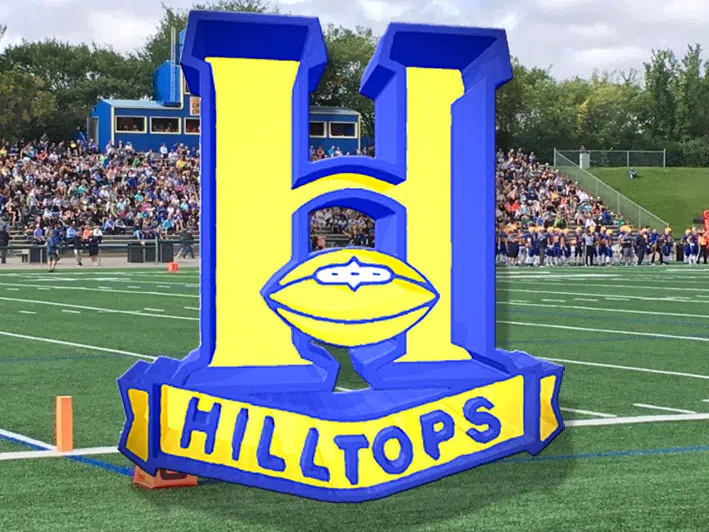 The Saskatoon Hilltops have clinched first place in the Prairie Football Conference with two weeks remaining in the regular following a 36-16 victory over the visiting Edmonton Huskies.
The defenses and Saskatoon's special teams dominated the first half forcing several turnovers but the Hilltops were able to carve out a 10-0 first quarter lead on a 10 yard touchdown pass from Jordan Walls to John Brown and a 41 yard field goal by David Solie who had missed earlier from 21 yards.
In a bizarre turn of events in the second quarter the teams traded turnovers at the Edmonton goal line. Huskies quarterback Brendan Guy was hit and fumbled giving the Toppers first and goal at the one, but Saskatoon gave the ball back when Ben Abrook fumbled on the next play.  The Hilltops did come away with a safety to take a 12-2 lead.
The Hilltops broke the game open on a 70 yard pass and run touchdown toss to Keegan Dicks with just 23-seconds left in the half to extend the lead to 19-2.
The Huskies cut the lead to 19-9 getting a single on the opening kick-off of the second half and a Brandt Burzuk seven-yard touchdown run eight minutes later.
Solie hoofed a 35-yard field goal against the wind in the third quarter and the Hilltops restored a 20-point lead five minutes into the fourth quarter when Jason Price showed great concentration to make a nine-yard touchdown catch of a deflected pass.
Burzuk who came into the game as the leading rusher in the PFC sprinted around the edge into the end zone from a yard out mid-way through the quarter to cut Saskatoon's lead to 29-16, but the Hilltops essentially turned the offense over to their top running back Josh Ewanchyna who capped a late fourth quarter drive with an 11-yard burst to the house for his 8th touchdown of the season to wrap up the scoring. The reigning PFC offensive player of the week rushed for 201 yards on 27 carries. Burzuk carried the ball 23 times for 144 yards.
Toppers quarterback Jordan Walls completed 15 of 25 passes for 243 yards and three touchdowns while Huskies starting pivot Tommy Yanchuk completed 17 of his 26 passes for 213 yards but served up three interceptions.
Head coach Tom Sergeant told the post game show audience on 92.9 THE BULL there are several areas to clean up to get into championship form including ball security as Edmonton recovered two of three fumbles. He was happy with the defense which picked off three passes and Riley Keating's blocked punt in the first quarter.
Saskatoon will take a 6-0 record into next Sunday's showdown against the Wildcats in Edmonton.