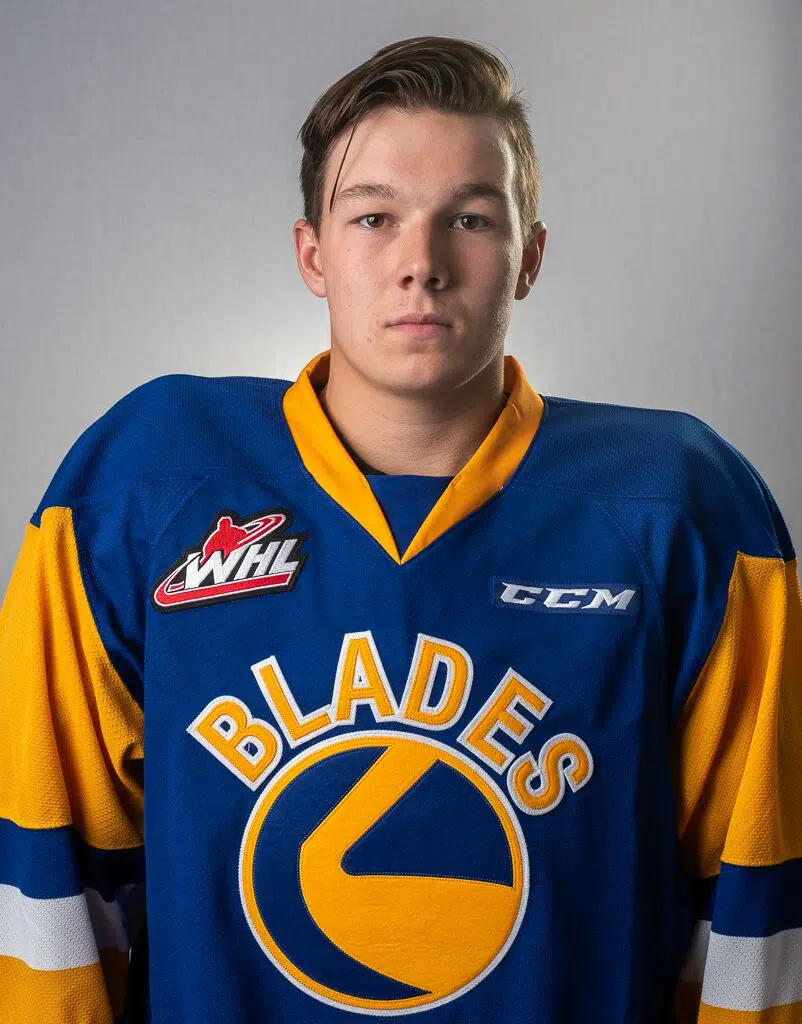 They never led until Nolan Maier stopped Henry Rybinski in the 10th round of Saturday night's shootout, but the Saskatoon Blades are still unbeaten to start the W-H-L season.
Riley McKay (pictured) scored in the 10th round before Maier stopped Rybinski, giving the Bridge City Bunch a 4-3 triumph and improving the Blue and Gold's record to 3-0-0.
"Credit to (McKay), he was eager on the bench and he was bugging me a little bit that he had the goal in him," said Blades' assistant coach Ryan Keller with a broad smile. "So, he delivered."
Playing their third road game in four nights, the Tigers looked like they were going to end a three-game losing streak…taking leads of 1-0, 2-1 and 3-2, only to have Saskatoon respond. The 3-3 goal, on a power play by Max Gerlach, forced overtime with 3:15 remaining in the third period.
Medicine Hat, also, used goaltender Mads Sogaard for the first time and the 6'7" Dane, who doesn't turn 18 until December 13, was solid to sparkling at times, making 39 saves as the Bridge City Bunch out-shot the Bengals 42-32 through 65 minutes of play.
Chase Wouters and Norwegian rookie Kristian Roykas-Marthinsen scored the other goals for the Blue and Gold…the first of the season for each and the first W-H-L goal for Roykas-Marthinsen. Josh Paterson added a pair of assists in his first game of the season after sitting out opening weekend due to an Upper Body injury.
Captain James Hamblin led 1-3-1 Medicine Hat with two goals and an assist.
The Blades are back in action Sunday when they visit arch-rival Prince Albert. The Raiders are 4-0-0 to start the season and will play their third game in as many nights. Game time is 6 p.m. with the Sardinia Restaurant pre-game show starting 98-COOL's live coverage at 5 o'clock. Following is the official game summary from the W-H-L…
Medicine Hat Tigers 3 at Saskatoon Blades 4 (SO) – Status: Final SO
Saturday, September 29, 2018 – SaskTel Centre – Saskatoon, SK
Medicine Hat 2 0 1 0 – 3
Saskatoon 1 0 2 0 – 4
1st Period-1, Medicine Hat, Hamblin 3 3:05. 2, Saskatoon, Wouters 1 (Paterson, Bafaro), 11:06. 3, Medicine Hat, Hamblin 4 12:25. Penalties-Ostir Mh (tripping), 3:54.
2nd Period- No Scoring.Penalties-Florchuk Sas (checking to the head), 0:39; Anderson Mh (hooking), 3:07; Christensen Sas (roughing), 15:57.
3rd Period-4, Saskatoon, Roykas Marthinsen 1 (Paterson, Kustra), 1:02. 5, Medicine Hat, Ostir 1 (Hamblin, Chyzowski), 8:48 (PP). 6, Saskatoon, Gerlach 4 (Florchuk), 16:45 (PP). Penalties-Florchuk Sas (cross checking), 8:26; Rybinski Mh (tripping), 14:27; Rybinski Mh (tripping), 16:43.
OT Period- No Scoring.Penalties-No Penalties
Shootout – Medicine Hat 2 (Hamblin G, Williams NG, Chyzowski NG, Haden NG, Brown NG, Ostir NG, Preziuso NG, Jevne NG, Lockner G, Rybinski NG), Saskatoon 3 (Dach G, Gerlach NG, Goethals NG, Farren NG, Wouters NG, Roykas Marthinsen NG, Florchuk NG, Paterson NG, Davidson G, McKay G).
Shots on Goal-Medicine Hat 9-14-7-2-0-32. Saskatoon 15-10-13-4-1-43.
Power Play Opportunities-Medicine Hat 1 / 3; Saskatoon 1 / 4.
Goalies-Medicine Hat, Sogaard 0-0-0-1 (42 shots-39 saves). Saskatoon, Maier 3-0-0-0 (32 shots-29 saves).
A-3,110
Referees-Kyle Kowalski (15), Brian MacDonald (7).
Linesmen-Tanner McGregor (55), Levi Schutz (110).