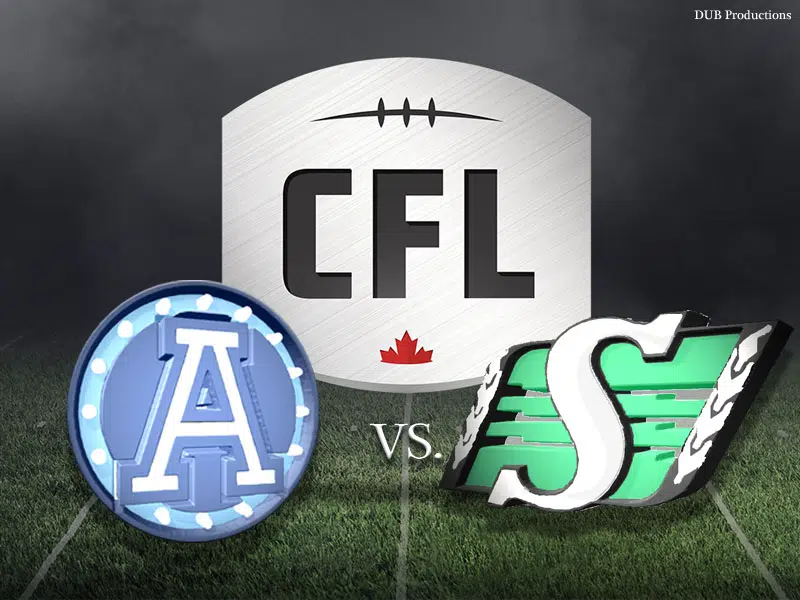 Brett Lauther's 56-yard field goal with 1;14 remaining earned the Saskatchewan Roughriders a wild 30-29 road win over the Toronto Argonauts on Saturday night.
Lauther's boot came after Saskatchewan (8-5) drove to the Toronto 36-yard line. But quarterback Zach Collaros was penalized for intentional grounding, moving the ball to the Argos' 48-yard line.
Toronto (3-9) took over at its 38-yard line with 1;06 remaining and drove to the Saskatchewan 44, where a pressured McLeod Bethel-Thompson missed a wide-open S.J. Green on a pass that would've likely gone for a touchdown.
Zack Medeiros missed the game-winning, 51-yard field goal and the Riders conceeded the single with two seconds remaining before an energetic BMO Field gathering of 14,479 that was liberally sprinkled with Rider green.
Saskatchewan earned its fifth win in six games and moved into second in the West Division after Edmonton (7-6) lost 28-15 on Saturday to Ottawa.
Collaros finished 14-of-25 passing for 233 yards with two TDs and two interceptions. He's yet to exceed the 300-yard mark this year, but this marked the first time this season Saskatchewan has had multiple TD passes in a game.
(The Canadian Press)