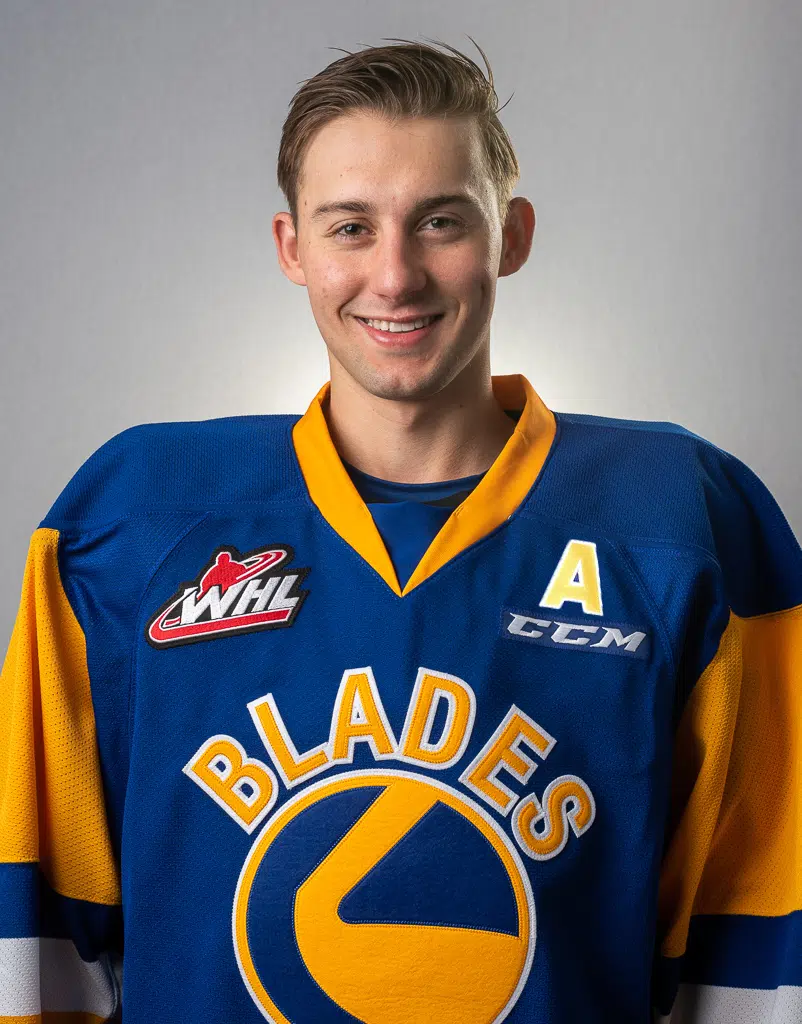 For the second straight year, Joel Hofer shone in goal for Swift Current in an opening-night W-H-L regular-season game against the Saskatoon Blades.
The difference was that Hofer received goal-scoring support last year!
The 18-year-old stopped 34 shots, in a second star performance but a pair of Max Gerlach (pictured) tallies were enough to give the Bridge City Bunch a 2-1 triumph Friday night. Last year at SaskTel Centre, Hofer stopped 23 shots and was the second star as the Broncos spoiled the Blue and Gold's home opener 5-2.
"He was good, you have to give him credit. He made some big saves, especially in the third period," said Blades' assistant coach Ryan Keller about the St. Louis Blues' fourth round pick in the N-H-L Draft this past June. "I liked our game. I think in the third period we did a better job of getting to the net and getting second chances and making it harder on him whereas we were a little bit cute in the first two (periods)."
After a scoreless first period, in which Saskatoon out-shot Swift Current 12-5, the Broncos opened the scoring when Saskatoon product Kaden Elder scored off two glaring turnovers in the defensive zone by the Bridge City Bunch. But, Gerlach stemmed any Broncos' momentum when Gerlach scored his 100th career W-H-L goal just 21 seconds later. The Blue and Gold dominated the third period, out-shooting Speedy Creek 13-3…36-16 overall…and could've scored three or four more goals if not for Hofer's netminding.
The same teams meet Saturday night at 7 p.m. at SaskTel Centre with the broadcast on 98-COOL at 6 o'clock. Following is the official game summary from the W-H-L…
Saskatoon Blades 2 at Swift Current Broncos 1 – Status: Final
Friday, September 21, 2018 – Innovation Credit Union i-plex – Swift Current, SK
Saskatoon 0 1 1 – 2
Swift Current 0 1 0 – 1
1st Period- No Scoring.Penalties-Davidson Sas (tripping), 14:43; served by Patterson Sc (too many men), 16:09; Wouters Sas (roughing), 18:33; Pouliot Sc (roughing), 18:33; Waitzner Sc (roughing), 18:33.
2nd Period-1, Swift Current, Elder 1 (Zawatsky, Patterson), 11:05. 2, Saskatoon, Gerlach 1 (Dach), 11:26. Penalties-Regnier Sc (cross checking), 3:23; Florchuk Sas (interference), 4:16; Wouters Sas (roughing), 15:27; Waitzner Sc (roughing), 15:27.
3rd Period-3, Saskatoon, Gerlach 2 (Malysjev, Dach), 3:58. Penalties-Pouliot Sc (holding), 15:12.
Shots on Goal-Saskatoon 12-11-13-36. Swift Current 5-8-3-16.
Power Play Opportunities-Saskatoon 0 / 4; Swift Current 0 / 2.
Goalies-Saskatoon, Maier 1-0-0-0 (16 shots-15 saves). Swift Current, Hofer 0-1-0-0 (36 shots-34 saves).
A-2,890
Referees-Adam Bloski (16), Adam Byblow (23).
Linesmen-Tanner McGregor (55), Levi Schutz (110).