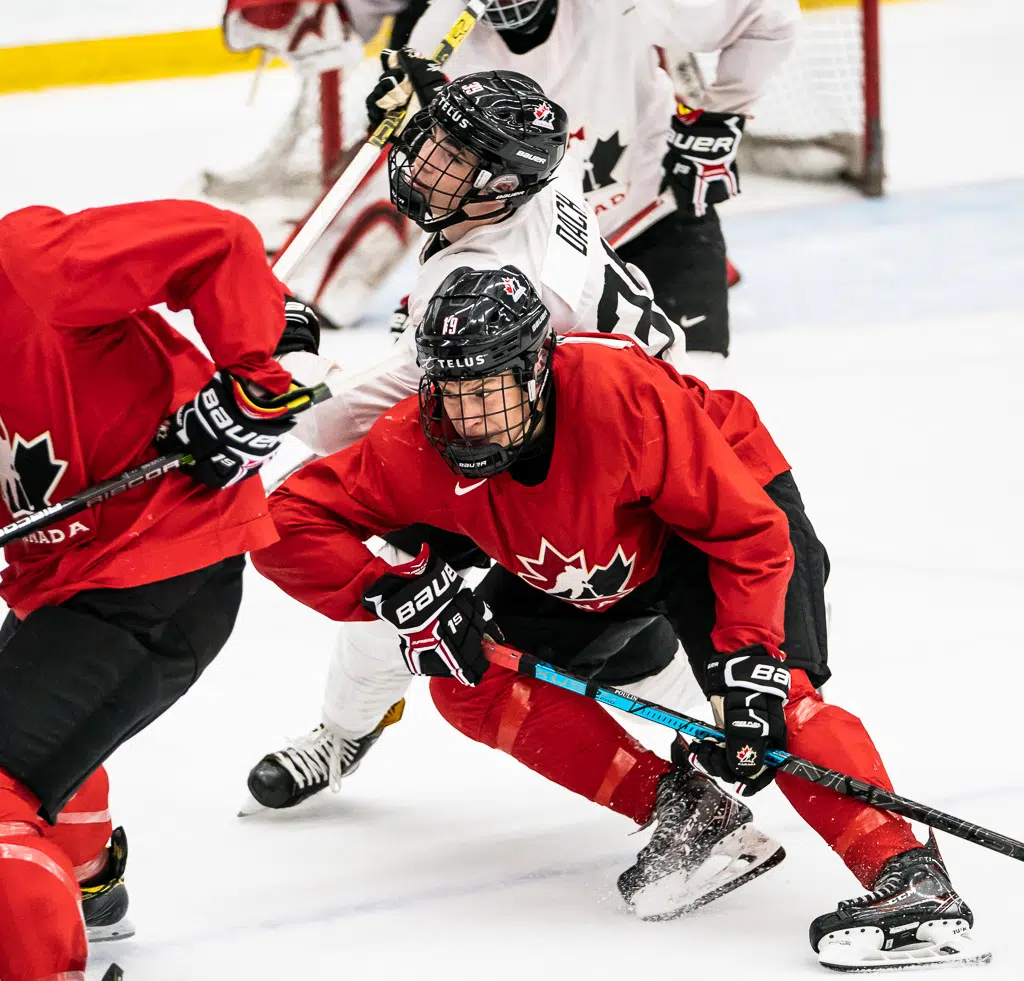 It's "The Jack Hughes Draft" according to T-S-N's Bob McKenzie.
But, McKenzie has listed Saskatoon Blades centre Kirby Dach fifth in his player rankings for the 2019 N-H-L Draft, to be held next June in Vancouver.
"A close to 6'4″ and 200 pounds, (Dach) is a terrific skater," explained the national sports network's hockey insider on Monday. "He's got high-end skill as a play-making centre. And, who doesn't like 6'4″ centres with big-time skill?! Seven of 10 scouts (that McKenzie surveyed) had him as a top six pick going into this season."
American centre Hughes is followed in McKenzie's 2019 N-H-L Draft rankings by Lethbridge centre Dylan Cozens, Finnish right winger Kappo Kakko and Russian right winger Vasili Podkolzin before Dach comes along in fifth.
"It's a cool feeling to know that you're Top 5 in the world," said the 17-year-old product of Fort Saskatchewan, Ab. "I think it's just a number right now. I can't really focus on that. I've just got to focus on the team and helping our team get into the playoffs."
Meanwhile, the Bridge City Bunch returned a pair of second round draft picks from 2017 to their respective Midget teams Monday. Goaltender Koen MacInnes goes back to the Burnaby Winter Club Midget prep team and fellow 16-year-old Braden Plaschewsky will join the Calgary Buffaloes of the Alberta Midget AAA loop. The moves mean the Blue and Gold are down to 26 players…two goalies, nine defencemen and 15 forwards. The Blades open the regular-season Friday in Swift Current. Following is the news release from the Blades…
FOR IMMEDIATE RELEASE
Saskatoon, Sask. — The Saskatoon Blades have returned two players to midget ahead of the opening weekend of the 2018-19 WHL regular season. The roster now sits at 26 players; 15 forwards, 9 defensemen, and 2 goaltenders.
2002 born forward Braden Plaschewsky was returned to the Midget AAA Calgary Buffaloes of the Alberta Midget League. Plaschewsky was a 2nd round pick of the Blades in 2017. The young pivot got a long look during the pre-season, appearing in all 6 of the Blades' pre-season wins, scoring 2 goals in the process.
Goaltender Koen MacInnes, also a 2nd round pick of the Blades in 2017, has been returned to the Burnaby Winter Club's Midget Prep squad of the CSSHL. MacInnes had a strong showing in three pre-season starts for Saskatoon. The 16-year-old netminder not only won all three of his starts, but posted an impressive .929SV% and 2.27GAA.
The Blades now look ahead to the first game of the regular season which goes on Friday in Swift Current against the reigning league champion Broncos.
Both teams will return to Saskatoon for the Blades' home opener on Saturday, September 22nd, starting 7:00pm at SaskTel Centre.