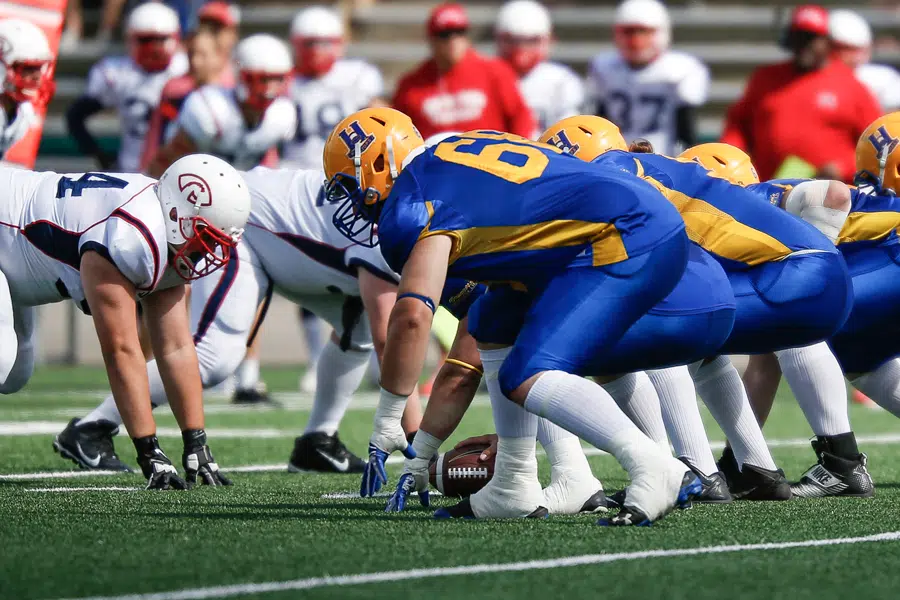 The Saskatoon Hilltops capped a 65- yard drive after the opening kick-off with Josh Ewanchyna scoring a touchdown on a two-yard dive. It was a sign of things to come as the Toppers led 39-0 after the first quarter on their way to a 79-7 win over the Colts in Calgary.
Josh Ewanchyna ran for two other majors including a 40-yard romp to the house in the first quarter and ended the night with 155 yards on 17 carries.  Ben Abrook carried the rock ten times for 117 yards and one major as the Hilltops ground game garnered 363 yards.
Quarterback Jordan Walls completed 13 of 18 passes for 183 yards and two touchdowns in the first half with Tyler Herman completing three of four second-half passes for 45 yards with two touchdown tosses.
Jason Price led the receiving corps with three catches for 60 yards hauling in his first touchdown catch of the year and made a key 43- yard reception that set up Ewanchyna's first touchdown.  Keegan Dicks, Kelton McLean, and Adam Ewanchyna also had touchdown catches and Adam also ran one in from nine yards out in the fourth quarter.
The Hilltops recorded 593 yards in total offense while holding the Colts to 91 total yards including -20 in the second half.
David Solie was good on three of four field goal attempts including one from 41 yards and converted all nine touchdowns.  Calgary kicker Julian Jenkins accounted for all of the Colts scoring with two field goals and a single after a missed field goal.
Head coach Tom Sergeant felt his team responded following his challenge after what he thought was a sub-par performance in Winnipeg two weeks ago especially the offensive line.
The four-time defending Canadian Bowl champions are 4-0 with the Regina Thunder coming to SMF Field Sat. Sept 22. Former Rider quarterback Darian Durant will also be on hand for the annual end zone dinner before the clash between the PFC rivals.
Opening kick-off will be at 7 p.m., with the broadcast on 92.9 THE BULL signing on at 6:30.