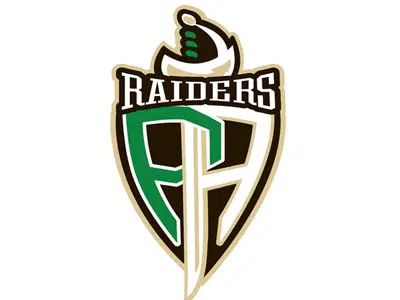 It took seven games for it to happen, but the Saskatoon Blades were finally able to use the, "it's only pre-season" line when explaining a loss.
The Prince Albert Raiders finally got the better of the Bridge City Bunch, upending the visitors 5-2 Saturday.
The result means the Blue and Gold finish the W-H-L pre-season schedule with a 6-1-0 record while the Raiders wound up 2-2-1…1-2-1 against Saskatoon in exhibition play.
"We, obviously, made some strides throughout the pre-season, implementing some adjustments and stuff like that that we want to make," explained Blades assistant coach Ryan Keller. "But, the last couple of games, our competitiveness just hasn't been there. When you get into these smaller buildings, especially, that gets magnified. Every game usually boils down to which team wants it more and who's going to compete harder. In these buildings, it just shows that much more."
P-A got two goals each from Brett Leason and Spencer Moe with defenceman Max Martin also beating Blue and Gold netminder Nolan Maier. Leason scored short-handed and on the power play in the first period for the Raiders…sandwiching a man-advantage tally from Blades' blueliner Emil Malysjev.
The "you know it's not going to be your night" moment for Saskatoon came just 50 seconds after 16-year-old defenceman Aidan De La Gorgendiere scored to cut Prince Albert's lead to 3-2. Martin's shot from the right wing boards was deflected into the Bridge City Bunch net by Maier's stick…when the 17-year-old Yorkton product was trying to steer the puck into the corner.
The Raiders out-shot the Blue and Gold 35-23. The Blades, who lost 18-year-old forward Brandon Machado to a left shoulder injury in the second period, will open the 2018-19 W-H-L regular season with a home-and-home series against the defending league champions. Saskatoon visits Swift Current Friday before hosting the Broncos Saturday. P-A's home-and-home series with the Pats begins Friday at the Art Hauser Centre before continuing Saturday in Regina. Following is the official game summary from the W-H-L…
Saskatoon Blades 2 at Prince Albert Raiders 5 – Status: Final
Saturday, September 15, 2018 – Art Hauser Centre – Prince Albert, SK
Saskatoon 1 1 0 – 2
Prince Albert 2 3 0 – 5
1st Period-1, Prince Albert, Leason 3 (Montgomery), 7:51 (SH). 2, Saskatoon, Malysjev 2 (Bafaro), 8:09 (PP). 3, Prince Albert, Leason 4 (Fonstad), 12:43 (PP). Penalties-Moe Pa (tripping), 6:34; Dach Sas (hooking), 11:57.
2nd Period-4, Prince Albert, Moe 2 (McDonald, Nachbaur), 1:25. 5, Saskatoon, De La Gorgendiere 1 (Schmidt, Robins), 7:10. 6, Prince Albert, Martin 2 8:00. 7, Prince Albert, Moe 3 (Nachbaur), 14:39. Penalties-Guhle Pa (roughing), 2:07.
3rd Period- No Scoring.Penalties-Sapego Pa (high sticking), 2:43; Farren Sas (cross checking), 10:14; Montgomery Pa (cross checking), 14:37.
Shots on Goal-Saskatoon 8-10-5-23. Prince Albert 14-14-7-35.
Power Play Opportunities-Saskatoon 1 / 4; Prince Albert 1 / 2.
Goalies-Saskatoon, Maier 1-1-0-0 (35 shots-30 saves). Prince Albert, Buskey 1-1-0-1 (23 shots-21 saves).
A-
Referees-Troy Murray (34), Allan Scott (38).
Linesmen-Tanner McGregor (55), Aidan Penner.