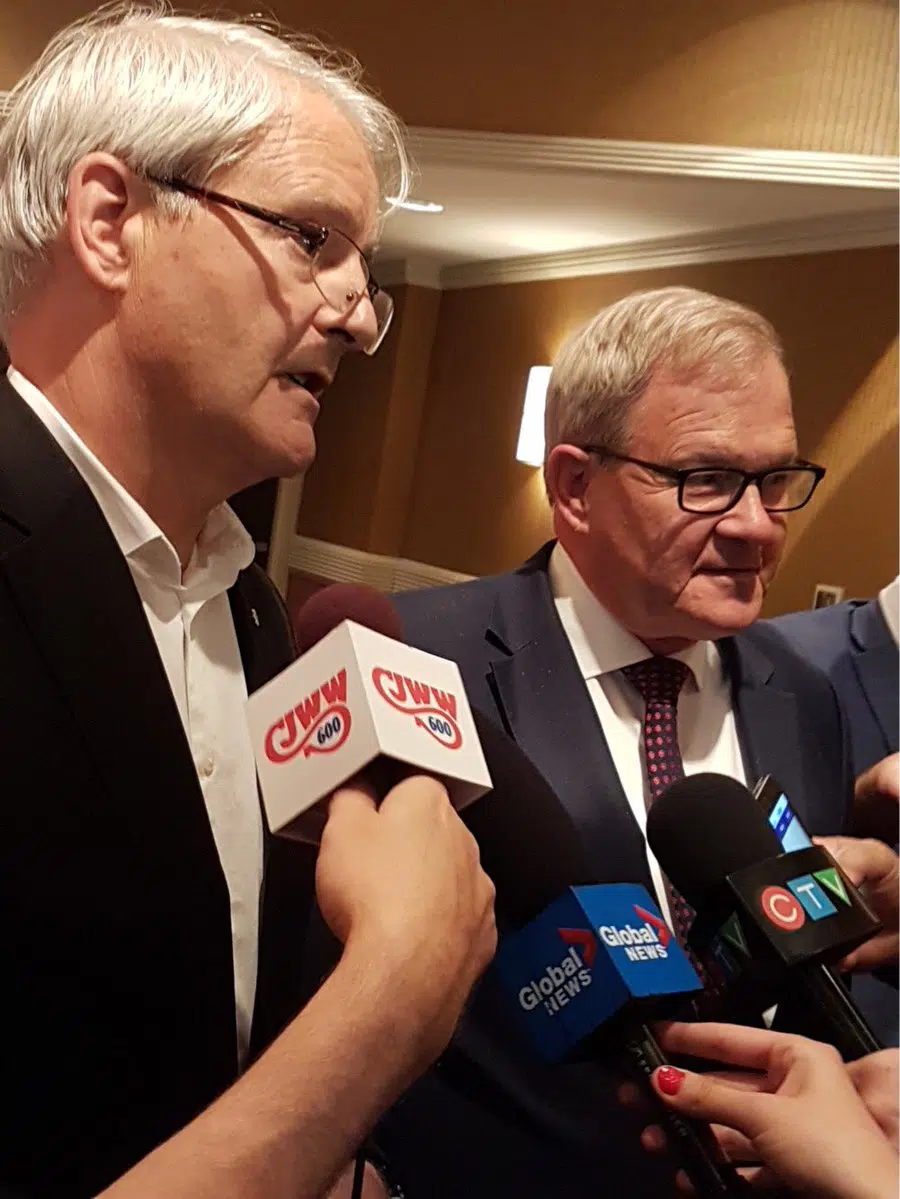 There were no guarantees of improved grain transportation this winter, but railways believe new locomotives, new hopper cars and additional employees will make a difference.
Federal Transport Minister Marc Garneau and Agriculture Minister Lawrence MacAulay held a closed door, round table discussion with representatives from the two railways, grain companies and farm organizations in Saskatoon on Wednesday. All parties want to avoid of repeat of the grain backlogs last winter that cost growers money in demurrage fees and lost sales.
CN and CP Rail made capital purchases following the passage of Bill C-49 earlier this year. It contained incentives for railways to begin updating an aging hopper car fleet.
CN President and Chief Executive Officer Jean-Jacques Ruest says improvements are also being made to rail infrastructure.
"We are investing $400 million dollars of track and double siding in Western Canada so we can put more trains on the grid."
Ruest says "all of these things take time, but we will have a lot of these resources entering the next winter, the coming winter."
Transport Minister Marc Garneau says the additional resources will provide resiliency.
"Particularly when we face things that we can't totally predict ahead of time. I mean if we could predict the weather ahead of time in the winter; if we could predict the market price for grain and how big harvests would be, we would have less of a challenge. What we want to make sure is in place is as reliable as possible railway transportation system to get their grain to market."
Bill C-49 also contains reciprocal penalties which would go into effect when expected rail service levels are not met.  The President of the Agricultural Producers Association of Saskatchewan, Todd Lewis says both railways need to be ready this winter.
"We heard about opportunities in new markets with the Australian crop failure. There might be opportuinties for Canada . . . and we have to be light on our feet as far as transportation and getting the crop to where it's needed at the right time. Hopefully, we are headed that way."
There was a consensus that regular discussions between railways, grain companies, producers and government officials are important.
Kevin Hursh, executive director of the Inland Terminal Association, notes that the railways are attempting to improve communication with farmers.
"They realize there is a powerful organized lobby with reasonable ideas. I think it is the dawning of a really interesting time with Bill C-49 coming into fruition."
Garneau did not rule out the possibility of a follow-up meeting this winter to evaluate grain transportation service.
(photo-Transport Minister Marc Garneau and Federal Agriculture Minister Lawrence MacAulay speaking to reporters on September 12, 2018 in Saskatoon)