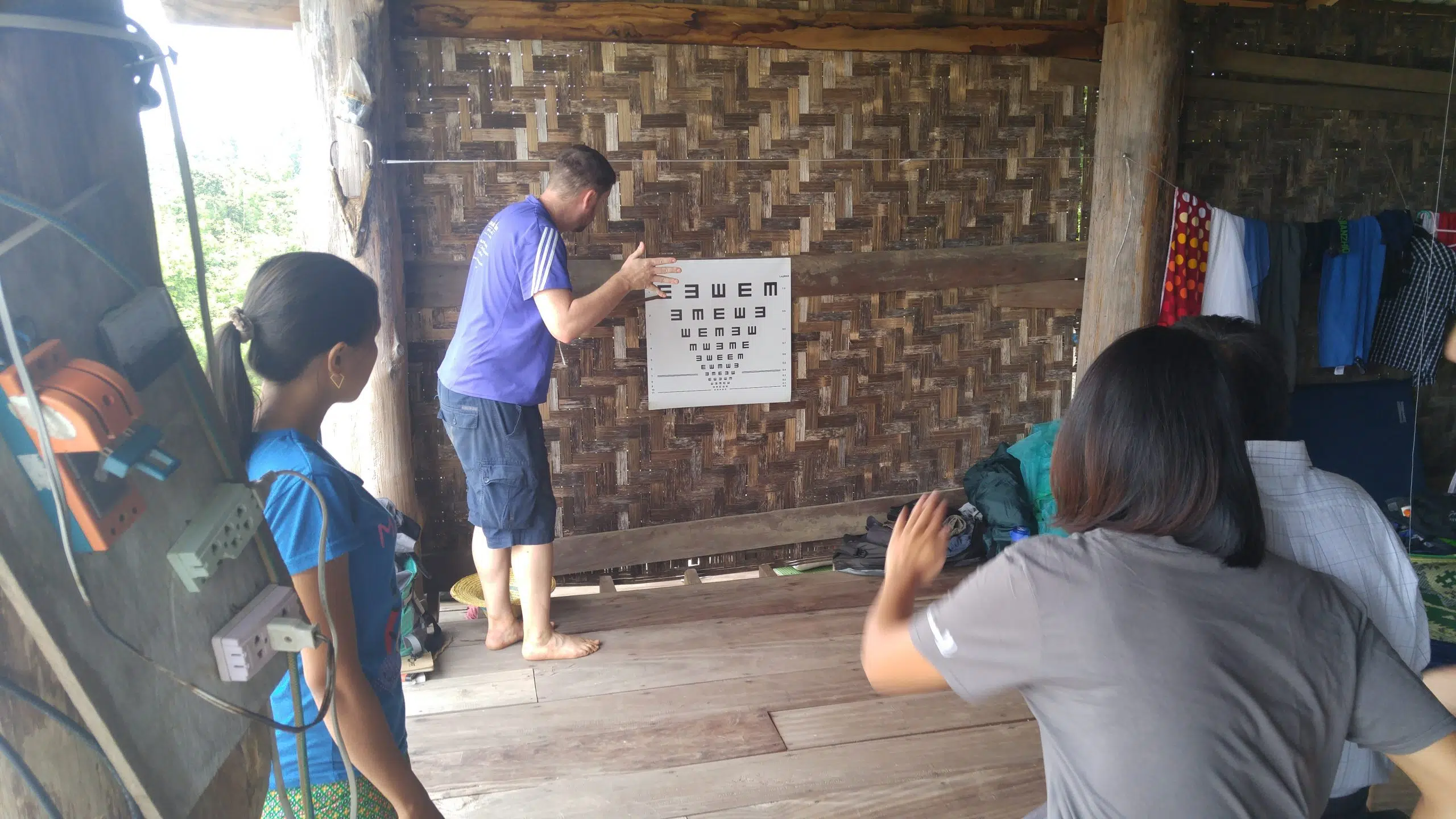 Greg Wiens stepped down recently as a Mennonite Brethren pastor in Waldheim to devote himself to providing eye glasses to the millions of people in the world who not only don't have access to corrective lenses but don't have access to optometrists. He says their early estimates indicate that someone on the eye chart who sees two levels or more, and then gets a bump thanks to eye glasses, will experience an increase of 25 to 30% in earnings with corrected vision.
The initiative launched 9 years ago powered by a nuclear physicist from Oxford University and a U.S. Marine officer who were using silicon to easily adjust glasses to suit the person getting them. Kevin White, a U.S. Major, was handing them out in Turkmenistan and Uzbekistan when Wiens read about their endeavours and reached out. And now all these years later they have evolved the technology and devised an eye tester that works conceptually like finding the right view in binoculars.
Wiens went to Myanmar in November, where the Mennonite Central Committee is working, and distributed hundreds of pairs of glasses. Now he is in the West Bank helping Palestinians.
"When we're setting up the eye glass clinic we take things like measuring tapes and sewing needles, you know, and we say okay once you've tested can you see the measuring tape, can you thread a needle? Everything from the average worker who is working in the fields or a tailor to the teacher in the school, if you have bad eye-sight, you can't work".
Wiens says Kevin White has described their project as possibly the cheapest way to raise the GDP of a country.
Half of the thousand pairs of glasses being handed out to Palestinians were paid for by Ron Ismael, a Palestinian refugee living in Warman, and Wiens fund raised for the other half. Wiens says the reason they take around a thousand pairs is because half that number, and the testing equipment, fits in a checked carry on bag and comes in at just under the weight limit.
The eye glasses and frames are inter-changeable and the manufacturer is providing them at 3 to 4 dollars a pair. Wiens describes it as old technology – the kind used in the 70's and 80's before super-thin, light-weight glasses became the norm. That's what allows them to obtain the eye glasses so cheaply.
Wiens says there are 2.5 billion people in the world have extremely limited access to optometrists.  He points to being in Myanmar in November where the country has less than 1 eye doctor per 1 million people.
Wiens says Kevin White won a million dollars in New York City with Wework so they created a Foundation and Wiens now works part time with Kevin White as Director of Faith Connections with the goal of getting this tool into the hands of faith organizations as part of programs they are already doing.  And by leaving the church to pursue this work he has taken a pay cut so on the side he is driving combines and welding, doing some roofing but he says that's okay, because he's pretty handy.
To learn more about the Foundation and how you could help, go to http://www.gv2020.org