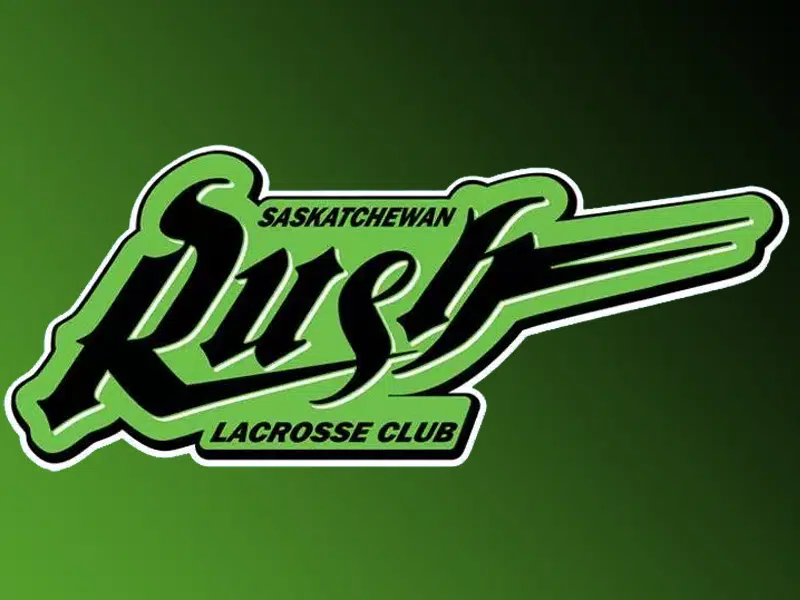 The Saskatchewan Rush will play in the first game of the 2018-19 National Lacrosse League regular-season when they visit the Georgia Swarm on December 1.
The N-L-L released the schedule Thursday for all 11 teams, including the Rush and the expansion squads…San Diego Seals and Philadelphia Wings. The Rush will play their home opener, and unveil their third championship banner in four years, on December 8 when they welcome the Colorado Mammoth to SaskTel Centre.
Meanwhile, the Buffalo Bandits get the honour of being the team to play the expansion squads in their respective first N-L-L regular-season games. The Bandits visit San Diego on December 8, then travel to Philadelphia for a December 15 date.
Saskatchewan hosts San Diego on January 5 and will visit the Seals twice…on March 22 and April 12. Following is the news release from the National Lacrosse League and the Rush…
2018-2019 NATIONAL LACROSSE LEAGUE SCHEDULE RELEASED
Philadelphia, September 6, 2018 – The National Lacrosse League (NLL), the largest men's indoor professional league, has released the schedule for the upcoming 2018-2019 regular season.

The 33rd season of the NLL will begin with the league's annual Face Off Weekend, which on Saturday December 1st will see the defending NLL Champion Saskatchewan Rush travel to the Infinite Energy Arena to meet the Georgia Swarm at 7:05p.m. ET, followed by the Buffalo Bandits hosting the Toronto Rock at the KeyBank Center for a 7:30p.m. ET face off. Week 1 will conclude with the Colorado Mammoth welcoming their West Division rival Calgary Roughnecks at 9:00p.m. ET.

The following Saturday, December 8, the Rochester Knighthawks and Saskatchewan Rush will each play their home openers at 8:00p.m. ET and 8:30p.m. ET, respectively. Additionally, the San Diego Seals will host the Buffalo Bandits for their inaugural match at the Valley View Casino Center at 10:00p.m. ET, while the soon to be rebranded Vancouver team plays host to the Toronto Rock, welcoming a new era of lacrosse to the city.

In Week 3, the Philadelphia Wings will face off for their inaugural game at 1:00p.m. ET as they welcome the Buffalo Bandits to the Wells Fargo Center. The Georgia Swarm and Calgary Roughnecks will also play at home Saturday evening at 7:05p.m. ET and 9:00p.m. ET, respectively.

With another action-packed season ahead, the schedule release begins the countdown to play for both fans and the league.

"The release of the regular season schedule is something we look forward to every year. This season is a special one, as it marks the beginning of our 33rd year and a new era of expansion," said NLL Commissioner Nick Sakiewicz. "With the addition of franchises in San Diego and Philadelphia, and rolling out our new broadcast partnership with Turner Sports and B/R Live, we are thrilled to continue to bring the best indoor lacrosse in the world to fans across North America."

The 2018-2019 season will be the inaugural season for the San Diego Seals and Philadelphia Wings. The league's 10th and 11th franchises are set to compete with players from both the Expansion Draft, which took place on July 16, and Entry Draft, which will occur on Tuesday, September 25, where they will have the first and second overall selections, respectively. "This is a very exciting time for the Seals, the league and the fans," said Seals General Manager and Head Coach, Patrick Merrill. "Our first season will definitely be unforgettable, and we can't wait for the fans in San Diego to see the best lacrosse players in the world."

While both Philadelphia and San Diego will be looking make their marks in their first season of play, the Saskatchewan Rush will be looking to repeat as champions and win their fourth title in five years under the leadership of Head Coach, Derek Keenan. With reigning Most Valuable Player, Mark Matthews and fellow All-Pro First Team forward, Robert Church, the Rush will have the NLL Cup in sight. "We are chomping at the bit to get started again," Rush Head Coach, Derek Keenan said. "Our home opener on December 8 will be a special night for the Rush and our amazing fans."

Existing Rush season ticket holders can renew their seats for the upcoming season here. The deadline to renew season tickets will be Friday, September 28th at 10:00AM (CST). At this point, all non-renewed seats will be released to the general public.

Rush season tickets can be purchased by calling (306)-978-7874. Single game tickets will go on sale via Ticketmaster, Monday, October 15th at 10:00AM (CST).

Full league schedule can be found her