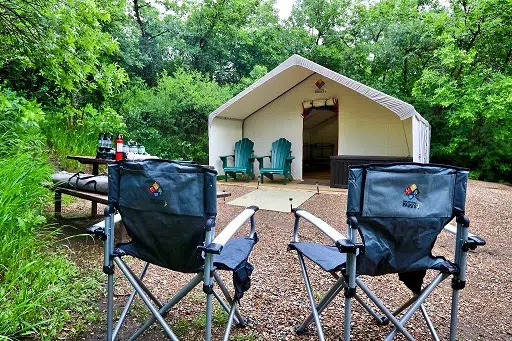 The end of summer may be in sight but that doesn't mean you have to stop camping. The province says that fall camping is offered in over 20 provincial parks. Campsites can be reserved in advance at Bronson Forest, Buffalo Pound, Cypress Hills, Duck Mountain, Great Blue Heron, Makwa Lake, Moose Mountain, Rowman's Ravine, and the Battlefords Provincial Parks. Many of these parks offer access to full amenities throughout September.
The sites can be booked through the online reservation system at www.saskparks.goingtocamp.com or by calling 1-855-737-7275. By reserving in advance, visitors are guaranteed their chosen campsite will be available upon arrival.
Campgrounds that are available exclusively on a first-come, first-served self-registration basis are listed on Sask Parks fall camping page at www.tourismsaskatchewan.com/places-to-go/provincial-parks/camping/fall-camping.
Camp-Easy equipped campsites will remain open throughout most of September in Buffalo Pound, Echo Valley and Pike Lake Provincial Parks. Camp-Easy (www.tourismsaskatchewan.com/places-to-go/provincial-parks/campeasy) is an option for anyone who doesn't own camping equipment or simply prefers a more convenient getaway.