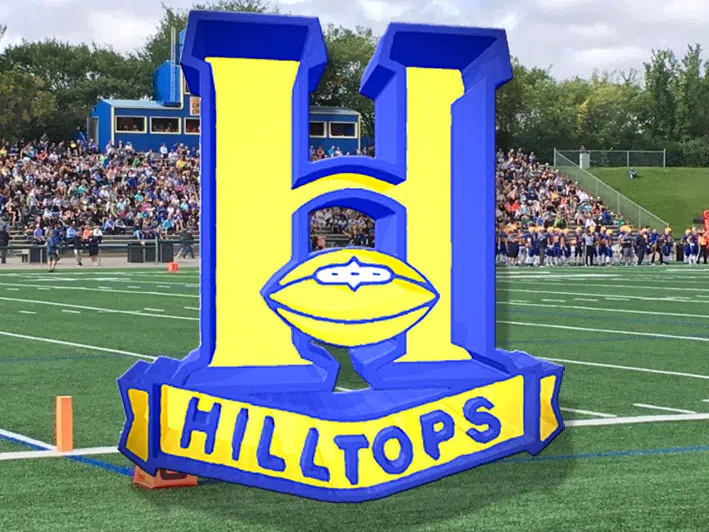 The Saskatoon Hilltops are the only unbeaten team left in the Prairie Football Conference after a 38-8 win over the Rifles in windy Winnipeg.
The Hilltops capped the opening 70-yard drive on their first possession with Josh Ewanchyna powering to pay dirt with a one-yard touchdown plunge.  The Toppers missed an opportunity to score on their next possession when a short field goal attempt by David Solie was drilled right into the low cross-bar of the up-right.
Saskatoon increased its lead to 14-0 less than a minute into the second quarter on a ten-yard romp to the end zone by Ben Abrook. He was the Toppers leading rusher totaling 79-yards on 12 carries.
The Hilltops final major of the half came in the final minute when Jordan Walls connected with Solie with an 11-yard strike as the Toppers went in the locker room leading 24-1.
Walls also found Tanner Rhode in the end zone for a 15-yard touchdown toss late in the third quarter as Saskatoon carried a 34-6 lead into the final 15 minutes of play. Walls finished the day completing 18-of-30 passes for 268 yards with two touchdowns and an interception. Tyler Herman who has seen action in all three games completed two of his four passes.
In addition to the touchdown, Solie was good on two of four field goal attempts including a 47 yarder midway through the fourth quarter, converted all four touchdowns and hoofed a single on a kick-off following the Toppers second touchdown that sailed out the back of the Winnipeg end zone.  Solie put 18 points on the board.
It was an aggressive game with the Hilltops taking 9 penalties for 85 yards including a pair of roughing the passer infractions. The Rifles committed several roughing penalties that enhanced scoring drives for the Hilltops while racking up 10 penalties for 101 yards.
An Adam Benkic interception that he returned 32 yards in the second quarter snuffed out a Winnipeg drive while Logan Bitz had a big day on defense with six tackles and a fourth-quarter fumble recovery including a 19-year return into Rifles territory. Cody Peters was in on two of three sacks and Connor Delahey blocked a punt in the opening quarter.
The Riles scoring came from a Drenin Busch field goal, a punt single and two safeties.
Despite the 30-point margin of victory head coach Tom Sergeant wasn't satisfied with any phase of the Toppers attack stating they need improvements across the board.
The Hilltops are off until Sept. 15 when they take on the Colts in Calgary and return home Sept. 22 to host Regina with former Rider Darian Durant on hand as the celebrity guest for the end-zone dinner before the showdown against the Thunder.