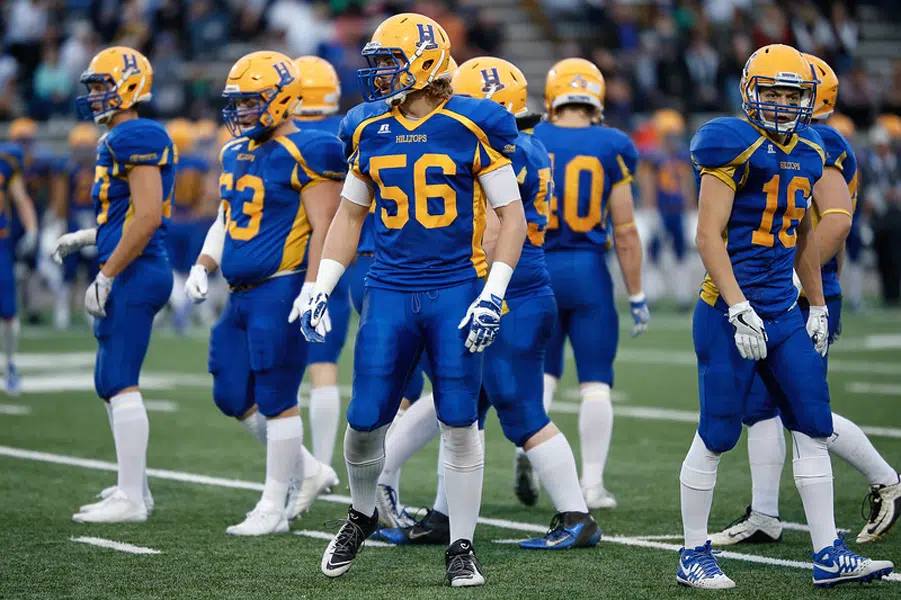 The Saskatoon Hilltops have their sights set on the Rifles for Sunday's showdown in Winnipeg.
The four-time defending Canadian Bowl champions are looking to load up the offense for a third straight week
The 2-0 Toppers are coming off last week's home-opening 59-1 conqoring of Calgary, rolling to a 45-0 first half lead behind the direction of PFC offensive player of the week Jordan Walls. The veteran quarterback was 14-19 through the air for 231 yards while tossing two touchdown strikes and ran for a 10-yard major.
The Calgary game also marked the return of running back Josh Ewanchyna. The third-year man who missed the season-opening win in Regina with an injury suffered during the alumni game, responded with a 98-yard night on 11 carries and two touchdowns in just two quarters of work.
Ewanchyna feels more comfortable heading into the Winnipeg game.
"I was a little hesitant the way I was running the ball (against Calgary)," said Ewanchyna who felt totally recovered from the alumni game injury.
"I'm feeling really good, I have no issues running the ball, I've just got to learn how to get my head back into it and do a little more downhill running."
Josh is also ranked 31st in the CJFL's top 50 players of 2018. He wants to prove the preseason prognosticators right.
"It was very surprising," said the Holy Cross graduate who wants to build on that prediction and his performance against the Colts.
"Now my goal is to make a better position and a bigger impact on this league."
Head coach Tom Sergeant was happy to get Ewancyna back into action last week and plans to make him a bigger part of the offense against the Rifles.
"He's going to get a lion's share," said Sergeant who hopes Ewanchyna plays a large part in a balanced offensive attack.
"We'll turn the ball to over him a little bit more and try and get back more to that 50-50 (run and pass) mix that I love."
The Rifles opened the season with a home field victory over the Edmonton Wildcats but dropped a 29-21 decision last weekend in Regina.
Game time is 11 a.m. Saskatchewan time with Sunday's broadcast on 92.9 THE BULL signing on at 10:30.