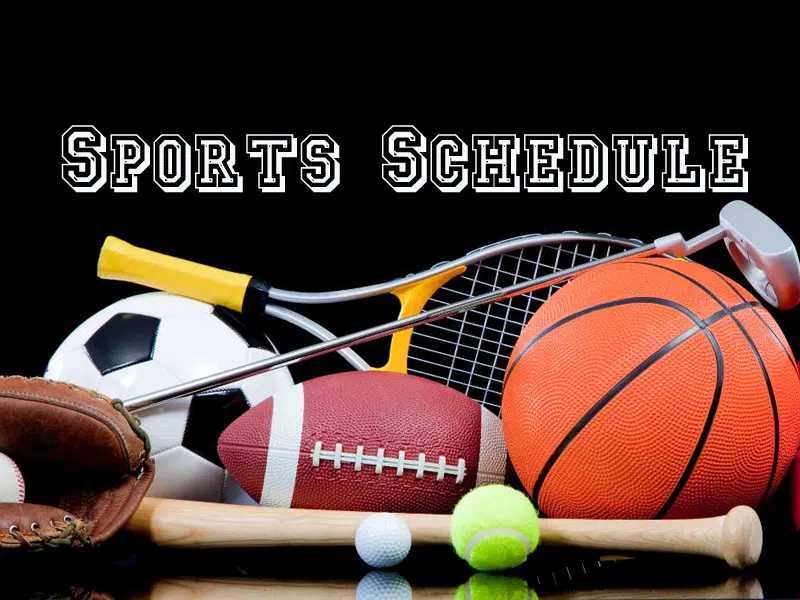 CFL
Toronto at Montreal, 5;30 p.m.
—
MLB
American League
N.Y. Yankees (Sabathia 7-4) at Baltimore (Cobb 4-15), 5;05 p.m.
Boston (Velazquez 7-1) at Tampa Bay (TBD), 5;10 p.m.
Chicago White Sox (Lopez 4-9) at Detroit (Fulmer 3-9), 5;10 p.m.
Oakland (Manaea 11-9) at Minnesota (Odorizzi 5-7), 6;10 p.m.
Cleveland (Clevinger 9-7) at Kansas City (Keller 6-5), 6;15 p.m.
Houston (Keuchel 9-10) at L.A. Angels (Heaney 7-7), 8;07 p.m.
National League
Cincinnati (Harvey 6-7) at Chicago Cubs (TBD), 12;20 p.m.
Atlanta (Foltynewicz 10-7) at Miami (Straily 4-6), 5;10 p.m.
Washington (Rodriguez 1-1) at N.Y. Mets (Vargas 3-8), 5;10 p.m.
Pittsburgh (Musgrove 5-7) at Milwaukee (Miley 2-2), 6;10 p.m.
St. Louis (Mikolas 13-3) at Colorado (Senzatela 4-3), 6;40 p.m.
San Diego (Richard 7-10) at L.A. Dodgers (Hill 5-4), 8;10 p.m.
Interleague
Philadelphia (Arrieta 9-8) at Toronto (Borucki 2-3), 5;07 p.m.
Seattle (Ramirez 0-2) at Arizona (Godley 13-6), 7;40 p.m.
Texas (Hutchison 2-2) at San Francisco (Rodriguez 6-1), 8;15 p.m.
—
MLS
Orlando at Atlanta, 6 p.m.
LA Galaxy at LAFC, 8;30 p.m.
—
The CP Canadian Open Women s Golf championships continues today at Wascana Country Club in Regina. Saskatoon s Anna Young and Bobbi Brandon are in the field of 156 vying for 2.25 million dollar in prize money.
—
The Saskatchewan Roughriders are back in action Saturday against the Lions in B-C. The Riders have a 4-4 record for 8 points and are fourth in the Western Division. The Lions are fifth with a 3-5 record. Opening kick-off is at 8 p.m. The Riders next home game is the Labour Day Classic Sunday Sept. 2 against the Winnipeg Blue Bombers. Opening kick-off from Mosaic Stadium will at at 1 p.m.
—
The Saskatoon Hilltops play their home opener Saturday against the Calgary Colts. The four-time defending Canadian Bowl champions won the season opner 41-7 in Regina. The Colts lost their season opener to the Edmonton Huskies. Opening kick-off at SMF Field is at 7 p.m. The Broadcast on 92.9 THE BULL signs on at 6:30.
—
The U-of-S Huskies Green vs White inter-squad football game is tonight, 7 p.m. at Griffiths Stadium.  It marks the end of training camp. Preparations will resume next week for home and season opener Aug 31 vs the University of Alberta Golden Bears.  Opening kick-off at Griffiths Stadium will be at 7 p.m.
—
Street Legal drag racing is on tonight at the Saskatoon international raceway. Gates open at 5;30 p.m. with racing starting at 6 o'clock.
—
It's another night of thoroughbred horse racing at Marquis Downs. First post time is 6;35 p.m.