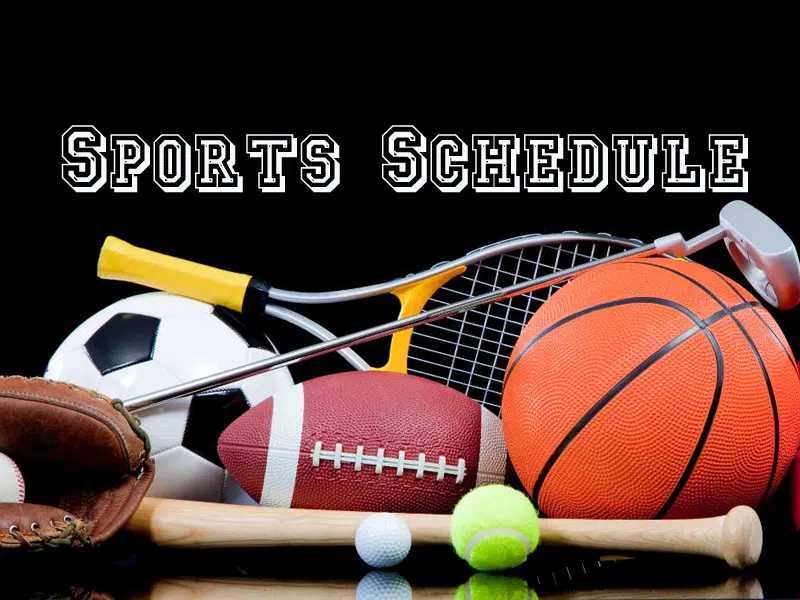 CFL
Edmonton at Hamilton 5;30 p.m.
—
MLB
American League
Cleveland (Plutko 4-3) at Boston (Price 13-6), 11;05 a.m.
Chicago White Sox (Shields 5-14) at Detroit (Boyd 7-11), 11;10 a.m.
Kansas City (Duffy 7-11) at Tampa Bay (Glasnow 1-3), 5;10 p.m.
Oakland (Cahill 5-2) at Minnesota (Stewart 0-1), 6;10 p.m.
National League
Philadelphia (Nola 14-3) at Washington (Scherzer 16-5), 11;05 a.m.
San Francisco (Bumgarner 4-5) at N.Y. Mets (deGrom 8-7), 11;10 a.m.
San Diego (Lucchesi 6-7) at Colorado (Freeland 11-7), 1;10 p.m.
Atlanta (Newcomb 10-6) at Miami (Straily 4-6), 5;10 p.m.
Cincinnati (DeSclafani 6-3) at Chicago Cubs (Hamels 8-9), 6;05 p.m.
—
The CP Canadian Open Women's Golf championships gets underway today at Wascana Country Club in Regina. Saskatoon's Anna Young and Bobbi Brandon are in the field of 156 vying for 2.25 million dollar in prize money.
—
The Saskatchewan Roughriders are back in action Saturday against the Lions in B-C. The Riders have a 4-4 record for 8 points and are fourth in the Western Division. The Lions are fifth with a 3-5 record. Opening kick-off is at 8 p.m. The Riders next home game is the Labour Day Classic Sunday Sept. 2 against the Winnipeg Blue Bombers. Opening kick-off from Mosaic Stadium will at at 1 p.m.
—
The Saskatoon Hilltops play their home opener Saturday against the Calgary Colts. The four-time defending Canadian Bowl champions won the season opner 41-7 in Regina. The Colts lost their season opener to the Edmonton Huskies. Opening kick-off at SMF Field is at 7 p.m. The Broadcast on 92.9 THE BULL signs on at 6:30.