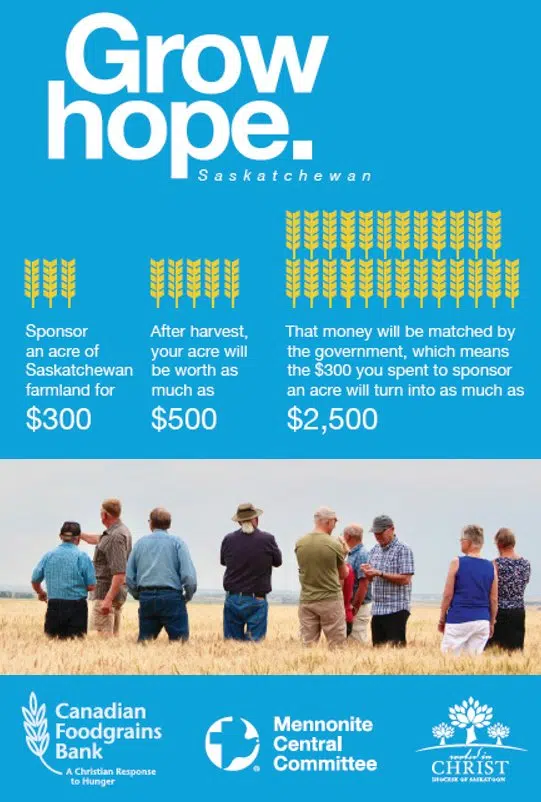 A farmer is growing the canola crop, but urban residents are footing the bill for the seed, fuel and fertilizer.
Grow Hope Saskatchewan is a partnership between the Canadian Foodgrains Bank, Mennonite Central Committee and the Saskatoon Roman Catholic Diocese.
Nathan and Jeanette Janzen from Rosthern are growing 90 acres of canola, just west of the community located about 70 kilometres north of Saskatoon.
The two church organizations have been collecting donations to cover the $300 an acre input costs. The total amount raised so far is just over $21,000. The goal is to raise enough money to pay for all 90 acres.
The canola will be sold with all proceeds going to the Canadian Foodgrains Bank, an international-aid charity that aims to end global hunger.
The federal government will match all proceeds from the canola sale on a 4-to-1 basis.
Grow Hope Saskatchewan will hold a public event on Saturday afternoon (August 25) at the Rosthern Food Bank. There will be a free lunch and an opportunity to meet Olympic speed skating gold medalist Cindy Klassen, who is a long-time supporter of the program.
You can check out a 90 second animated video feature narrated by Klassen at this link: https://www.facebook.com/GrowHopeSK/videos/194894237815510/