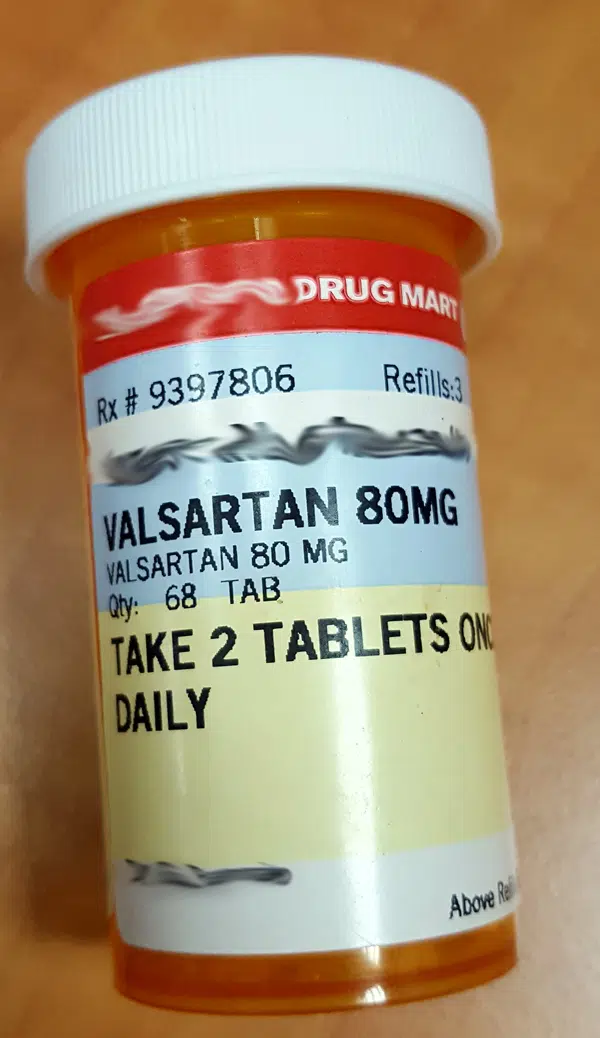 If you weren't affected by the first Valsartan recall, you might be impacted by the latest Health Canada recall of eight blood pressure medications.
Health Canada has expanded the recall for drugs which contain the ingredient valsartan and that recall will now include products from Teva Canada. Valsartan is used to treat high blood pressure and heart failure.
The valsartan was supplied by a Chinese company and manufacturers say an impurity known as NDMA (N-Nitrosodimethylamine) was found in the valsartan in specific products. Health Canada states that NDMA is a potential human carcinogen which means it could cause cancer with long term exposure.
Additional drugs now included in the recall:
TEVA-VALSARTAN/HCTZ TABLETS 02356996 80/12.5 mg 35211136A August 17, 2018
TEVA-VALSARTAN/HCTZ TABLETS 02357003 160/12.5 mg 35211335A August 17, 2018
TEVA-VALSARTAN/HCTZ TABLETS 02357003 160/12.5 mg 35211844R August 17, 2018
TEVA-VALSARTAN/HCTZ TABLETS 02357011 160/25 mg 35210937R August 17, 2018
TEVA-VALSARTAN/HCTZ TABLETS 02357011 160/25 mg 35210938R August 17, 2018
TEVA-VALSARTAN/HCTZ TABLETS 02357011 160/25 mg 35210939R August 17, 2018
TEVA-VALSARTAN/HCTZ TABLETS 02357011 160/25 mg 35210940R August 17, 2018
TEVA-VALSARTAN/HCTZ TABLETS 02357038 320/12.5 mg 35211546R August 17, 2018
TEVA-VALSARTAN/HCTZ TABLETS PP 30s 02357046 320/25 mg 35212731R July 9, 2018
ACT-VALSARTAN 40MG FC TABLETS 100 02337487 40 mg K47338 July 9, 2018
ACT-VALSARTAN 80MG FC TABLETS 100 02337495 80 mg K45370 July 9, 2018
ACT-VALSARTAN 80MG FC TABLETS 100 02337495 80 mg K47652 July 9, 2018
ACT-VALSARTAN 80MG FC TABLETS 100 02337495 80 mg K47653 July 9, 2018
ACT-VALSARTAN 80MG FC TABLETS 100 02337495 80mg K47654 July 9, 2018
ACT-VALSARTAN 160MG FC TABLETS 100 02337509 160 mg K39691 July 9, 2018
ACT-VALSARTAN 160MG FC TABLETS 100 02337509 160 mg K44167 July 9, 2018
ACT-VALSARTAN 160MG FC TABLETS 100 02337509 160 mg K47657 July 9, 2018
ACT-VALSARTAN 160MG FC TABLETS 100 02337509 160 mg K47658 July 9, 2018
ACT-VALSARTAN 320MG FC TABLETS 100 02337517 320 mg K44166 July 9, 2018
ACT-VALSARTAN 320MG FC TABLETS 100 02337517 320 mg K45371 July 9, 2018
SANDOZ VALSARTAN 40 MG 02356740 40 mg All lots July 9, 2018
SANDOZ VALSARTAN 80 MG 02356759 80 mg All lots July 9, 2018
SANDOZ VALSARTAN 160 MG 02356767 160 mg All lots July 9, 2018
SANDOZ VALSARTAN 320 MG 02356775 320 mg All lots July 9, 2018
SANIS VALSARTAN 40 MG 02366940 40 mg All lots July 9, 2018
SANIS VALSARTAN 80 MG 02366959 80 mg All lots July 9, 2018
SANIS VALSARTAN 160 MG 02366967 160 mg All lots July 9, 2018
SANIS VALSARTAN 320 MG 02366975 320 mg All lots July 9, 2018
PRO DOC LIMITEE VALSARTAN 40 MG 02367726 40 mg All lots July 9, 2018
PRO DOC LIMITEE VALSARTAN 80 MG 02367734 80 mg All lots July 9, 2018
PRO DOC LIMITEE VALSARTAN 160 MG 02367742 160 mg All lots July 9, 2018
PRO DOC LIMITEE VALSARTAN 320 MG 02367750 320 mg All lots July 9, 2018
SIVEM PHARMACEUTICAL ULC VALSARTAN 40 MG 02384523 40 mg All lots July 9, 2018
SIVEM PHARMACEUTICAL ULC VALSARTAN 80 MG 02384531 80 mg All lots July 9, 2018
SIVEM PHARMACEUTICAL ULC VALSARTAN 160 MG 02384558 160 mg All lots July 9, 2018
SIVEM PHARMACEUTICAL ULC VALSARTAN 320 MG 02384566 320 mg All lots July 9, 2018