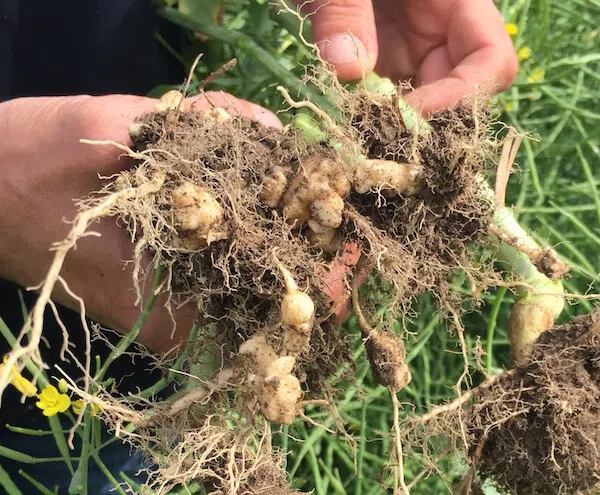 The Saskatchewan Ministry of Agriculture has started a comprehensive survey to gain a better understanding about the severity of distribution of clubroot.
Clubroot has been a serious issue in Alberta since 2003. Clubroot spores remain in the soil for years, greatly reducing yields.
The number of confirmed clubroot cases in our province is relatively small, but there are likely more undetected instances.
Provincial plant disease specialist Barb Ziesman says the survey started last week and will run through September.
"All of our surveyors have gone under extensive training for biosecurity, clubroot identification, survey protocol and sample collection."
Soil samples will be taken from the field entrance and sent to a lab for DNA testing to determine if the clubroot pathogen is present. A total of 50 plants will also be pulled to examine the roots for clubroot galls.
If there are no visible signs of clubroot galls, the surveyor will clean their tools and footwear before travelling to the next field.
Ziesman says if clubroot galls are found, the surveyor will examine plant roots at ten other locations in the field.
Since clubroot is a declared pest, both the landowner and rural municipality (RM) will be notified if there is a positive case. The next step will be developing a clubroot management agreement.
"They will then have 30 days to work with an agrologist, who is registered with the Saskatchewan Institute of Agrologists to develop a clubroot management agreement" says Ziesman. "It will meet all of the minimum requirements outlined in the Saskatchewan Clubroot Management Plan. It will become the formal agreement between the (RM) Pest Control Officer and the producer."
The management agreement will include several measures to limit the spread of the disease, such as growing canola only once every three years and using a clubroot resistant variety.
A clubroot distribution map will be produced and likely released in time for grower information meetings next winter.
(Photo-Brittany Henning/Canola Watch)